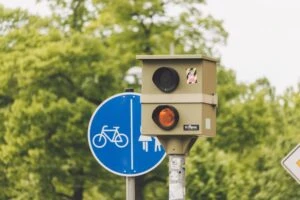 An attorney won't just tell you how to obtain traffic camera video of your car accident in Texas—if possible, they'll get the footage for you. You may assist your attorney by:
Telling them where your accident happened
Explaining whether you saw any traffic cameras in the area
Providing any other details that your attorney asks for
Your lawyer may need to take legal steps to obtain the traffic camera video. This process may not be easy, but is generally worthwhile in car accident cases.
Time Is Critical When Seeking Traffic Camera Footage
According to the Federal Highway Administration (FHWA), more than half of accidents resulting in injuries or death happen near intersections. While a traffic camera may have caught your accident on tape, the important part is obtaining that footage.
Time is of the essence. Public and private parties that maintain traffic cameras may erase footage after a certain period. Your attorney will act quickly to contact the party who owns and operates any traffic camera relevant to your case.
Traffic camera footage can benefit your case by showing when or how the accident happened. If footage shows a liable party engaged in reckless behavior, the video may also prove why your accident happened.
How Your Lawyer May Obtain Video Footage of Your Car Accident
Your lawyer may take several steps to obtain video footage of your accident. They may:
Identify all cameras that could have captured your accident
Identify those who own each camera
Contact the owner of each camera, requesting that they provide any footage of your accident
Taking legal measures to obtain any footage that the owner refuses to provide
Video footage may not be the only useful evidence in your case. Other types of evidence your lawyer may seek are:
The police report from your accident in Texas
Witness accounts of your collision
Witness accounts of events that led to your collision, like a drunk driver being overserved
Photographs of the accident scene
Experts' reconstruction of your accident
Any relevant blood alcohol concentration (BAC) tests
Each car accident produces a unique array of evidence. Your lawyer will pursue and preserve any evidence that could help prove your case.
For a free legal consultation, call (972) 938-1234
How Else Can a Personal Injury Lawyer Help After My Car Accident in Texas?
In addition to seeking video footage and other evidence, your lawyer may help you by:
Establishing Liability for Your Damages
Those who caused you harm should pay for their negligence. Your attorney will identify who those parties are. The National Highway Traffic Safety Administration (NHTSA) explains that motorists are most often liable for car accidents. Sometimes, motor vehicle manufacturers, a municipality, an employer, or another party is liable for a car accident.
Calculating the Cost of Your Damages
Your damages will be a key focus of your case. We'll determine the cost of current and future economic and non-economic losses. We will work hard to get these calculations right, as they'll guide the settlement we pursue.
Defending You Against Anyone Who Opposes Your Case
Insurance companies and liable parties may try to:
Trick you into admitting fault for your accident (even if you're not at fault)
Persuade you to accept an unfair settlement
Confuse or intimidate you with lawyers
Subvert your claim in other ways
We'll protect you throughout your case.
Leading Settlement Discussions
Liable parties may be willing to settle your case. By settling, we can acquire compensation for your losses without going to trial. Our team has experience negotiating successfully for our clients, including car accident victims. We'll lead settlement discussions on your behalf, fighting for the recovery you deserve.
Some car accident cases require a trial. If your case requires one, we'll seek a financial recovery in court.
What Are Recoverable Damages After a Car Accident in Texas?
Your car accident in Texas may throw your life off track, causing:
Professional losses: From lost income to lost bonuses and promotion opportunities, your car accident may cause several professional damages.
Pain and suffering: Physical, emotional, and psychological pain and suffering may entitle you to compensation.
Damage to your vehicle and other personal property: Any repairs you need for your vehicle or replacement of damaged property may be recoverable.
If you suffer any other damages from your car accident, we will include those losses in your lawsuit or claim. Your health remains the greatest concern, and we'll seek full coverage for your medical care. From diagnosis to rehabilitation, you shouldn't have to pay for any medical care related to your accident.
Click to contact our personal injury lawyers today
Call Clay Jenkins & Associates Today to Complete Your Free Consultation After a Car Accident in Texas
Texas Civil Practice and Remedies Code § 16.003 generally allows you to file a car accident lawsuit within two years of the collision. Though there are exceptions to this statute, you should hire our firm as soon as possible.
Call Clay Jenkins & Associates today for your free consultation. We will answer your questions and, should you hire us, move your case forward.
Call or text (972) 938-1234 or complete a Free Case Evaluation form