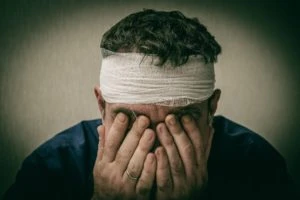 Brain and head injuries can occur almost everywhere. A traumatic brain injury (TBI) can happen in auto accidents, multiple cases of falls, expulsion from a vehicle going fast, or falling objects striking the head of the person. TBIs can also occur from hits of a child's head onto the ground, motorcycle crashes even with a protective helmet, fierce explosions, and loads of other scenarios which could be industrial or residential.
In the event that you suspect a brain injury from an accident, seek medical help immediately. Don't worry about the costs involved. Our Waxahachie brain injury lawyer can help traumatic brain injury survivors obtain compensation for their resulting damages.
Recoverable Damages in a Brain Injury Case
If you can prove someone else's actions caused your brain injury, you could recover damages. Damages in a brain injury case may include:
Past and future medical care bills

Lost income and benefits

Lost earning capacity

Disability

Pain and suffering

Property damage costs

Mental anguish

Loss of consortium
Depending on your circumstances, you could receive compensation for several types of damages. The Waxahachie injury attorneys at our firm will review your case and determine the value of your losses.
For a free legal consultation with a brain injury lawyer serving Waxahachie, call (972) 938-1234
Determining Fault After a Waxahachie Brain Injury
To get compensation for your losses after a brain injury, you must prove that another party was the reason for your injury. Possible at-fault parties could include:
A reckless driver

A manufacturer

A business owner

An employer
Your Waxahachie, TX brain injury attorney will help you determine who was liable for your injury. To prove that the liable party caused your injury we can establish negligence. Determining negligence will involve proving:
That the other party had a duty of care to keep you safe

They failed to maintain their duty of care

This failure led to the accident that caused your brain injury

You have suffered damages because of the accident and your injury
Waxahachie Brain Injury Lawyer Near Me (972) 938-1234
There Is a Time Limit to File Lawsuits in Waxahachie
You may decide to take legal action to recover the compensation you need. This could involve filing a lawsuit. Each state has a timeframe during which injury victims are able to file lawsuits. This is known as the statute of limitations.
In Texas, you have two years to file a lawsuit per Texas Civil Practice and Remedies Code § 16.003. Our Waxahachie brain injury lawyer can help you file your lawsuit by this deadline so you avoid missing out on compensation.
Click to contact our Waxahachie Personal Injury Lawyers today
What Is a Traumatic Brain Injury (TBI)?
A traumatic brain injury commonly results from a blow or jolt to the head or body. These injuries can be mild, moderate, or severe. The symptoms that come with a brain injury range based on its severity. According to the National Institute of Neurological Disorders and Stroke (NINDS), symptoms of a brain injury include:
Mild TBI

: Headache, dizziness, fatigue, blurred vision, ringing in the ears, mood swings, difficulty sleeping, and memory concentration problems.

Moderate to severe TBI

: Persistent headaches, continuous vomiting and nausea, seizures, dilation of the pupils, loss of coordination, weakness in fingers or toes, unusual behavior, slurred speech, and confusion.
Loss of consciousness, even for a brief period, is one of the clearest indications that the brain may have been affected by a blow to the head. A confused state involving uncertainty about time, date, location, and /or a period of memory loss for the events surrounding the head injury are also indicators of trauma to the brain. Any of these symptoms following a blow to the head should be taken seriously.
Traumatic brain injury is a serious and debilitating injury. Persons with a serious brain injury frequently have troubles with mental and physical performance and might require continued supervision and assistance as a result of post-concussion syndrome. Even a person who has suffered a head or brain injury, with little or no documented loss of consciousness, may have permanent deficits which make it impossible for them to return to their previous lifestyle and sphere of activities.
Complete a Free Case Evaluation form now
Causes of Waxahachie, TX Brain Injuries
Seek medical attention if you hit your head in one of the following accidents. You could have suffered a TBI from:
Falls

Auto accidents

Ejection from a vehicle at high speeds

Roof crush or roof collapse in a rollover

Objects falling and striking the person

Impacts of a child's head onto a floor or in a vehicle's interior during a collision

Motorcycle accidents

Violent explosions
Clay Jenkins & Associates Will Work to Get the Compensation You Deserve
Clay Jenkins & Associates has handled many head and brain injury cases. We are prepared to help you reach a fair amount of compensation. At Clay Jenkins & Associates, you can expect:
Free consultations

: Each potential client can speak with our team, and we will review your case. During the consultation, we will discuss your legal options and answer your questions.

Contingency-fee basis

: We work on a contingency fee so that you do not pay for our legal services unless we recover money for you.

Prompt responses:

We pride ourselves on having good communication with our clients and will respond promptly to any request.
We will advocate for you to reach a fair settlement. If we cannot reach a settlement, our brain injury lawyers are prepared to fight for your right to receive compensation in a trial.
Get in Touch with Clay Jenkins & Associates to Start Your Brain Injury Case
If you or a loved one has suffered a brain injury in an accident, a Waxahachie, TX brain injury lawyer at our firm can manage your case. We have helped our clients get the damages they need to get their lives back on track. We will work closely with you so that you understand the legal process throughout your case.
The brain injury lawyers at Clay Jenkins & Associates will help you fight for the full compensation you deserve. Contact us today for a free consultation.
Call or text (972) 938-1234 or complete a Free Case Evaluation form