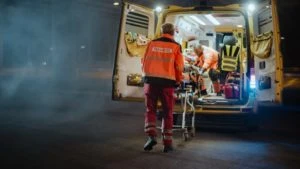 A wrongful death lawsuit is different from other types of personal injury claims. In the case of a wrongful death, the victim's family members or the decedent's estate administrator will be responsible for taking legal action. A wrongful death claim or lawsuit is meant to help the deceased person's surviving family members recover compensation.
Our Waxahachie wrongful death lawyers focus on reducing financial stress for surviving relatives of those who have died due to the negligence of others. Our wrongful death attorneys and Waxahachie personal injury lawyers have successfully represented families in Waxahachie, TX. If your family has experienced the tragedy of wrongful death, Clay Jenkins & Associates can offer legal guidance.
What Is Wrongful Death?
Texas Civil Practice and Remedies Code § 71.002(b) defines wrongful death as an injury that results in death caused by someone acting negligent, careless, unskillful, or by default.
You can file a wrongful death claim after many fatal accidents, such as car crashes, medical malpractice, or construction accidents.
How Can You Prove Wrongful Death?
You must prove negligence before you can hold someone liable for your wrongful death damages. Negligence consists of four elements:
Duty of care

: A requirement that a person acts towards others with the standard of care that a reasonable person in a similar situation would use.

Breach of duty

: A person's conduct fails to meet the standard of care.

Causation

: The actions of the defendant caused the victim's injuries.

Damages

: The victim and/or their loved ones suffered different losses resulting from the accident.
For a free legal consultation with a wrongful death lawyer serving Waxahachie, call (972) 938-1234
Damages You Could Recover in a Waxahachie Wrongful Death Lawsuit
After a loved one dies, your family may accumulate various expenses. The attorneys at our firm can help you fight for fair compensation to cover the damages your family had to deal with after your loved one passed away. The compensation you could recover in a wrongful death claim includes:
Medical costs

: You can claim any medical costs associated with your loved one's end-of-life care. These expenses can include the ambulance ride, emergency room bills, hospitalizations, or surgery costs that accrued to treat the injuries from the accident.

Funeral and burial costs

: The cost of a funeral can be an unexpected expense when a loved one passes away suddenly. Keep documentation of any out-of-pocket expenses to include in your claim.

Loss of future earnings

: The decedent's future income can be recovered in a wrongful death claim. A Waxahachie wrongful death lawyer from our firm will calculate this loss to determine the value of lost future income.

Loss of consortium

: If you are now deprived of the benefits of a relationship, you can include the loss of consortium in your claim.
A Waxahachie wrongful death attorney from our firm will help you determine what damages you could recover in your wrongful death claim.
Waxahachie Wrongful Death Lawyer Near Me (972) 938-1234
The Statute of Limitations for a Waxahachie Wrongful Death Lawsuit
You are entitled to file a lawsuit in order to recover compensation after a loved one's wrongful death. As with most lawsuits, wrongful death lawsuits must be filed within a certain amount of time. Each state has a statute of limitations that outlines the timeframe you have to file a lawsuit.
Texas Civil Practice and Remedies Code § 16.003 states you generally have two years from the date of death to file a lawsuit. If you don't file within this two-year window, you could lose your chance to receive compensation through a lawsuit.
Our Waxahachie team will make sure you understand the statute of limitations. We can work with you to get your lawsuit filed on time.
Who Can File a Wrongful Death Lawsuit?
Per Texas Civil Practice and Remedies Code § 71.004, only certain people are allowed to file a wrongful death lawsuit. If someone you love passed away, the following parties are able to file a lawsuit:
The surviving spouse of the deceased person

The deceased person's children

The parents of the person who passed away

The administrator of the deceased person's estate
Our wrongful death lawyer in Waxahachie, TX can help you understand the laws surrounding wrongful death lawsuits.
Click to contact our Waxahachie Personal Injury Lawyers today
Clay Jenkins & Associates Is Ready to Serve You and Your Family
The attorneys at our firm believe each case deserves personalized attention. Other benefits of choosing our law firm include:
Each potential client can meet at no cost for a consultation where we will review your case and answer any questions you have.

Your lawyer will gather evidence to identify the liable party and prove your family's damages. Once they evaluate your losses, they will request a settlement from the insurer and negotiate with them until they reach a fair conclusion.

We work on a contingency-fee basis, so you do not pay for our services unless we recover compensation for your losses. We know our clients may be under financial stress and do not want to add any more.
There is no obligation after speaking with us for a consultation. We want you to know your legal options after the death of a loved one. Our attorneys will provide you with legal advice and handle any paperwork needed.
Complete a Free Case Evaluation form now
Contact Clay Jenkins & Associates Today for a Free Consultation
The attorneys at Clay Jenkins & Associates extend our condolences if you are mourning the loss of a loved one. You should not have to handle the process of filing a claim or lawsuit alone. Our Waxahachie wrongful death lawyer will support you in your pursuit of compensation.
Contact us now to learn your rights after a wrongful death. Our team can work on your case while you focus on your family. Call Clay Jenkins & Associates today for your free consultation.
Call or text (972) 938-1234 or complete a Free Case Evaluation form