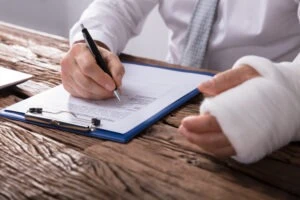 If you get hurt on the job, your injuries could prevent you from returning to work for quite some time. Ideally, workers' compensation benefits should cover your medical bills and lost income without question. Unfortunately, that doesn't always happen and employees dealing with painful injuries are left to wonder where that money is going to come from. Whether your claim gets denied or your losses aren't fully covered, an attorney can help.
A Waxahachie workers' compensation attorney from Clay Jenkins & Associates can help. You deserve strong legal representation if you get hurt at work, especially on a construction site. Our team can start working on your case immediately to help you pursue the financial compensation you need.
About Workers' Compensation Benefits in Waxahachie, TX
Workers' compensation is an insurance program regulated by the state, providing medical and income benefits to those who have sustained injuries while at work. This also protects the employer from being sued for personal injury claims by their employees.
The Texas Workers' Compensation Act does not require private employers to carry workers' compensation insurance. If you get hurt on the job and your employer doesn't offer workers' compensation benefits, you could file a personal injury lawsuit against them.
For a free legal consultation with a workers' compensation lawyer serving Waxahachie, call (972) 938-1234
Our Waxahachie Workers' Compensation Lawyers Can Help With Your Claim
When you file a workers' compensation claim, you expect to get both approval and vital financial benefits. However, your claim could get denied, or they could offer less than you deserve. When this happens to you, our legal team can help. We can take the crucial steps to help you seek a successful outcome and the benefits you need.
Our attorneys can:
Investigate the accident:

We can speak to witnesses, look at photo evidence, or review video surveillance to determine what happened. Our investigators can also review the accident report to see if that can shed more light on the incident.

Gather evidence:

After we investigate the accident, we can gather and organize evidence, including your medical records and treatment regimens. We can also find out whether your workplace has a history of unsafe conditions.

Negotiate on your behalf:

Our attorneys can negotiate with your employer's workers' compensation insurance company to reach a fair deal. During negotiations, we can provide evidence about the costs of your medical treatments and the income you lost.
If your employer doesn't offer workers' compensation benefits, we can file a personal injury lawsuit on your behalf. We can seek compensation for the losses you incurred because of your workplace injury, including medical bills, lost income, pain and suffering, and emotional distress.
What Past Clients Have to Say About Our Legal Services
When you trust our workers' compensation attorneys to take on your case, you can expect us to work tirelessly to help you. Our clients leave us glowing reviews, and we're grateful to have been of service.
Here's what a few have to say:
"Texas' best. Very professional and knowledge of the law is unmatched. I was made to feel very comfortable and welcomed each and every visit to his office. I was able to ask as many questions as I needed to feel at ease with all aspects of my case. As well as being kept fully informed about every step of the proceedings on my case." – K.C.
"A true professional and has been a blessing to me and my family. He has a clear understanding of the law with the heart of a teacher. I'm very thankful for Stephen and would highly recommend him to anyone in need of his services." – Drew
We're thankful we've had the opportunity to help past clients see a positive outcome in their cases. We treat every client the same, fighting hard on their behalf and ensuring they feel heard and are kept continually updated.
Waxahachie Workers' Compensation Lawyer Near Me (972) 938-1234
The Challenges of Filing a Workers' Compensation Claim in Waxahachie, TX
When you file a workers' compensation claim with your employer's insurer, you could face challenges. If any of these challenges arise, a Waxahachie workers' compensation lawyer can help:
The insurer claims you purposefully caused your injury so you could receive financial benefits.
The insurer claims you consumed drugs or alcohol before the accident occurred.
The insurer claims you engaged in horseplay when the accident happened.
The insurer claims you sustained the injuries at a time when you were not at work.
You did not report your injury to your supervisor or employer within an appropriate time frame.
You did not file a workers' compensation claim before the deadline ended based on when you sustained your injury.
Our team can advocate for you if any of these issues arise. In addition, we can conduct a full investigation into the accident to prove you deserve to receive the workers' compensation benefits you seek.
Insurance companies have the goal of paying out the lowest amount of compensation possible. We want to ensure you don't get taken advantage of and can guide you through the legal process, helping you navigate around these bumps in the road if they arise in your case.
Click to contact our Waxahachie Personal Injury Lawyers today
Contact a Waxahachie, TX Workers' Compensation Lawyer Today
After getting hurt at work, you need workers' compensation benefits fast. If you have issues getting the benefits you need, our attorneys can help. We understand how stressful it is not knowing whether you'll get the financial assistance you need. Getting injured on a construction site, or in any workplace, could leave you with debilitating injuries. You shouldn't have to pay for the injuries your job caused you.
Contact our workers' compensation attorneys serving Waxahachie, TX, today for a free consultation. We can learn about what happened to you and explain your legal options. During the consultation, we can also answer any questions you have regarding your case. Let us guide you through your workers' compensation claim, doing all of the legal heavy lifting so you can rest and focus on recovering from your injuries.
Call or text (972) 938-1234 or complete a Free Case Evaluation form