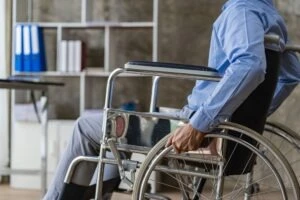 Getting hurt at work can leave you with debilitating injuries that could impair your ability to continue performing your job duties. You could also accrue high medical bills. Fortunately, you can file a workers' compensation claim with your employer to obtain benefits to cover these costs.
The Midlothian workers' compensation lawyers from Clay Jenkins & Associates can help you through the claims process. If your initial workers' compensation claim gets denied, we can also help you file an appeal. In some cases, you could file a personal injury claim against your employer or a third party in your workplace. In any case, our attorneys can help you determine how to proceed to get the compensation and benefits need.
How Our Workers' Compensation Lawyers at Clay Jenkins & Associates Can Help You
At Clay Jenkins & Associates, we understand the Texas workers' compensation laws and how to properly file a claim. Our workers' compensation lawyer in Midlothian, TX, can take on all responsibilities related to your case, including:
Collecting different types of evidence
Proving your employer or an otherwise responsible party's liability
Determining if you qualify for workers' compensation benefits or personal injury damages
Maintaining communication with all involved parties
Assessing the value of your past and expected losses
Negotiating a settlement with the insurance company
Appealing a denial of your claim
Advocating for you during all court proceedings, if necessary
Meeting all applicable deadlines
We also want to keep you as informed as possible on your case. That's why the attorney we assign to your case will provide you with regular updates on its progress. You can give us a call at any time if you still have questions.
At Clay Jenkins & Associates, we don't want you to worry about attorney fees. Your only concern should be getting better. To help you and your family, we take workers' compensation cases on a contingency-fee basis, so we only take a fee if we secure compensation for you.
We Have Helped Our Past Clients Get Through Difficult Situations
We understand getting hurt at work can put immense stress on you and your family. Because of that, we work relentlessly to help our clients get the financial compensation they need. Past feedback from clients includes:
"Most knowledgeable lawyer I have met. Knew the answers to my questions before I asked. Integrity and dedicated service to his clients was unbelievable." – Jason
"I have found everyone at Jenkins & Jenkins to be nothing but professional. I never had a phone call or email that wasn't promptly answered. It has been a great experience dealing with this law firm in a very difficult experience. The outcome has exceeded expectations thanks to Stephen Daniel and his staff" – Carol Ketchersid
Many of our clients come from recommendations from others, so you can trust our workers' compensation attorneys in Midlothian, TX, to work hard on your case.
For a free legal consultation with a workers' compensation lawyer serving Midlothian, call (972) 938-1234
Workers' Compensation Benefits We Can Fight for You to Receive
If you file a workers' compensation claim, you could receive the following benefits:
Medical expenses
A portion of your lost income
Death benefits if you lost a loved one
According to the Texas Department of Insurance (TDI), the state does not require most private employers to carry workers' compensation insurance. Should your employer choose to opt out, they would be considered a non-subscriber. Note that usually, if your employer has workers' compensation insurance, you cannot sue them, but if they're a non-subscriber, you may be able to file a personal injury case against them.
You can also sue for personal injury if a third party, such as a site owner or private contractor's negligence contributed to your injuries. This way, you can seek compensation for the following losses:
Medical bills
Lost income
The future income you could lose if you cannot return to work in the same job
Pain and suffering
Emotional distress
Loss of enjoyment
Wrongful death damages
The Statute of Limitations for Filing Suit After a Workplace Injury in Texas
Texas Civil Practice and Remedies Code § 16.003 says you generally have two years from the accident date to sue for personal injury. Otherwise, you could miss your chance to claim compensation. Our attorneys can work with you to help you avoid missing the statute of limitations.
When you hire us to take on your case, you don't have to worry about legal matters. We can take care of it all. Our legal team understands the issues that could arise and can develop a plan to navigate through them. We want you to feel supported to help reduce the stress this type of case can cause.
Midlothian Workers' Compensation Lawyer Near Me (972) 938-1234
Many Construction Workers Suffer Injuries on the Job
Many of our workers' compensation clients were hurt while working their construction or industrial jobs. The conditions at these workplaces are known for being among the most dangerous. The Occupational Safety and Health Administration (OSHA) has compiled a list of what it calls the "fatal four" hazards that result in numerous workplace deaths, which are especially prevalent among construction workers. They include the following:
Struck-by falling objects
Caught-in/between objects
Falls from height
Electrocutions
Your employer, the construction site owner, and the equipment manufacturers must ensure everyone's safety and enforce measures to prevent serious, deadly accidents.
Although, our workers' compensation services aren't limited to victims of construction injuries, as we help those who were hurt in various workplace accidents. We're eager to hear about your experience and how we can help during a free consultation.
Click to contact our Midlothian Personal Injury Lawyers today
Consult Our Midlothian Workers' Compensation Lawyers Today
The workers' compensation attorneys in Midlothian, TX, from our firm can stand by your side from start to finish. Workers' compensation cases can get complicated without having someone support you who understands legal matters.
Contact Clay Jenkins & Associates today for a free consultation to learn about how we can help you through your workers' compensation case.
Call or text (972) 938-1234 or complete a Free Case Evaluation form