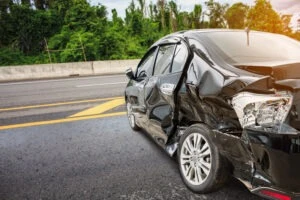 Have you been in a car accident in Midlothian, TX, and have sudden medical expenses on top of your injuries? Have you been put out of work and don't know how you will pay your bills? If so, you could seek to recover damages against the parties responsible for your crash. The Midlothian personal injury lawyers at Clay Jenkins & Associates can handle your claim or lawsuit while you recover from the accident.
We work on a contingency basis, which means we can fight your case for no upfront fee or costs, and we only get paid if you win your case. An insurance claim or injury lawsuit could cover your medical bills, lost wages from missed time at work, and your pain and suffering. Call us today for a free consultation to learn how our Midlothian car accident lawyers can help you pursue financial compensation that will help you rebuild your life.
Our Midlothian Car Accident Lawyers Will Demand Your Recoverable Damages
For many injured car accident victims, determining the value of an injury case can be hard to do on their own. You have immediate medical and car expenses that must be paid alongside your everyday bills, but what about money spent over time to treat your injuries or the paychecks lost from time off work?
Our car accident lawyers in Midlothian, TX, can help recovering victims of head-on collisions, rear-end collisions, and other accidents discover the value of their settlement by analyzing and calculating the full sum of the damages they suffered, which could include the following:
Medical expenses

Rehabilitation expenses (e.g., physical therapy)

Transportation

Time off work

Reduced earning capacity

Property damage (e.g., car repair or replacement costs)

Pain and suffering

Mental anguish

Post-traumatic stress disorder (PTSD)

Wrongful death expenses (e.g., funeral expenses, burial and/or cremation costs)
Every cent of your damages should cover the initial costs of treating your injuries and financially secure the foreseeable future. We won't settle for a penny less, and neither should you.
For a free legal consultation with a car accidents lawyer serving Midlothian, call (972) 938-1234
We Will Investigate the Car Accident in Midlothian, TX, and Determine Who's Responsible
When our personal injury attorneys work on your case, we will investigate the car accident to determine what happened and how. We will collect evidence to support your case, such as your medical records, the police report, witness statements, expert testimony, photos, and video footage.
We can also seek to secure time-sensitive evidence that could expire or get lost over time. This is one reason we encourage car accident victims to pursue a claim or lawsuit as soon as possible.
Identifying Liable Parties – Your Midlothian Accident Could Have More Than One
We will also work to identify all parties who owe you compensation. This may include parties not at the scene when the accident occurred.
In a car accident case, the following parties serve as primary suspects for negligent behavior in an auto accident:
The driver who hit you

A third party (e.g., another motorist, pedestrian, cyclist, motorcyclist)

A vehicle manufacturer

A parts manufacturer

A mechanic or repair shop

A government entity
There is no shortage of ways negligence can harm someone. Car accidents in Midlothian can involve:
Someone driving while intoxicated (DWI).

Texting and driving.

Something like a flat tire or missing stop sign.
Each case differs, and proving who breached their duty of care can be difficult, especially when multiple parties may be responsible. Our attorneys have represented dozens of clients like you and have years of experience bringing negligent parties to light. Investigation is not your job; it's ours.
Midlothian Car Accident Lawyer Near Me (972) 938-1234
We Will Lead Your Midlothian Injury Case While You Heal From After the Accident
Trying to manage an insurance claim or lawsuit for an accident when recovering from a collision is challenging. We want our clients to take care of their health and well-being while we seek to hold the parties that harmed them accountable. We have been representing clients since 1948, so we know what to expect and how to protect your interests while working for your full monetary recovery.
When you become our client, our car accident attorney serving Midlothian, TX, will do all the following:
Handle all case-related paperwork.

Lead negotiations for a fair settlement (if an

insurance provider denies your claim

, we can seek to amend the claim or file a lawsuit)

Answer your questions and concerns promptly.

Review all your damages and assign a financial value to your case.

Bring accountable parties to light and demand damages from them.
Sometimes, a case involves negotiating with insurance adjusters, gathering and providing necessary paperwork, and appearing in court. Our attorneys have experience in this process and will stand in proxy for you until we resolve your case.
Additionally, we provide our services to you in Spanish if you prefer. We also have staff who can assist you in obtaining medical attention if necessary. Victims of negligence should not be compelled to pay exorbitant fees to maintain their standard of living. Clay Jenkins & Associates recognizes this fact and will use all our previous experience in our fight to ensure you don't have to pay a dime for your hardship.
Click to contact our Midlothian Personal Injury Lawyers today
Car Accident Cases Must Meet the Statute of Limitations Deadline in Texas
If you seek legal action with an injury lawsuit, you generally have two years from the accident date to file it, per Texas Civil Practice and Remedies Code § 16.003. The same deadline applies to wrongful death cases.
Our auto accident attorneys will keep your Midlothian car accident case on track and file your lawsuit on time. Protecting your right to sue for financial recovery is important. If you miss the deadline, you risk losing your chance of holding the liable party accountable.
Hiring Clay Jenkins & Associates to represent you and file legal action on your behalf affords you the benefits of taking action immediately after your accident. We'll take care of everything for you.
Complete a Free Case Evaluation form now
The Severity of Your Accident Injuries Can Affect How Much Compensation You Can Recover for a Midlothian, TX, Car Crash
Common injuries victims sustain in car accidents vary from minor to serious, but the more severe they are, the higher the medical costs to treat them. Severe injuries include the following:
Broken bones

Sprains and bruises

Scrapes and burns

Lacerations

Internal bleeding

Internal organ damage

Concussion

Herniated disc

Spinal cord injury (SCI)

Traumatic brain injury (TBI)
Each injury has essential treatments or accompanying surgery, which varies in cost and recovery time. Some injuries will have a shorter recovery, while others could require more time away from work to recover. Some wounds require extensive treatment or result in conditions like post-traumatic stress disorder (PTSD), paralysis, or limb loss.
If you or a loved one sustained any of these injuries in a car accident, get medical care immediately and put your health first. Then, you can call us for legal help. Our car accident attorney in Midlothian, TX, oversees the legal work after an auto accident. We also offer tips on what to do after a car accident.
Call Us After a Car Accident in Midlothian, TX – We Can Help You Today
Our Texas personal injury law firm provides a free, confidential consultation so you can weigh your legal options and consider your next steps. If a negligent driver's actions on the road caused or led to your car accident in Midlothian, you can seek to hold them accountable for your losses.
Big hospital bills and missed income are common losses in car accidents, but you don't have to take them on. The party that harmed you should pay; we can work to ensure that happens. Give us a call for a free consultation. We have attorneys waiting to take your case and are available within 24 hours. The sooner we hear from you, the sooner we can review your situation and options.
Call or text (972) 938-1234 or complete a Free Case Evaluation form