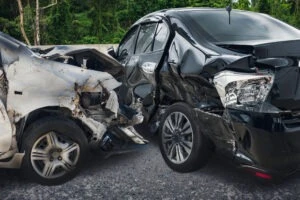 You should not have to pay for the cost of a car accident that was not your fault. If you or your loved one suffered injuries in a crash caused by someone else's negligence, you deserve compensation for your damages.
An Ennis personal injury lawyer with Clay Jenkins & Associates can help you hold liable parties financially accountable with an auto insurance claim or personal injury lawsuit. We have multiple decades of legal experience we can put behind protecting your rights and securing the awards you need to get your life back on track.
Our Ennis Car Accident Lawyers Stand Up for the Injured
Clay Jenkins & Associates has served clients in Ellis County since our founding in 1948. During that time, we have secured tens of millions of dollars for those seeking justice for personal injuries. We take every case seriously because we know how important the outcome is for you and your future.
We give every claim the attention it deserves by assigning two attorneys, a paralegal, and the appropriate staff to each case. Our car accident attorneys in Ennis, TX, will work tirelessly to support you and legally establish your right to compensation. We will:
Help you navigate the insurance claims process.

We will prepare and file your claim and all related paperwork, track deadlines, communicate with insurance adjusters, and aggressively negotiate for the maximum settlement possible.

Thoroughly investigate your case.

We will visit the scene of your car accident, take photographs, obtain police reports, medical records, eyewitness testimony, and other available case evidence, then apply it under the law.

Identify and calculate your damages.

We will collect bills, receipts, invoices, pay stubs, and other documentation proving your losses. We will also help you track ongoing expenses and estimate future costs.

Keep you informed.

We will provide you with frequent and timely case updates. When you have questions, we will give prompt, straightforward answers. We are here to assist with every aspect of your case, including helping you find medical care if needed.

Represent you in civil court.

We prepare every case for trial and will not back down from pursuing a civil lawsuit if that's what it takes to get complete and fair compensation.

Take your case on contingency. We can represent you for nothing upfront. Our fees come from a percentage of your settlement or verdict. However, if we do not obtain compensation, you owe us nothing.
We Will Act Quickly to Protect Your Rights
You have a limited time to pursue your car accident damages. According to Texas Civil Practice and Remedies Code § 16.003, you have two years from your accident or a loved one's death to file a personal injury or wrongful death lawsuit. If the deadline expires, the court will likely dismiss your case.
Texas is an at-fault state, meaning motorists must carry liability insurance to pay for accidents and injuries they cause. Therefore, our car accident lawyers may be able to resolve your case with an auto liability insurance claim.
However, if you cannot settle with the insurance company before the statutory deadline passes, you can no longer take legal action. Thus, you may get left with a reduced or denied claim and no options for seeking additional damages in court.
For a free legal consultation with a car accidents lawyer serving Ennis, call (972) 938-1234
You Deserve Fair and Full Car Accident Compensation
We aim to get the resources you need to cover your car accident-related expenses, so you do not end up paying out-of-pocket for someone else's mistakes. Thus, we will aggressively seek maximum compensation for the following:
Current and future medical expenses
Lost income and employment benefits
Lost future earning capacity
Vehicle repair or replacement costs
Physical pain and suffering
Emotional and mental distress
Inconvenience
Lost quality of life
Wrongful death of a loved one
Ennis Car Accident Lawyer Near Me (972) 938-1234
We Will Prove a Liable Party Owes You Car Accident Damages
Negligence is the basis of any personal injury case. So, to win compensation for you, our lawyers must prove another party acted carelessly, recklessly, or wrongfully. We do so by establishing the following four elements:
Duty of care.

All drivers must act safely behind the wheel, avoid causing harm to themselves and others, and obey Texas's rules of the road (

Texas Transportation Code Chapter 545

).

Breach of duty.

Drivers breach the duty of care when they disobey traffic laws or engage in reckless and wrongful behaviors like drunk driving or texting while driving.

Causation.

Our lawyers will use evidence and their legal knowledge to show how the at-fault driver's breach of duty directly caused your car accident.

Damages. We will prove your car wreck caused physical injuries, monetary loss, and pain and suffering.
Click to contact our Ennis Personal Injury Lawyers today
Common Causes of Texas Car Accidents
According to the Texas Department of Transportation (TxDOT), a traffic accident injury occurs approximately every two minutes on the state's roadways. Common causes of vehicle collisions include the following:
Intoxicated driving
Distracted driving
Speeding
Improper turns and lane changes
Failure to yield the right of way
Vehicle and roadway issues
We assist with motor vehicle accident cases involving:
Head-on collisions
T-bone accidents
Rear-end collisions
Rollovers
Hit-and-run drivers
Intoxicated drivers
Cars, trucks, buses, and motorcycles
Pedestrian and bicycle accidents
Potentially At-Fault Parties
In many car wreck cases, the liable party is a negligent driver. However, depending on the circumstances of your collision, we may be able to seek damages from the following:
An employer.

If your car accident involved a commercial motor vehicle (CMV) or someone driving as part of their job (such as a delivery driver), we could hold their employer financially responsible for their employee's negligent actions.

A roadway or property owner.

We can help you hold a government or private property owner liable for negligent or dangerous roadway conditions that contributed to your crash.

A manufacturer.

We can hold manufacturers liable for accidents caused by defective auto parts, such as faulty brakes or tires.
Complete a Free Case Evaluation form now
Contact Clay Jenkins & Associates Today for Help With Your Car Accident Case
Contact Clay Jenkins & Associates today for a risk-free, no-cost consultation and learn more about how our car accident lawyers in Ennis, TX, can fight for you and your family. We can help you seek compensation at no upfront or out-of-pocket cost. Connect with a personal injury attorney near you today!
Call or text (972) 938-1234 or complete a Free Case Evaluation form