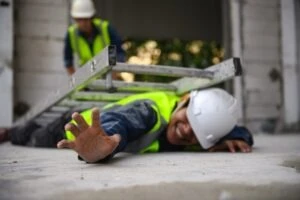 Working in the construction industry puts you at risk of sustaining catastrophic injuries daily. You have the right to file a claim if you sustain injuries while working on the construction site. If your employer has workers' compensation insurance, your recourse includes filing a claim. When your employer doesn't have workers' compensation insurance or a third party caused your injuries, you could file a personal injury lawsuit.
The Ennis construction accident lawyers from Clay Jenkins & Associates can review your circumstances to determine the kind of claim you can file. With decades of experience helping personal injury victims, we understand the turmoil you face after getting hurt on the job. We want to help you get through this setback so you can move on with your life without worrying about finances.
How Our Construction Accident Lawyers in Ennis, TX, Can Help With Your Case
The aftermath of a construction accident could leave you feeling confused and thinking you have nowhere to turn. You might not understand the workers' compensation process. Our attorneys can protect your rights so that you don't miss out on receiving the benefits you deserve.
When you hire our construction accident lawyers serving Ennis, TX, we can take the following steps to help with your case:
Investigate the accident to determine if you can file a workers' compensation claim or personal injury lawsuit.
File your initial claim and ensure it includes the necessary evidence and documentation.
Represent you during the appeals process if your initial claim gets denied.
If your case's circumstances allow you to file a personal injury lawsuit, we can also help you through that process. With a personal injury claim, you will need more evidence to prove what happened during the accident. Our attorneys can conduct an in-depth investigation to gather evidence to prove a third party's negligence caused you to sustain injuries.
Our Past Clients Share Reviews About Working With Our Lawyers
Working hard for clients and watching them see successful results inspires us to provide the quality legal care we do. To learn more about how we treat our clients, hear about what they have to say about us:
​​"Stephen knows the law, and saves time and money due to his knowledge. Jenkins & Jenkins- Are trustworthy and do what they can to help clients" – Alton Leblanc
"I have found everyone at Jenkins & Jenkins to be nothing but professional. I never had a phone call or email that wasn't promptly answered. It has been a great experience dealing with this law firm in a very difficult experience. The outcome has exceeded expectations thanks to Stephen Daniel and his staff" – Carol Ketchersid
"Most knowledgeable lawyer I have met. Knew the answers to my questions before I asked. Integrity and dedicated service to his clients was unbelievable." – Jason
"My experience with Jenkins & Jenkins was amazing. They took the time to explain everything to me so that I would get the concept of the settlement. They are really good at keeping you updated on the case. I would recommend Jenkins & Jenkins to everybody." – Alfred Campoz
We feel humbled when clients leave us positive reviews about our legal services. The attorneys at our firm feel thankful to our past clients for trusting us to handle such a sensitive matter.
For a free legal consultation with a construction accidents lawyer serving Ennis, call (972) 938-1234
Types of Construction Accident Claims
You could file a workers' compensation or personal injury lawsuit based on how your accident happened and your employer's workers' compensation policy.
Workers' Compensation Claim
If the construction happened at work and your employer carries workers' compensation insurance, you can file a workers' compensation claim. The Texas Workers' Compensation Laws protect employers who hold this insurance. Therefore, you usually cannot sue your employer if they carry this insurance.
Benefits you could receive in a successful workers' compensation claim include:
Paid medical expenses
Partial payments of your lost income
With workers' compensation, your employer doesn't have to be at fault for you to receive benefits. So even if the accident occurred because of your actions, you could still receive the necessary benefits.
Personal Injury Case
If you get hurt on a construction site, and your employer doesn't carry workers' compensation insurance, you could file a personal injury lawsuit against them. Another situation where you can file legal action is when a third party, such as a contractor, caused the injuries.
In this case, you must prove the other party's negligence caused your actions. Our attorneys can help you prove this claim.
Through a personal injury lawsuit, you could seek compensation for the following:
Medical expenses
Future medical expenses
Lost income
Future lost income or diminished earning capacity
Physical pain and suffering
Emotional anguish
Loss of enjoyment of life
You should fight for these losses if someone else's negligence injured you for their losses. When you seek our legal services soon after getting injured, we will have time to build your case.
Ennis Construction Accident Lawyer Near Me (972) 938-1234
Common Construction Accidents in Ennis, TX
Since our Ennis construction accident attorneys handle similar cases, we understand how a lot of these construction accidents happen. Common causes of construction accidents include:
Slip and fall accidents
Falls from heights
Crane accidents
Collapsed structure accidents
Electrical accidents
Falling object accidents
If poor safety procedures or improper training caused these accidents, you could have a case against the liable party.
Click to contact our Ennis Personal Injury Lawyers today
Contact Us Today for Help From Our Ennis Construction Accident Lawyers
To determine if you can file a personal injury lawsuit against the liable party for your construction accident injuries, our attorneys can help. We can also provide legal assistance if you want to file a workers' compensation claim. Regardless of your case's circumstances, you can count on Clay Jenkins & Associates attorneys to look out for your rights and interests.
For a free consultation, contact us today. Speak with our attorneys about your accident and how your injuries have affected your life. We can help you head in the right direction to recover the compensation you deserve.
Call or text (972) 938-1234 or complete a Free Case Evaluation form