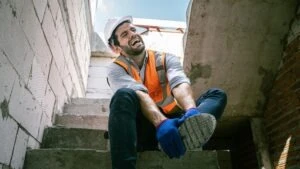 Construction sites have many on-site dangers. That doesn't mean you should accept an injury as just part of the job. If you suffered an injury on the job, a Midlothian construction accident lawyer from Clay Jenkins & Associates can seek to recover compensation for you.
Our team can determine if your employer subscribes to workers' compensation, how to access benefits you could be eligible for, and whether you have grounds for a lawsuit, particularly if a third party caused your injuries. We follow every path to compensation that can help you recover from your injuries.
How Our Midlothian Injury Lawyers Help After a Workplace Accident
Getting hurt while at work can make just getting care feel complicated. A misstep can leave you afraid of losing out on benefits or compensation.
We don't want you to feel powerless or fearful of making the wrong move following your accident. We want you to only focus on healing.
Our attorneys can help with the following:
Investigation of the construction company, workers, contractors, and third parties
Reconstruction of the accident to analyze what happened and why
Workers' compensation claims and injury lawsuit filings
Clarification on deadlines for claims and suits
Evidence gathering to show negligence and prove your need for damages
Negotiation with adjusters and lawyers for compensation
Accessing care and support while your case is ongoing
We Are Available and Accessible
Our relationship with you goes both ways—you can contact us 24/7, and we keep you updated on everything related to your case.
You also receive help from a team dedicated to your case. That team consists of lawyers, paralegals, and other staff, in addition to expert consultants we can utilize as resources. With us, you are never fighting alone.
We've Served Texas Since 1948
Clay Jenkins & Associates has helped accident victims just like you for more than seven decades. We draw upon that experience for each case, adapting our knowledge to the unique aspects of your case.
For a free legal consultation with a construction accidents lawyer serving Midlothian, call (972) 938-1234
Our Midlothian Construction Accident Lawyers Can Identify Recoverable Damages
First, we must determine if your employer carries workers' compensation coverage. If so, this could affect the compensation you are eligible to receive. If your employer has workers' compensation insurance, we can help you file a benefits claim. If it doesn't, you might be able to bring a lawsuit for financial recovery that covers your losses.
Some of the possible compensation we might be able to recover with a personal injury lawsuit includes:
Bills for past and future medical treatment
Physical therapy and recovery expenses
Any related expenses you paid out of pocket
Past and future lost income
Pain and suffering and emotional distress
Loss of enjoyment of life
Some of these are only available through a lawsuit, like pain and suffering. When we analyze your possible damages, we will determine what is available through workers' compensation benefits, other insurance claims, and personal injury lawsuits. We identify all avenues for compensation, even if it means pursuing multiple parties. Clay Jenkins & Associates tailors the recovery process for our clients according to their situations.
If You Can't Return to Construction Work
Because of the physical labor often necessary for a construction job, if your injuries mean you can't stay on your feet, lift objects, or move in the way you did previously, you may need to seek other work. You may not realize that this change to your life is also covered by damages.
Our construction accident attorneys serving Midlothian, TX, can seek compensation for:
Lost income while you're recovering
Gaps in pay from taking fewer hours or a lower-paying position
Training in a new position or career
Disability if you are no longer able to work
Midlothian Construction Accident Lawyer Near Me (972) 938-1234
If You Lost a Loved One in a Midlothian Construction Accident
Recent statistics from the U.S. Bureau of Labor Statistics (BLS) list construction as having the second most occupational deaths. Perhaps you are looking for a worksite accident lawyer because you lost someone in this way. Our wrongful death lawyers can support you through this difficult time.
We can work to recover compensation for:
Funeral services and cremation or burial
Medical bills from the accident
Lost income from your loved one
Pain and suffering
Lost guidance and support
Click to contact our Midlothian Personal Injury Lawyers today
We Handle Workers' Compensation, Insurance, and Construction Accident Lawsuits
Texas is unique in that the state does not require employers to provide workers' compensation coverage to their employees. The Office of the Texas Governor highlights what workers' compensation covers and what employers must do.
The course your case takes depends on if your employer was a subscriber to workers' compensation or a nonsubscriber. We can sort out this issue for you.
With Worker's Compensation
Employers who subscribe to workers' compensation make a trade: in exchange for providing insurance benefits to any employee who gets injured on the job, employers are protected from a lawsuit. You cannot sue your employer based on negligence under workers' compensation.
However, that doesn't mean accessing benefits always goes smoothly. You can talk to our workplace injury lawyers if you experience:
Delays or unnecessary requirements
Underestimation of your injuries
Unfair claim denials
Pressure to return to work too soon
Claims that your injuries aren't work-related
The legal team at Clay Jenkins & Associates can help protect your right to fair compensation. We can gather evidence for a work injury claim to help prove its severity, relation to your job, and effect on your life.
In addition, we can determine if any other party's negligence played a role. Even with restrictions on suing your employer, someone else's carelessness may have contributed, like an equipment manufacturer or a vendor. In that case, we can pursue a lawsuit against them for their negligence.
Without Workers' Compensation
Some Texas employers have their own benefits plans, while others do not carry insurance. We can assist in either scenario, clarifying the terms of your construction company's benefits plan or determining if they had no coverage.
Since subscribing to workers' compensation is a trade-off—allowing you to receive benefits but protecting the employer from lawsuits—nonsubscribers face the opposite trade. While they don't have to provide benefits, they open themselves up to the possibility of being sued.
Our construction accident lawyers serving Midlothian, TX, can investigate your accident to determine if your employer or another party was negligent. If so, we can pursue a lawsuit against them to recover your damages. Like with workers' compensation cases, we also explore the possibility of additional liable parties, like equipment manufacturers, vendors, visitors, or property owners. We analyze every option to maximize your compensation.
Complete a Free Case Evaluation form now
Reach Out to Our Midlothian Construction Accident Team Today
Bring our Midlothian construction accident attorneys all your questions: pursuing compensation through workers' compensation vs. a lawsuit, how long you have to file a claim or suit, who to hold accountable, and how we can help you. You can contact us anytime, 24/7, and receive a free consultation, so why wait? Call now.
Call or text (972) 938-1234 or complete a Free Case Evaluation form