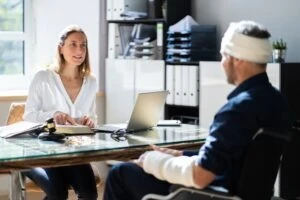 A workplace injury can temporarily or permanently prevent you from working to support yourself and your family. If you were hurt at work, you need to know the types of compensation you can receive in a work injury claim. In most cases, you can collect medical, financial, and rehabilitation benefits. If your family lost a loved one in a workplace accident, you may also be eligible to recover death benefits.
A workers' compensation lawyer in your area can help you build a strong case that proves your right to benefits. The lawyer handling your case will document your injury, how it occurred, and its financial repercussions. They can handle all your case's details while you focus on your physical recovery or on helping a loved one through their recovery.
Understand the Different Types of Workers' Compensation Disability Benefits
According to the U.S. Department of Labor (DOL), you could qualify for four types of workers' compensation benefits.
A personal injury lawyer can help you build a strong case for financial recovery. They can also calculate your average weekly salary accurately, ensuring you receive benefits in the appropriate amount. Your lawyer can also ensure your injury or illness is in the right category. This can ensure you receive benefits for the appropriate time.
Temporary Total Disability (TTD)
If you cannot immediately return to work but are expected to recover enough to return to work later, you could receive TTD benefits. These benefits typically end when you reach maximum medical improvement (MMI) and are cleared to go back to work. Your state may also impose a time limit on TTD benefits.
Temporary Partial Disability (TPD)
You could qualify for these benefits if your temporary injury or illness limits but does not completely prevent you from returning to work. Typically, you can receive compensation that covers the portion of the income you lose.
Permanent Partial Disability (PPD)
You qualify for permanent partial disability compensation if your disability is permanent and will prevent you from working at full capacity. You will receive compensation for the portion of the income you can no longer earn.
Permanent Total Disability (PTD)
Your state will have its own set of guidelines that determine whether you qualify for PTD benefits. These benefits are based on your pre-injury or pre-illness salary. In most cases, you will receive two-thirds of that salary, but some states establish a maximum amount for permanently injured workers.
For a free legal consultation, call (972) 938-1234
What You Need to Know About Recovering Workers' Compensation Benefits
Temporary and permanent workers' compensation benefits can include other forms of compensation. No two injury cases are exactly alike, so the range of benefits you could recover can vary.
When a workers' compensation attorney represents you, they will examine your case's details and clarify the benefits you can recover. They will also review with you the applicable notification and filing deadlines that pertain to your case.
Workers' Compensation Medical Treatment
Your medical benefits will cover all the costs of diagnosing and treating your injury or illness. Some coverage may vary based on your state of residence, but in general, you can recover the costs of:
Emergency care
Hospital stays
Required medication
Surgical procedures
Assistive devices
Your state may also determine whether you can choose a health care provider or if you must see one your employer provides. A lawyer can help you understand your rights and your employer's responsibilities.
Workers' Compensation Rehabilitation
In addition to medical care, your injuries or illness could also require additional rehabilitation or therapy. Workers' compensation will generally cover the costs of physical, occupational, and other therapies required for your recovery.
Rehabilitation can also include non-medical rehab, such as support and training that can help you regain or relearn skills that allow you to reenter the workforce. An attorney will explain your eligibility for medical and vocational rehabilitation.
Workers' Compensation Death Benefits
Your family could recover death benefits if your loved one suffered a work-related injury or illness. In most cases, the decedent's parents, spouse, or children can recover benefits. They may include funeral and burial costs and financial support for the decedent's family.
You could be eligible to receive a lump sum payout. The best way to understand the death benefits you might be able to recover is to let a local attorney review your case's details and your loved one's demise.
Review Your Potential Recovery With One of Our Worker's Compensation Team Members
Did you or someone you love suffer a workplace injury or was diagnosed with an illness related to your work or workplace? We can help. Our workers' compensation attorney will explain your rights and the compensation you can receive in a work injury claim. Contact our Clay Jenkins & Associates case review team to get started today.
Call or text (972) 938-1234 or complete a Free Case Evaluation form