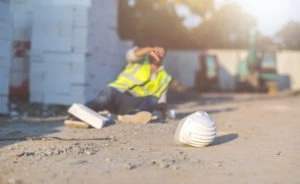 Industrial & Construction Accident Lawyers Waxahachie, TX – Ellis County
Many construction and industrial worksites seem to neglect Occupational Safety and Health Administration (OSHA) laws, which can fall under the radar. If your workplace is the reason for your personal injury, then it's about time you had your side of the story heard.
Our Waxahachie Waxahachie personal injury lawyers are highly knowledgeable about lawsuits and claims that arise out of industrial accidents. Our personal injury attorneys know and understand the necessary laws and regulations that govern workplace safety, which enables them to help clients in resolving claims fairly.
Lawyers Clay Jenkins and Stephen Daniel, as industrial accident attorneys, will do their best to recover the compensation you deserve.
For a free legal consultation with a industrial accidents lawyer serving Waxahachie, call (972) 938-1234
How Our Waxahachie Industrial Accident Lawyers Can Help
No matter how many precautions workers take, the risk of an industrial accident is always present. Many industrial jobs are dangerous, and accidents can happen. When workers suffer serious injuries, they end up in the hospital or at home for recovery periods that are long and painful physically and financially. Our industrial accident attorneys serving the Waxahachie area are ready to help injured workers recover the compensation they need to restore their lives.
When you become our client, we can do the following for your case and more:
Investigate the Waxahachie industrial worksite accident

Gather and review evidence to establish the timelines of events

Identify all liable parties responsible for compensatory damages and prove their negligence (e.g., general contractors, equipment manufacturers, property owners, delivery companies, etc.)

Interview witnesses and document their accounts of the accident

Consult with field experts whose professional opinions can bolster your claims

Negotiate with the liable party's insurer for fair compensation

Manage all case-related paperwork and communications

Provide counsel throughout your case and explain all laws, developments

File a lawsuit in civil court for your damages if we cannot reach a settlement
Our Lawyers Will Defend Your Claim for an Industrial Accident in Waxahachie
We take our clients' injury cases seriously. We also we protect their rights and will take on any challenges to their claims. It is possible for the opposing side to say any of the following as you seek financial recovery:
Your injury did not happen at work or during the scope of your employment.

You waited too long to tell your employer about your injury by a certain date.

You had a pre-existing health condition.

You caused your accident on purpose.

Your claim or lawsuit is false.
We will handle all correspondence for you, including if your compensation claim is denied. We can manage your entire case while you focus on recovering from your injuries.
Waxahachie Industrial Accident Lawyer Near Me (972) 938-1234
How Much Can You Recover in Your Waxahachie Industrial Accident Case?
Industrial accidents involve many circumstances, making it difficult to give an average estimate of your case. To determine its value, our Waxahachie industrial accident lawyers will assess how the accident has affected your life non-financially and financially.
Recoverable Damages in an Industrial Accident Case
Recoverable damages are money the court requires someone to pay for injuring someone else. They include economic and non-economic damages. Economic damages are justified monetary losses you incurred because of your injuries. We can verify these losses with documentation of bills associated with the injury.
Economic damages you could recover include:
Medical bills

: Any hospitalizations, emergency room bills, ambulance rides, doctor's appointments, medications, and medical supplies you have had to pay out of pocket can be included in your claim.

Future medical care costs

: If you require future medical care, you can include these projected costs in your case. An attorney from our firm will calculate the value of your future medical care.

Rehabilitative care bills

: If your injuries require rehabilitative care, such as

physical therapy

,

occupational therapy

, or speech therapy, you can include rehabilitative care costs in your claim.

Lost income

: During your recovery, you may have lost income from being out of work. You can seek this loss regardless of the amount of time you were out of work. You can also claim any work benefits you lost while out of work.

Lost earning capacity

: If your injuries are severe enough to where you are unable to return to work in the same capacity, you can include this loss in your claim. In some cases, injuries are severe enough to where you may not be able to return to work at all. In this case, we will seek compensation for all future earnings you lost.

In-home care

: If your injuries are severe enough to require in-home care, you can include this loss in your claim.
Alternatively, non-economic damages are subjective, non-monetary losses. Non-economic damages you could recover include:
Pain and suffering

: This category involves the physical discomfort you face because of your injuries.

Emotional distress

: If the accident or your injuries cause severe emotional suffering, including anxiety, post-traumatic stress disorder, depression, or sleep issues, you can seek compensation for this anguish.

Loss of enjoyment of life

: In some cases, your injuries may be severe enough to where you can no longer participate in activities and hobbies you once loved.
Click to contact our Waxahachie Personal Injury Lawyers today
Common Industrial and Construction Injuries
Construction accidents and injuries can include:
Machinery and power equipment malfunction or failure

Flammable chemicals or vapor explosions

Power tool manufacturing defects

Falls off ladders or scaffolding

Electrocution

Exposure to toxic chemicals, asbestos, or radiation

Tunnels caving in during mining excavations

Improperly working conveyor belts
Complete a Free Case Evaluation form now
The Waxahachie Industrial Accident Lawyers at Clay Jenkins & Associates Will Be by Your Side
Our attorneys are dedicated to helping our clients injured in Waxahachie industrial accidents receive fair compensation. Industrial accidents can cause severe and life-changing injuries, and the liable party should be held accountable.
If you or a loved one has been injured in an industrial accident that someone else's negligence caused, call Clay Jenkins & Associates today. We work on a contingency fee basis, which means you do not pay for our services unless we help you recover money. Contact us today for a free consultation.
Call or text (972) 938-1234 or complete a Free Case Evaluation form