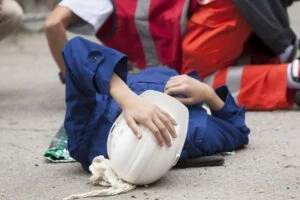 Construction workers are at risk daily while working on job sites for various building projects. While many construction sites have safety procedures, accidents still happen. An accident can leave you injured and unable to work for an infinite amount of time. On top of dealing with income losses, you could also face medical bills.
The Waxahachie construction accident lawyers at Clay Jenkins & Associates can help you recover compensation. Our personal injury attorneys understand the laws surrounding these cases and can inform you if you should file a workers' compensation or personal injury lawsuit. Regardless, we can help you through the process so you can seek the benefits you need.
Our Construction Accident Lawyers in Waxahachie Can Fight For You
Construction accidents can leave you with significant injuries that affect you for the rest of your life. Soon after the accident, your injuries could prevent you from dealing with a claim on your own. To make this process easier, we can take care of the claims process so you can focus more on healing.
When you choose our construction accident attorneys in Waxahachie, TX, to represent you, you can expect the following:
Two attorneys to take on your case. We assign two attorneys to each client so each case has personalized and responsive legal representation.
You can have a free consultation to learn about our services without worrying about the financial obligation of speaking to our attorneys.
We price our legal services based on a contingency fee, so you do not have to worry about paying us until you receive compensation. You only pay us a small percentage if you reach a successful outcome. We do not charge a legal fee if you do not recover compensation.
We offer these benefits to our clients because we understand the difficult time you endure after suffering injuries in a construction accident.
Testimonials Past Clients Have Said About Our Law Firm
Each of our construction accident lawyers in Waxahachie, TX, works tirelessly for our clients. Because of that, they have left us positive reviews, including:
"I have found everyone at Jenkins & Jenkins to be nothing but professional. I never had a phone call or email that wasn't promptly answered. It has been a great experience dealing with this law firm in a very difficult experience. The outcome has exceeded expectations thanks to Stephen Daniel and his staff" – Carol Ketchersid
​​"Stephen knows the law, and saves time and money due to his knowledge. Jenkins & Jenkins- Are trustworthy and do what they can to help clients" – Alton Leblanc
"My experience with Jenkins & Jenkins was amazing. They took the time to explain everything to me so that I would get the concept of the settlement. They are really good at keeping you updated on the case. I would recommend Jenkins & Jenkins to everybody." – Alfred Campoz
"Most knowledgeable lawyer I have met. Knew the answers to my questions before I asked. Integrity and dedicated service to his clients was unbelievable." – Jason
Hearing such positive reviews from past clients helps us know we provide quality legal representation.
For a free legal consultation with a construction accidents lawyer serving Waxahachie, call (972) 938-1234
Workers' Compensation Benefits You Could Receive After After a Waxahachie Construction Accident
After sustaining injuries on the construction site, you can file a workers' compensation claim. According to Texas law, you could receive the following benefits if you get a claim approval:
Medical expenses
A portion of your lost income
You must immediately report your injury to your employer if you wish to apply for workers' compensation benefits. Then, receive the proper medical care. Once your injuries stabilize, you can reach out to our firm for help with the claims process. If you receive a claim denial, our construction accident attorneys in Waxahachie, TX, can fight for you and appeal the decision.
Compensation You Could Receive If You Can File a Personal Injury Lawsuit
If a third party on the construction site caused your injuries or your employer doesn't have workers' compensation insurance, you could file a personal injury lawsuit against the liable party. Our attorneys can assist you with the legal process, and you could seek compensation for your damages, such as:
Medical expenses: These out-of-pocket medical care costs are the ones you paid or are expected to pay.
Lost income: You could seek compensation for the income you could have received if you had remained working. Any lost income could be included in your injury lawsuit.
Pain and suffering: You could seek compensation for the physical or emotional distress your injuries caused.
When you start working with our firm and determine if you can file a lawsuit for your injuries, we can review their related damages. Then, we can calculate their value and seek compensation for all your losses, even the non-monetary losses.
Ensuring you meet the statute of limitations deadline provided by Texas Civil Practice and Remedies Code § 16.003 is important. This law states you have two years to seek compensation for an injury case. We want you to have a chance at getting justice for your injuries. By reaching out to our attorneys shortly after the construction accident, you can give us more time to build your case.
Waxahachie Construction Accident Lawyer Near Me (972) 938-1234
Common Causes of Construction Accidents in Waxahachie, TX
With construction continuously happening in the area, we have helped many people who suffer from construction accident injuries. Common causes of these injuries include:
Exposed wires causing electrocutions
Falls from heights
Falls in trenches
Faulty machines
Insufficient training
Misuse of tools
You could seek compensation for your losses if you sustained injuries because of these issues. Our firm can help.
Click to contact our Waxahachie Personal Injury Lawyers today
Talk to a Waxahachie Construction Accident Lawyer About Your Case – Call Today
For help with your construction accident case, contact the attorneys at Clay Jenkins & Associates today. We can handle your case from start to finish and update you regularly on its status. Whether you must file a workers' compensation or a personal injury lawsuit after a construction accident, we have the skills and knowledge to provide legal representation.
You can expect our firm to go above and beyond for you. We can take care of all legal aspects regarding your case. Your main focus should be on recovering from your injuries. We can handle the rest.
Call or text (972) 938-1234 or complete a Free Case Evaluation form