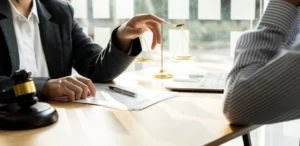 Clay Jenkins & Associates law firm, Dallas County, established in 1948, is experienced in handling personal injury cases. We have provided legal advice to clients from DeSoto and other parts of Texas. With more than six decades of experience dealing with personal injury lawsuits, we take our work very seriously and consider it a duty to bring the perpetrators of crimes to justice.
Our DeSoto personal injury attorneys specialize in personal injury cases and are among the top lawyers in the state. Their experience and skills have equipped the law firm with the necessary knowledge to recover millions of dollars in damages for our clients. We treat each personal injury claim with utmost importance and help keep our clients and society safe by bringing negligent actions to light.
Our services extend to people injured in auto accidents, suffering traumatic brain injuries, and suffering damages due to the negligent actions of others, like accidents occurring in the streets, workplaces, construction sites, etc. We consider it a privilege to be our clients' voice and gain them the required compensation from the responsible parties.
Our personal injury law firm will help you with any queries or doubts related to your case, and we are more than happy to sit and discuss your case with you. For every personal injury case we handle, a legal team of two lawyers is provided, along with a paralegal and support staff.
We handle personal injury cases on a contingency-fee basis. Therefore, you need only pay us for our services if we recover damages for you.
Our Practice Areas in DeSoto
We can handle your personal injury case for you while you recover from the injuries you face. Our law firm will help you seek justice against the party who caused your injury. The following are some of the practice areas in which our DeSoto personal injury lawyers can offer you legal guidance.
For a free legal consultation with a personal injury lawyer serving Desoto, call (972) 938-1234
DeSoto Auto Accident Lawyers, Dallas County
Auto accidents take a heavy toll on lives in DeSoto, TX, often changing the lives of the people involved. The victims suffer a great deal of loss, whether in the form of injuries, loss of personal capacity, pain, loss of wages and employment, or even the death of a loved one. These losses often happen due to the carelessness of another person.
Every motor vehicle driver is responsible for ensuring safety on the road, and it is their duty to obey traffic laws. Unfortunately, this duty is neglected sometimes, and the resulting actions lead to devastating consequences.
Common negligent actions that lead to auto accidents are:
Use of mobile phones while driving

Reckless driving and inability to control speed

Stubbornness in not giving proper way to others

Driving under the influence of alcohol and other intoxicant drugs
Adequate reimbursement of the damages suffered should be provided, which the DeSoto personal injury attorneys at Clay Jenkins & Associates will help you with. Our lawyers aggressively represent people in DeSoto and across the state of Texas. We can ensure the defendants do not get away with their negligent actions.
How Our Car Accident Lawyers in DeSoto Can Help You
If you have been involved in a car accident, do not hesitate to approach our law firm. Our auto accident attorneys will help you with your legal rights and assist you in filing a personal injury lawsuit against the responsible parties.
Once we agree to take up your personal injury case, our auto accident legal team will at once start investigating the events that happened. We will work closely with expert investigators and reconstruct the scene of the accident. Our team will examine and evaluate the reports, eyewitness accounts, vehicle damages, medical reports of the victims, etc.
We will also sit with you and help you face the insurance companies so that they do not deceive you from obtaining your rightful compensation. We will retain experts, if needed, to assess the extent of injuries and damages suffered and their consequences on your future earning potential.
Our personal injury lawyers can also help you gain punitive damages if the accident resulted from the defendant's purposeful actions and malicious intent. If you or a loved one has been a car accident victim in DeSoto or anywhere else in Texas, then contact us immediately and fill out our online form to discuss your case.
Desoto Personal Injury Lawyer Near Me (972) 938-1234
DeSoto Truck Accident Lawyers, Dallas County
Many people in DeSoto are affected yearly by the devastating effects of trucking accidents. There are many 18-wheelers, trailer trucks, and semis utilizing the Texan roads, and mishaps that happen due to the negligent actions of truck drivers result in the wrecking of lives.
Truck accidents are caused due to many factors such as:
Reckless driving

Drunk drivers

Mechanical failures or vehicular defects

Improper training of truck drivers

Driver fatigue, resulting in sleeping behind the wheel
Unlike many other auto accidents, trucking accidents can be highly devastating, with greater chances of fatality or serious injury. The victim could suffer from dismemberment, permanent disfigurement, traumatic brain injuries, and extensive injuries that may prevent the victim from continuing a normal lifestyle.
Establishing the cause of the truck accident is an important element of the personal injury case.
How DeSoto Trucking Accident Lawyers Can Help You
In a truck accident, the parties held liable for the accident and damages suffered by the victim are mainly the truck driver, truck owner or employer, trucking company, etc. Nevertheless, the accused can choose to deny the allegations put forward and can defend their actions.
This is where the role of an experienced truck accident attorney comes into play. Our legal team in DeSoto is adept at establishing liability. In addition, they can help your case by collecting evidence, evaluating the accident and medical reports, and formulating a legal strategy to ensure you get your rightful compensation.
Soon after the collision, the trucking company will begin its investigation and assist its insurance company in limiting the amount of compensation it would have to pay you.
Our DeSoto trucking accident lawyers will work with special investigators to uncover the truth of the collision and help you from being conned by the defendants.
In heavy collisions and fatal crashes, you or a loved one may suffer the loss of a beloved. In such cases, the trucking accident attorneys at Clay Jenkins & Associates will help you file a wrongful death suit against the responsible parties.
Compensation Obtained for Trucking Accidents
Non-economic and economic are the two main types of damages recovered in the event of a truck accident. In addition, sometimes, punitive damages can also be awarded depending upon the severity of the collision and the context of the accident.
Commonly, the damages claimed are as follows:
Medical expenses

: This includes all expenses incurred from surgery fees and hospital care to medical assistance and recovery devices. It also covers any medical expenses the victim suffers due to prolonged medical care and attention from significant injuries.

Loss of wages

: Extensive injuries can disable a person from working normally and earning a living, either temporarily or permanently. Such cases are liable to receive compensation for the lost wages.

Physical pain and mental trauma

: Damages for the injuries and physical agony suffered from the crash depend on the injuries' nature and severity, period of suffering, etc. Compensation for mental grief, frustration, worry, and emotional distress is also considered while awarding compensation.

Companionship loss

: For an uninjured spouse, damages may be given for the loss of spousal benefits, deprivation of companion, and intimacy that includes sexual relations, affection, and comfort.
In cases where the defendant's actions are found to be of malicious intent, the plaintiff may be deserving of punitive damages. Contact our truck accident lawyers in DeSoto for a detailed account of how your legal case can be moved forward.
Our legal team can help you learn your rights and analyze your case for free.
Click to contact our State Name Personal Injury Lawyers today
DeSoto Wrongful Death Lawyers, Dallas County
An unexpected and untimely loss of a loved one can be a devastating experience, especially when the demise results from the careless actions of others. While the emotional distress and trauma are unimaginable, we can help you move on with the loss and aid you with a wrongful death lawsuit.
Our personal injury lawyers are well-trained in wrongful death claims and proficiently bring the responsible parties to justice. The years of experience and legal resources in our hands will be available to you to recover any damages you deserve.
The wrongful death attorneys of Clay Jenkins & Associates in DeSoto focus on restricting the financial strain on the surviving family. Our legal team has provided wrongful death services to families in DeSoto and across Texas for over six decades.
Therefore, do not hesitate to contact our firm if you have lost someone or know someone who has lost a loved one and wants to file a wrongful death claim. Discuss your legal rights and wrongful death lawsuit with our personal injury attorneys free of charge.
Compensation Obtained for Wrongful Death
Texans can seek compensation in the case of wrongful death. Common damages awarded are:
Medical expenses incurred through hospital visits and medical care

Funeral and burial expenses you paid for

Loss of benefits in the form of pensions or other welfare funds which the deceased would have received if they were alive

Damages for loss of earnings or wages which the decedent would have received as a salary had they been alive

Damages for the emotional trauma and mental distress suffered due to the loss of companionship and intimacy of a deceased loved one

Compensation in the form of punitive damages serves as a punishment to the defendant, who is legally liable to pay the family of the deceased for the negligent actions that led to the victim's death
Filing a Wrongful Death Lawsuit in DeSoto
If you are mourning the loss of your loved one, we extend our condolences. You have the option of filing a wrongful death lawsuit to recover compensation for you and your family's losses. However, you won't have forever to do this. A DeSoto wrongful death attorney from our firm will help you file your lawsuit in accordance with the Texas statute of limitations.
The statute of limitations outlines the amount of time a person has to file a lawsuit. According to Texas Civil Practice and Remedies Code § 16.003, you have two years to file a lawsuit if your family experienced a wrongful death. Do not hesitate to reach out to our firm. We can make sure you don't miss the chance to recover the compensation your family needs.
Complete a Free Case Evaluation form now
DeSoto Traumatic Brain Injury Lawyers, Dallas County
Per the Centers for Disease Control and Prevention (CDC) reports, over 64,000 people passed away from traumatic brain injury (TBI) in America in 2020. More than a hundred persons are hospitalized with serious brain injuries. Such acute cases can have grounds for permissible wrongful death suits.
Two main types of brain injuries are closed brain injury and penetrating brain injury. Closed brain injuries occur when the brain suffers damage due to heavy impact on the skull from falling, banging the head, sports injuries, or automobile collisions. Penetrating brain injuries occur when the skull is injured from objects penetrating it, like bullet wounds, firearms injuries, impacts from clubs, etc.
Traumatic brain injuries can happen anywhere, anytime, and most unexpectedly. It could happen at home, the workplace, or a construction site, and injuries due to the negligent acts of others have a legitimate right to a lawsuit.
Brain injuries can leave crippling results, often hampering the victim's life and routine permanently or temporarily. Usually, when a person suffering a head injury starts showing signs of disorientation, confusion, memory loss, headaches, etc., there is a possibility of TBI, and they should be rushed to the nearest medical facility.
Each TBI case has various factors to consider when filing a claim. An experienced DeSoto personal injury attorney can help you with your rights and aid you with your case.
Our firm has more than 60 years of experience in providing legal services and advice to residents of DeSoto and around Texas. For our personal injury lawyers, the client comes first, and we consider it a privilege to be your voice in court.
Plausible Brain Injury Causes
The following accidents are just some of the reasons people can experience a brain injury:
Head injuries from vehicular accidents

Accidental falls

Falling from fast-moving vehicles

Injuries suffered by the roof and ceiling collapsing overhead

Injuries from objects falling on the head

Slipping and falling on the floor and banging the head

Extreme and high-intensity explosions
If another party caused the accident that led to your TBI, our team can help. Our DeSoto lawyers will work with you to determine how the accident happened.
DeSoto Industrial and Construction Accident Lawyers, Dallas County
Industrial and construction accidents often result from heavy machinery failure, malfunctioning power tools, and dangerous locations like high ledges and beams, moving container units, etc. Clay Jenkins & Associates in DeSoto, Dallas County, has two prominent industrial accident attorneys, Stephen Daniel and Clay Jenkins. They are well-versed in accidents occurring on industrial and construction sites.
They will stand by your side and work wholeheartedly to ensure you get adequate compensation for any damages suffered due to the negligence of others. Contact our law firm for legal advice and services. You can sit with our personal injury attorneys to discuss your legal rights and case.
Any accident happening at an industrial or construction site will entail an investigation into its causes and will enclose a detailed review of:
Obedience to Occupational Safety and Health Administration (OSHA) safety laws

Maintenance and durability of equipment, heavy machinery, and the automotive involved

Training of workers and staff

Availability of proper safety protector systems, gear, equipment, and presence of warning notices
For any personal injury case that is a result of a mishap happening at a construction site, our legal team will work to ensure our client receives just compensation for:
Medical expenses and medical devices for assistance

Compensation for wages lost

Expenses incurred for therapy and recovery

Any expenses that the victim incurs to resume a normal lifestyle, including disability accommodations
DeSoto Product Liability Lawyers, Dallas County
Product liability law can hold the manufacturer of the faulty product responsible for defects. Anything from prescription drugs to power equipment can be dangerous if manufactured irresponsibly.
Offenses occurring from product defects are considered strict liabilities. That is, even if the defendant is not negligent in their actions, they can be held responsible for any harm caused due to a defect in the product. Therefore, if a faulty product injured you or a loved one at home or work, you should consult with a product liability attorney.
Some common examples of product liability cases involve:
Unsafe toys and furniture

Defective home products and electronic and power equipment

Defective seatbelts and airbags

Malfunctioning tools

Defects and malfunctions in workplace machinery

Defective medical equipment

Dangerous prescription drugs

Product recalls

Defective aviation products
The product liability attorneys at Clay Jenkins & Associates, DeSoto, can help you with your legal rights and ensure you get the compensation you deserve. Our product liability lawyers are well-experienced and will diligently handle any personal injury case you want to file.
DeSoto Premises Liability Lawyers, Dallas County
Premises liability cases are filed when a person is injured in places like grocery stores, construction sites, streets, or even at home due to the negligence of another. Even though an individual injured on another person's property can file a lawsuit against the property owner, the plaintiff would benefit from an experienced personal injury attorney to handle the case adeptly, as the proceedings are quite burdensome for the victim.
At Clay Jenkins & Associates, DeSoto, qualified personal injury lawyers with years of experience in premises liability cases are present. They can provide legal advice, enlighten you on your legal rights, and present the case to obtain proper damages.
Generally, a landowner can be accused of negligence only if the plaintiff can establish the following:
The environment of the premises created an unreasonable risk

The landowner knew the danger

Failure of the landowner to employ safety procedures to protect the victim, failing to warn the victim before danger, or failing to use protective measures to prevent danger to the victim
For any premises liability case, it is imperative to have a personal injury lawyer who is familiar with such situations and can properly assess the lawsuit to receive adequate compensation. If you or a loved one has been a victim of a premises liability case, call our personal injury attorneys or complete our form online to discuss your case for free.
DeSoto Condemnation & Litigation Lawyers, Dallas County
Lawyer Clay Jenkins is a highly accomplished litigation attorney specializing in condemnation cases. If you have a personal injury case to take to court, approaching our very own condemnation specialist will be of big help.
The attorneys at Clay Jenkins & Associates have provided years of services to families in DeSoto and across Texas. Lawyer Clay Jenkins will work with you and ensure that you enjoy the full worth of your properties and will see that you receive proper compensation.
Our law firm has been functioning for more than sixty years. Over the six decades of legal service, our attorneys have provided valuable service to companies and family-owned ventures. We can assist in evaluating and assessing the cost suffered and risk managed in a litigation case in DeSoto.
Our condemnation & litigation attorneys will help you negotiate agreements, advise arbitration settlements, and assist you with litigation judgments.
DeSoto Dog Bite Lawyers, Dallas County
Dog bites can be painful, traumatic, and, in some cases, result in permanent injury. In addition, children, especially victims of dog attacks, can be emotionally scarred and suffer from physical injuries.
In 1974, the Texas Supreme Court established the state's dog bite laws in Marshall v. Ranne. As a result, there are several ways a Texas dog owner can be held responsible for their pet's actions. Dog bite lawsuits can be based on owner or handler negligence, awareness of the dog's dangerous tendencies, local leash ordinance violations, and more.
Dog Bite Lawsuits Based on Negligence
Dog owner or handler negligence is one of the most common reasons bite victims pursue compensation. To do this, you must present strong evidence that the person did not exercise ordinary care to keep the dog from harming others. In addition, if the offending dog was improperly restrained, a leash law violation can be a reason you could hold the owner liable for your injuries.
Dog Bite Lawsuits Based on Strict Liability
In Texas, dog owners are responsible for damages such as medical bills and pain and suffering caused by dog bite incidents. Owners might be protected from liability unless they have specific knowledge that their dog is dangerous. Our DeSoto lawyers can help victims fight for compensation.
If you can prove the owner knew what the animal was capable of, they can be held strictly liable. However, this can sometimes be challenging, so having legal representation from a personal injury attorney who handles dog attack lawsuits is beneficial.
Other situations in which a dog bite victim can seek compensation include the following:
The owner/handler engaged in willful misconduct (e.g., encouraging the dog to attack)

Law enforcement used unreasonable force with a police dog

A kennel or pet-sitting facility failed to provide a dog with adequate care

A veterinarian or animal clinic committed malpractice

A landlord was liable for their tenant's pets
If you, a loved one, or a child in your family has been the victim of an unruly dog attack, then you can file a dog bite claim against the animal owner to recover damages. Contact a DeSoto dog bite attorney to discuss your case for free. We will advise you on your rights and help you file the dog bite lawsuit against the responsible party.
Desoto Residential Gas Explosion Lawyers
Residential propane and natural gas explosions occur when a gas leak is combined with an ignition source. Natural gas is a highly combustible fuel that can ignite when leaking at a moment's notice. Explosion victims often sustain penetrating and blunt force trauma due to flying debris. They also commonly suffer severe fire-related burns, smoke inhalation, hearing loss, PTSD, and various life-threatening or fatal injuries.
Gas explosions are often caused by the negligence of an individual or company. As a result, victims can file lawsuits against those responsible for the explosion, commonly including gas companies, landlords, service repair companies, contractors, designers, and manufacturers.
Although many people have successfully sued utility companies for unaddressed gas leaks and defective equipment that led to an explosion, these companies sometimes try to blame other parties. That said, evidence collected in an investigation often demonstrates that the gas company was at fault.
Common causes of gas explosions include:
Faulty gas meters, regulators, and lines

Appliance explosions (e.g., water heaters, central heaters, gas lights, ovens, clothes dryers, etc.)

Propane leaks

Defective or rusty pipes

Construction issues

Gas composition, flow, and pressure

Intermittent, little, or no gas flow over a prolonged period
Our DeSoto residential gas explosion lawyers understand natural gas laws and have access to safety experts who can determine the origin of gas leaks and explosions.
Contact Our Personal Injury Law Firm for Help With Your Claim Today
Feel free to contact Clay Jenkins & Associates to discuss your case at no charge. Our DeSoto personal injury attorneys will advise you on your rights and help you file a claim against the responsible party.
You should not be responsible for the costs associated with an injury that someone else caused. We can listen to the details of your case and answer your questions in a free consultation. Call us today so we can get started.
Call or text (972) 938-1234 or complete a Free Case Evaluation form