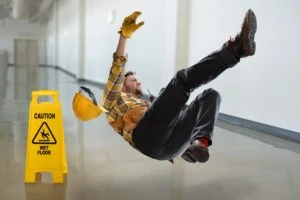 Premises Liability Lawyers Waxahachie, TX – Ellis County
With over 66 years of experience, our Waxahachie premises liability lawyers offer the most aggressive legal representation for your premises liability case. Our liability practice covers injuries that occur in hotels, office buildings, grocery stores, on streets and sidewalks, at construction sites, and in any commercial business or residential location. 
If you've been injured while shopping, visiting a neighbor, or driving through construction in Waxahachie, Texas, you deserve compensation for your injuries. When property owners don't take the necessary precautions to properly maintain their premises, they need to be held responsible. Don't let your injury go unnoticed! A Waxahachie Personal Injury Lawyer with Clay Jenkins & Associates could help you secure the compensation you are entitled to recover.
For a free legal consultation with a premises liability lawyer serving Waxahachie, call (972) 938-1234
What Is a Premises Liability Case?
Premises liability is an area of personal injury law. These cases stem from property owners' and occupiers' obligations to anyone who enters their premises. They must protect their visitors from harm by promptly removing or warning them about dangerous hazards on the property.
Who Is At Fault in a Waxahachie Premises Liability Case?
It can be challenging to prove fault and liability in a premises liability situation, which is why some people hire attorneys to manage their injury cases. An injury attorney can investigate the accident and collect supporting evidence to determine what happened and who's responsible. However, Waxahachie property owners are not responsible for every injury that occurs on their premises.
For example, if the property owner took steps to avoid the hazard, they might not be at fault or liable for your injuries. If our firm takes this kind of case, our premises liability attorney must prove the property owner in Waxahachie had a legal duty of care to the injured person and that they breached that duty by acting negligently. They must also show how the owner's careless or reckless actions injured them and brought them damages as a result.
The Attractive Nuisance Doctrine Could Apply in Some Waxahachie Premises Liability Cases
Cases involving trespassing can be harder to prove, as the owner doesn't owe people who are on their land illegally a duty of care. However, if the case involves children who were injured on a property, the attractive nuisance doctrine could apply.
Property owners in Waxahachie could bear some responsibility if a child gets hurt on their premises if it was not secured properly to guard against children who may not realize the dangers of trespassing onto a property, especially if it has an object or feature that would attract them. Examples of this are a swimming pool, a trampoline, a playground, and even animals.
Premises liability cases are complex, so it is important to seek legal counsel immediately following an injury.
Waxahachie Premises Liability Lawyer Near Me (972) 938-1234
What Damages Are Recoverable in Your Waxahachie Premises Liability Case?
You could collect various types of monetary compensation following a premises liability accident in Waxahachie. Different factors go into determining your case's value, such as the expenses and severity of your injury, who is at fault, and more.
Some of the types of damages our Waxahachie premises liability attorney can seek on your behalf include:
Lost income and benefits

Reduced earning potential

Pain and suffering

Mental anguish

Past and future medical bills

Emotional distress

Disfigurement
You could recover the costs of your loved one's funeral and medical care if they succumbed to their premises liability injuries.
Click to contact our Waxahachie Personal Injury Lawyers today
Learn More About Where Your Premises Liability Accidents Might Occur in Waxahachie
There are no limits on where premises liability accidents can happen in the Waxahachie area or anywhere in Texas. The hazards that lead to these accidents can be present indoors or outside. They could also go unnoticed on public property, in a business open to the public, or within a private residence.
You have the right to seek compensation for your injuries when they result from the negligence of the property owner. These accidents can happen at:
A friend or neighbor's home

An untended construction site

Grocery store

Department store

Private home

Government building

Swimming pool

Amusement park

A bar or restaurant

Public roads or sidewalks
A Premises Liability Lawyer at Our Firm Can Take Your Waxahachie Case
If you wish to take legal action following a premises liability accident that occurred in Dallas or Ellis counties, a lawyer with our firm's product liability lawyers serving Waxahachie can lead your case. You can rely on them to compile evidence, name the liable party, assess your losses, and negotiate an appropriate settlement. While they're working on your case, your job is to focus on getting your health back.
Complete a Free Case Evaluation form now
Call Clay Jenkins & Associates After Getting Hurt in a Slip and Fall Accident in the Waxahachie, TX, Area
Clay Jenkins & Associates is ready to fight for you or your loved one after suffering a premises liability injury in Waxahachie. We are proud of our record of success, and we look forward to the chance to advocate on your behalf. Also, our injury attorneys take premises liability cases for a contingency fee, so you won't pay us a dime unless and until we recover compensation for you.
Contact our firm today for a free consultation. Don't delay in calling us, as Texas Civil Practice and Remedies Code § 16.003 restricts how much time we have to take legal action. You generally have two years from the injury date to file a lawsuit, but we urge you to take action as soon as possible. If you're in the Dallas and Ellis counties, our Texas premises liability lawyers can help. Call now.
Call or text (972) 938-1234 or complete a Free Case Evaluation form