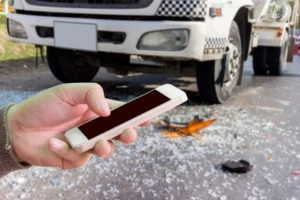 If you or a loved one has been injured in a trucking accident in Waxahachie, seeking help from our truck accident lawyer may come in handy to retrieve compensation for your injuries and damages. The process of recovering compensation in a trucking accident can be tiresome. Nevertheless, our accident attorneys have the knowledge required to direct these cases.
Having an advocate by your side could help you build a strong personal injury case. Let a Waxahachie truck accident lawyer with Clay Jenkins & Associates serve you during your pursuit of fair compensation.
How Can Our Waxahachie Truck Accident Lawyers Help You?
If you or your loved one were injured in a truck accident, you should know that there could be many parties involved. This includes the driver of the truck and their employing company, who may be responsible for your injuries and damages.
It is not rare for these companies to refuse blame or responsibility for the accident. Our Waxahachie injury attorney will help in instituting responsibility, collecting evidence, and ascertaining compensation is looked for from the responsible parties.
Shortly after a crash, the owning company and their insurance firm will begin an investigation of the scene. These firms have particular and elaborate methods of dealing with truck accident claims meant to give you the lowest possible settlement. They might register statements from spectators, click pictures of the scene of the accident, and analyze the vehicles to decide the level of damage made by the crash.
Waxahachie police may also investigate the scene. Our truck accident attorneys can employ experts to aid in the investigation by the authority.
Our legal team of attorneys and paralegals can help build your case. We will:
Analyze available video evidence (surveillance or dashboard cameras)

Interview various witnesses

Review the truck accident report

Review relevant medical records

Question emergency response staff and other witnesses on the extent of the damages

Reconstruct the accident scene with help from experts and establish damages
For a free legal consultation with a truck accidents lawyer serving Waxahachie, call (972) 938-1234
Determining the Responsible Party in Your Waxahachie Truck Accident Case
There are various parties who may be responsible for the injuries and damages in a trucking accident, including/not limited to the following:
Truck driver

Truck driver's employer

Proprietor of the truck

Company that was leasing the truck

Proprietor of the trailer

Company that was leasing the trailer

Manufacturing company of the truck, trailer, or various components
To help define responsibility, our attorneys might inquire:
The party with control over the truck

Logs and driving records

The amount of command the trucking company had over the driver

The driving history of the truck and trailer

Maintenance records and inspection records

Infractions of federal and Texas state laws regarding driving regulations

Past violations of Texas state and federal trucking laws

Past criminal convictions
To help you recover compensation, your truck accident attorney may have to negotiate with insurers. If your case is not settled fairly outside of court, our Waxahachie attorney can help you file a truck accident lawsuit.
Waxahachie Truck Accident Lawyer Near Me (972) 938-1234
Injuries in Waxahachie Trucking Accidents
Injuries suffered in truck accidents may be grave, including painful brain injuries, spinal cord injuries, physical disfigurement, various types of burns, fractured bones, wounds, total or partial paralysis, or death.
The extent of your injuries will play an important role in determining what your case might be worth. However, your response to these injuries could also impact your civil lawsuit. It is necessary to not only seek out medical care for your injuries but also to follow the treatment plan the doctor has ordered.
Failure to follow your treatment plan could have consequences. In addition to the risk of worsening your condition or slowing your recovery, you could put any future civil claims at risk. It is your obligation to mitigate your damages. If you fail to prevent your injuries from worsening, the insurance company could use this inaction as a reason to diminish your potential settlement.
Click to contact our Waxahachie Personal Injury Lawyers today
Proving Negligence in Trucking Accidents
If you wish to seek compensation after a Waxahachie truck accident, you must prove the carelessness of the driver and/or company was the cause of your accident. Some indications of neglect include:
Poor driving experience

Overloading trucks and trailers

Running oversized trucks and trailers on narrow roads

Lack of visibility

Neglecting traffic laws in Texas

Long drives without break, leading to driver fatigue
To claim negligence, you must prove:
The at-fault driver had a duty of care

: In a negligence suit, the plaintiff will have to show that the truck driver and/or owning company had to care for others on the roadway.

The at-fault driver did not uphold this duty:

The driver failed to uphold their duty of care, whether by activity or inactivity.

The at-fault driver's negligence caused the accident:

The other driver's behavior was the reason the accident occurred.

The accident led to the damages you suffered:

Your injuries, medical bills, and other losses are because of the accident.
Our Waxahachie truck accident lawyer will help you establish negligence.
Complete a Free Case Evaluation form now
Wrongful Death in Trucking Accidents
Many times, the victim does not make it after the crash with an 18-wheeler. In some of these cases, the kin of the deceased may be compensated for their losses. Truck accident attorneys from Clay Jenkins & Associates can assist family members to recoup financial, non-financial, and, in some cases, punitive damages for the loss of their beloved. Our truck accident attorneys will fight to ensure you receive fair compensation for your injuries and financial losses.
The Damages That Can Be Recovered in Trucking Accident Cases
Damages for a victim's losses after a truck accident can be classified into two categories: economic and non-economic. Depending on the circumstances, punitive damages may or may not be available.
The damages from a trucking accident may include the following:
Current (past) medical expenditures

: These can include payment for emergency room admissions, hospitalization, surgical operation, aid devices, and appointments with certified medical professionals.

Future medical expenditure

: In more than a few cases, the accidental injuries suffered in a truck accident are so grave that they will need extensive medical attention.

Lost wages

: Few injuries may be so profound that they keep the victim from rejoining work—temporarily or permanently. You can retrieve compensation for the payments you missed.

Loss of earning capability

: If the victim can show that their power to earn money has been adversely affected, compensation may be provided. Since past salaries are studied in deciding the sum of this award, your lawyer may work with professionals to determine how much money you could have made if the truck accident never occurred.

Pain and suffering

: You can recover compensation for the pain and suffering you endured because of the truck accident. The level of the pain, the type of injury, and the anticipated duration of your injury are all incorporated in the computation of this amount.

Mental anguish

: Compensation can also be sought for the emotional torment endured because of the truck accident. Embarrassment, nervousness, depression, grief, and other forms of emotional distress caused by the accident are considered mental anguish.

Loss of consortium

: If the truck accident lawsuit is victorious, the unimpaired partner can recoup compensation for the expiration of marital welfare, counting fellowship, tenderness, and comfort.
Punitive damages are relevant if the respondent's actions making the harm were self-willed, vicious, or deliberate. Punitive damages attend to penalize the wrongdoer and deter alike conduct in the time to come.
Truck Accidents and the Statute of Limitations in Texas
Every truck accident injury case in Texas must comply with the statute of limitations, and your case is no exception. The statute stems from common law and has long served as the formal deadline for civil lawsuits. This deadline not only varies from one state to another, but it also differs between the types of cases filed in Waxahachie.
If you are injured in a truck accident in Waxahachie, you generally have two years from the date of the crash to file your case, according to Texas Civil Practice and Remedies Code § 16.003. Some exceptions—like if the injured party is a minor—could extend this deadline beyond the two-year window. However, most cases must be filed within two years. This deadline is the same for personal injury and wrongful death cases alike.
Should you not comply with the statute of limitations, the most likely outcome is the court will dismiss your case with prejudice. A dismissal with prejudice means that not only is your case dismissed, but you are also barred from ever pursuing it again. Our firm could help you avoid this outcome.
How Much does a Truck Accident Lawyer at Our Firm Cost?
You might be surprised to learn that you could pursue compensation for your truck accident injuries without any upfront or out-of-pocket legal fees. Our firm collects our fee based on something known as a contingency basis.
Under this fee structure, we keep a portion of what we recover on your behalf. We only get paid if you do. This way, you don't have anything to lose when you retain our services.
Common Causes of Truck Accidents
Each truck accident case is different. Your Waxahachie truck accident lawyer will review the details of your case to find out what caused the wreck. Some common causes of truck accidents include:
Fatigue: Generally, people should avoid driving if they are too tired. Some truck drivers might choose to drive despite their exhaustion, which can result in a crash.

Blind spots: Truck drivers have to contend with large blind spots. Failure to check these large blind spots can cause serious accidents.

Too much time on the road: Truck drivers often spend hours at a time driving. This can lead to distractions or cause the driver to feel overworked. Either of these instances puts other drivers on the road in danger.
Discuss Your Options for Compensation With Our Law Firm Today
If you were in a truck accident in Waxahachie, Texas, contact Clay Jenkins & Associates. The time you have to take legal action is very limited. To discover how our truck accident lawyers in Waxahachie can help you, please call us today.
Contact us now to find out your rights after a trucking accident. You could learn about your options during a free consultation with our team today.
Call or text (972) 938-1234 or complete a Free Case Evaluation form