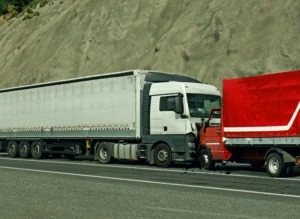 A collision with a large truck can leave you with serious injuries and prolonged recovery times. It can also leave you with mounting medical bills while you cannot return to work. You do not have to navigate this difficult situation without legal guidance and direction. A Waxahachie commercial truck accident lawyer from our team can help you build a case for financial recovery.
Our legal team will review the details of your case, identify all potentially liable parties, and carefully assess your recoverable damages. We'll also handle the multi-step process of negotiating a settlement agreement that recovers your medical bills, lost wages, pain and suffering, and more. Leave it to us. Our results-driven team at Clay Jenkins & Associates will never stop fighting for you.
Potentially Liable Parties in Your Commercial Truck Accident Case
A collision with a commercial truck could mean you could have a case against multiple potentially liable parties. Negligent parties in your Waxahachie truck accident case may include:
The truck driver

The trucking company

The cargo loading company

Truck repair and maintenance facilities

Truck and parts manufacturers
Whether your case involves one or more at-fault parties, your Waxahachie personal injury lawyer will help you pursue compensation. We will negotiate with all involved insurance companies and work hard to recover the monetary recovery you need and deserve.
How We Identify the At-Fault Party in Your Waxahachie Truck Accident
Proving liability in your truck accident case can be difficult on your own. If you hope to recover damages, the state requires you to prove the following elements of negligence: duty of care, breach of duty, causation, and damages. To prove these elements, we'll aim to create a robust case file that includes items such as:
The truck accident report

Medical records and bills

Written prognosis

Salary history records

Injury photos

Accident scene photos

Accident reconstruction reports

Witness statements
We'll also obtain any evidence you might have trouble collecting on your own. This can include the trucker's driving record and logbooks, as well as repair and maintenance records for the truck. We'll handle this daunting process for you and will not tax you or your family with evidence collection. You can focus on recovering and leave the details of building your case to us.
For a free legal consultation with a commercial truck accidents lawyer serving Waxahachie, call (972) 938-1234
Damages Our Waxahachie Commercial Truck Accident Lawyers May Help You Recover
At Clay Jenkins & Associates, we know how important it is to assign an accurate financial value to your case right from the start. We also know a speedy settlement can lead to an inadequate recovery amount, since the long-term costs of the accident may not yet be apparent.
When we assess your recoverable damages, we will create a detailed list of your economic damages, such as:
Past and future medical bills, including rehab, therapy, medications, and assistive medical devices

Past and future income loss, including full-time, part-time, freelance, and gig-economy income

The costs of restoring your vehicle to its pre-accident condition or replacing it if it is a total loss
You may also recover non-economic damages that can be difficult to assign a monetary value to, since bills and invoices do not accompany them. These can include:
Physical disability

Lasting disfigurement

Pain and suffering

Mental anguish

Emotional distress

Loss of enjoyment of life
If your family lost a loved one in a truck accident, we can help you seek wrongful death damages. In addition to your loved one's funeral and burial expenses, you could also recover compensation for your loss of their financial and domestic contributions to your family and your loss of consortium, companionship, guidance, and support.
Clay Jenkins & Associates Ensures Compliance With the Statute of Limitations
Like every state, Texas limits the time you have to file a civil lawsuit if you cannot reach a settlement agreement with the at-fault party. According to Texas Civil Practice and Remedies Code § 16.003, you generally have:
Two years from the date of the accident to file your personal injury lawsuit

Two years from the date of a loved one's death to file your wrongful death lawsuit
Failing to meet the appropriate filing deadline could mean you cannot legally compel the at-fault party to compensate you. With sufficient notice from you, our law firm will ensure we file your case on time.
Waxahachie Commercial Truck Accident Lawyer Near Me (972) 938-1234
The Benefits of Hiring a Waxahachie Commercial Truck Accident Lawyer
Personal injury and wrongful death cases in the aftermath of a truck accident can be complicated and potentially frustrating on your own. When you turn to a truck accident lawyer serving Waxahachie, TX for legal guidance and support, they will take all of the following steps on your behalf:
Investigate your truck accident

Obtain your truck accident report

Review your medical records and bills

Locate and interview witnesses

Obtain supporting photos and videos

Calculate the financial value of your case

Communicate with all interested parties

Complete and submit all documentation

Provide ongoing updates on your case
We will do everything possible to negotiate the best possible settlement for you and your family. If we cannot reach a settlement agreement, we will not hesitate to go to court and keep fighting for the compensation you are entitled to recover.
Our Waxahachie Commercial Truck Accident Lawyers Help Clients and Surviving Families
"Texas' best. Very professional and knowledge of the law is unmatched. I was made to feel very comfortable and welcomed each and every visit to his office…as well as being kept fully informed about every step of the proceedings in my case." — K.C.:
Our law firm works hard to earn 5-star reviews like this one by meeting the individual needs of every client we represent. We are committed to helping anyone injured in a truck accident or the families of fatally injured truck accident victims. Our goal is to help you get the compensation you need to start putting your life back together.
Click to contact our State Name Personal Injury Lawyers today
Call 24/7 for Your No-Cost Case Review
If you or someone you love was injured in a truck accident, you do not have to pursue compensation or build your personal injury case on your own. A Waxahachie commercial truck accident lawyer from our team can help you fight for the financial compensation you deserve.
Contact one of our case review team members at Clay Jenkins & Associates and start exploring your monetary recovery options today.
Call or text (972) 938-1234 or complete a Free Case Evaluation form