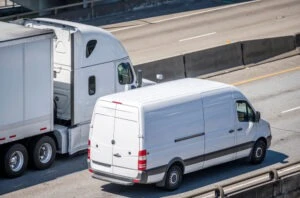 Commercial truck accidents happen across the country every single day. Crashes involving these giant vehicles can be traumatic, causing massive damage and even catastrophic injuries. If you or a loved one sustained injuries or damage in a commercial truck accident, you could seek justice for your losses. By building a strong case against the liable party, you could recover the compensation you need to heal and move forward with your life.
Our Midlothian commercial truck accident lawyers can help. At Clay Jenkins & Associates, we've fought for clients since 1948. Our attorneys have helped thousands of injury victims successfully pursue fair compensation to aid in their recovery. We would be honored to help you too and can confidently take on any complicated legal issues that arise in your case.
Common Causes of Commercial Truck Accidents in Midlothian
According to the National Highway Traffic Safety Administration (NHTSA), common causes of commercial truck accidents include:
Distracted driving
Reckless driving
Driving under the influence
Poor road conditions
Poor vehicle maintenance
Poor cargo loading
Depending on the factors involved in the accident, the truck driver, the trucking company, the municipality in charge of the roadway, or a third-party driver could have caused your accident. Our commercial truck attorneys can investigate the cause and determine who is liable.
For a free legal consultation with a commercial truck accidents lawyer serving Midlothian, call (972) 938-1234
What Kinds of Damages Can I Recover After a Commercial Truck Accident?
One of the most beneficial steps we can take in your case is calculating its value. This helps us determine an acceptable amount to request from the liable party.
The first step is to identify your recoverable damages. Examples of the damages you could seek after a commercial truck accident include:
Medical costs: This could include any treatment necessary for your injuries. If you had to ride in an ambulance to get to the emergency room, you could include those fees. Other costs you could recover include doctor's visits, specialist appointments, diagnostic tests, rehabilitative therapy, and medications you required. You could also seek compensation for future medical costs.
Lost income: Any income you lost because of your inability to work after the accident could be recoverable. You may also be able to seek future lost income if you cannot return to work for an extended period.
Pain and suffering: When you experience trauma because of your injuries, you deserve compensation for dealing with that. Our attorneys can help you seek compensation for the physical and emotional pain and suffering you went through after the accident.
As you can see, we can help you recover compensation for both the monetary and non-monetary losses you incurred from the accident. To maximize the value of your case, we can fight to include every loss in your claim.
If your loved one lost their life due to injuries they sustained in a commercial truck accident, we first want to extend our sincere condolences. Our attorneys can work with eligible surviving family members to help hold the liable party accountable. Our legal team can help you and your family seek compensation on behalf of your loved one for their medical expenses and funeral and burial expenses.
Midlothian Commercial Truck Accident Lawyer Near Me (972) 938-1234
Why Should I Choose Clay Jenkins & Associates After My Truck Accident?
There are many reasons to choose our firm as your commercial truck accident lawyer in Midlothian. Our team strives to reach the best result for each of our clients. We've recovered millions for past clients involved in commercial truck accidents. An attorney from our firm can be a powerful ally, advocating on your behalf and doing everything possible to maximize your recovery.
Our clients' glowing feedback leaves us humbled and grateful to add such value to their lives. Testimonials past clients have made about our legal team include:
"I have found everyone … to be nothing but professional. I never had a phone call or email that wasn't promptly answered. It has been a great experience dealing with this law firm when I was in a very difficult experience. The outcome has exceeded expectations thanks to Stephen Daniel and his staff." – Carol K.
"My experience … was amazing. They took the time to explain everything to me so that I would get the concept of the settlement. They are really good at keeping you updated on the case. I would recommend them to everybody." – Alfred C.
Click to contact our Midlothian Personal Injury Lawyers today
Statute of Limitations on Commercial Truck Accidents in Texas
When you get into a commercial trucking accident in Texas, you have a limited time to seek compensation for your losses. According to Texas Civil Practice and Remedies Code § 16.003, you have just two years from the date you sustained injuries in the accident to file a lawsuit. After two years pass, you could lose your right to pursue damages.
Our Midlothian commercial truck accident lawyers at Clay Jenkins & Associates can keep that deadline in mind and ensure we meet it. The sooner you contact us, the sooner we can begin investigating the accident, gathering evidence, and building a strong case for you.
Complete a Free Case Evaluation form now
Contact Our Midlothian Commercial Truck Accident Lawyers Today
If you've suffered injuries or lost a loved one in a commercial truck accident, our lawyers serving Midlothian can handle your case. We can take over all communications with the opposing party and work to maximize your case's value. At Clay Jenkins & Associates, our legal team can provide compassionate support, using the combined resources of our firm to help you throughout the entirety of your case.
When you're ready to hold the liable party accountable, contact our firm online. You can speak to one of our legal team members in a free, no-obligation consultation. During this consultation, you'll have the opportunity to ask your questions and get honest answers. If you decide you want us to represent you, we can get started on your case immediately.
Call or text (972) 938-1234 or complete a Free Case Evaluation form