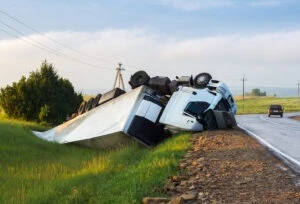 If you or a loved one suffered injuries in a delivery truck accident, a Waxahachie truck accident lawyer from Clay Jenkins & Associates will fight for your fair financial recovery. Our firm also represents those who have lost a loved one because of a delivery truck accident.
Hiring an attorney from our firm will allow you to focus on your physical health, mental health, and personal obligations. A Waxahachie personal injury lawyer from Clay Jenkins & Associates will lead the fight for your financial recovery. You can learn more during a free consultation with our team.
Why Choose Our Lawyer for Your Waxahachie Delivery Truck Accident Case?
When seeking a personal injury attorney or wrongful death lawyer in Waxahachie, you should look for a firm that understands your needs and has experience with your case type. Clay Jenkins & Associates is that firm, and we offer the following reasons why we believe our delivery truck accident attorney in Waxahachie, TX, can represent you in a trucking accident:
Our home office is in Waxahachie, TX:

Our firm's headquarters on West Main Street in Waxahachie. This location is ideal for leading delivery truck accident cases in the city. Our lawyers can gather evidence from the scene, attend court dates, and manage every detail of your case from our centrally located office.

Our client results:

Our team serving Waxahachie has secured recoveries of $9.5 million, $4.7 million, $1.9 million, and $1.1 million for our clients. These are just a handful of the many large financial results we have delivered to victims of negligence.

Our client-first fee structure:

You will not pay our firm any upfront fees or costs. We will pay the cost of completing your case and will only receive a fee if you recover compensation.

Our relentless fight for your financial recovery:

We are willing to take any case to trial and prepare every case as if it will go to court. If liable parties are unwilling to offer the settlement you deserve for the delivery truck accident in Waxahachie, we will take your legal fight to the courtroom.
Our firm's history dates back to 1948, and our roots in Ellis County run deep. If you are seeking to hire a truck accident attorney who knows Waxahachie and has decades of Texas personal injury law experience, you can turn to Clay Jenkins & Associates.
Client Testimonials for Our Personal Injury Attorneys in Waxahachie
Our attorneys, paralegals, and support staff go the extra mile for our clients, personalizing our representation to meet your needs and wishes. Our client testimonials reflect our client-focused approach:
"My experience with Clay Jenkins & Associates was amazing. They took the time to explain everything to me so that I would get the concept of the settlement. They are really good at keeping you updated on the case. I would recommend Jenkins & Jenkins to everybody."

" knows the law, and saves time and money due to his knowledge. Clay Jenkins & Associates are trustworthy and do what they can to help clients."
We encourage clients to focus on their health and recovery. Our delivery truck accident lawyers in Waxahachie, TX, will handle your claim or lawsuit against a negligent party. At the same time, you focus on healing from the accident or helping a loved one recovering from a delivery truck crash.
For a free legal consultation with a delivery truck accidents lawyer serving Waxahachie, call (972) 938-1234
We Will Demand All Recoverable Damages for a Waxahachie Delivery Truck Accident
Our Waxahachie truck accident lawyer will determine the value of your economic and non-economic damages. The Insurance Institute for Highway Safety (IIHS) explains that victims of truck accidents are at high risk for serious injury (including fatal injuries), which means a high risk of:
Expensive medical care:

Medical care is generally expensive. When you suffer serious accident injuries during a truck collision, you may need emergency care, surgery, hospital care, rehabilitation, and other medical services. We will work to ensure that liable parties cover all your accident-related medical bills.

Pain and suffering:

Recurring memories, physical pain, lost quality of life, post-traumatic stress disorder (PTSD), and depression are among the pain and suffering that truck accident victims experience. Your Waxahachie personal injury lawyer will determine the nature and cost of your pain and suffering.

Lost income and other professional damages:

Accident victims who miss work may lose income, benefits, promotion opportunities, bonuses, and other professional benefits.

Property costs:

If your vehicle, phone, clothing, or other property became damaged during the delivery truck accident, we will insist that liable parties cover the repair or replacement of your property.
Our Waxahachie personal injury attorney will account for every accident-related loss you suffered during either the claims process or the legal process. We believe you should have zero financial liability for recoverable damages. Instead, we will explain why the negligent driver or another entity should cover your losses.
We Seek Fair Compensation for Fatal Truck Accidents in Waxahachie
Clay Jenkins & Associates represents parties who suffer losses in fatal delivery truck accidents in the Waxahachie area. Recoverable damages in these wrongful death cases can include:
The decedent's pain and suffering

Your pain and suffering

Funeral, burial, and/or cremation costs

Treatment for grief, depression, and other pain and suffering

Loss of a spouse's companionship

Loss of a parent's support

Loss of the decedent's income (through their retirement age)

Loss of the decedent's household contributions
Our firm extends its condolences if you're facing the fallout of a fatal truck accident. We will lead your legal fight so you can focus on your recovery.
Waxahachie Delivery Truck Accident Lawyer Near Me (972) 938-1234
We Will Lead Every Step of Your Compensation Case After a Waxahachie Delivery Truck Crash
Our full-service law firm serving the Waxahachie community:
Secures all case-related evidence, including proof of defendants' negligence

Documents clients' damages, which may include gathering medical records, invoices, and expert testimony about the nature and cost of damages

Completes all case-related paperwork

Oversees all case-related communications

Negotiates settlements for our clients

Completes trials when necessary
If you handle your claim or lawsuit, you may become quickly overwhelmed with the case's demands. Clay Jenkins & Associates has multiple attorneys and paralegals on staff, and we also work with reliable experts to help build delivery truck accident cases.
Why not have a legal team fighting for the compensation you deserve?
Click to contact our Waxahachie Truck Accident Lawyers today
Call Us Today for a Free Consultation After a Waxahachie Delivery Truck Crash
We generally face a filing deadline for truck accident cases in Waxahachie. Generally, accident injury victims seeking legal recovery in civil court must file their personal injury or wrongful death case two years from the accident date or the decedent's death date, per Texas Civil Practice and Remedies Code § 16.003.
If you wish to take legal action, we encourage you to talk with our firm as soon as possible about your next steps and how our delivery truck accident attorney in Waxahachie, TX, can help. Missing the state's filing deadline could prove financially devastating. Our Waxahachie team is available round-the-clock to speak with you. Call Clay Jenkins & Associates today for a free consultation.
Call or text (972) 938-1234 or complete a Free Case Evaluation form