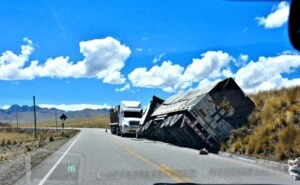 Eighteen-wheelers, also known as big rigs or semis, can cause devastating accidents and lead to catastrophic injuries and deaths when they occur in Waxahachie, TX. These trucks' massive size and weight make standard cars and trucks vulnerable to extensive damage when a crash occurs. Disaster can happen when a truck driver or other party is negligent, violates these rules, or fails to abide by basic traffic laws.
If you suffered injuries or lost a loved one in a crash involving a large commercial truck, you can work with a Waxahachie truck accident lawyer from Clay Jenkins & Associates to recover damages. After an accident, you may have medical bills, missed income, and pain and suffering that you should be compensated for. Our Waxahachie 18-wheeler accident lawyer can work to hold the negligent party accountable and recover the financial awards you deserve.
How Our 18-Wheeler Accident Lawyers in Waxahachie, TX, Can Fight for You
Our Waxahachie personal injury lawyers aim to secure the compensation that injured accident survivors or their families should recover for their losses. Achieving this requires performing investigative and legal tasks and navigating the laws relevant to each case.
Truck accidents differ from everyday car crashes for several reasons, including being subject to certain laws that apply primarily to large commercial trucks. Trucking companies and their drivers must adhere to certain state and federal rules and regulations to keep others who share the road safe from harm.
We Will Investigate to Learn What Caused the Trucking Accident
Once you've retained one of our attorneys, they will independently investigate the accident that led to your injuries or your loved one's death. During this time, we will collect evidence and documentation to support your case, such as:
A police report
Medical records
Accident scene photos
Video footage
Expert witness testimony
We'll also take statements from anyone who witnessed the accident. Evidence will prove your losses and show the liable party was negligent and responsible for compensating you.
Once we determine the nature and extent of your losses, we can negotiate with insurance companies for a fair settlement that covers your past, present, and future losses. We advise you to avoid talking to insurance representatives to protect your rights and possible compensation. If we can't settle your case outside of court, we can file a lawsuit and represent you at trial if we have time.
For a free legal consultation with a 18-wheeler accidents lawyer serving Waxahachie, call (972) 938-1234
What Damages Can an 18-Wheeler Accident Attorney in Waxahachie, TX, Recover?
If you suffered injuries in a trucking accident because of another party's negligence, you can pursue various types of compensation for your related losses, including the following:
Past and future medical bills
Lost income due to missed time away from work for recovery
Diminished future earning capacity if you cannot earn the same income you did before the accident
Physical and emotional pain and suffering
Long-term disability
Scarring and disfigurement
Loss of companionship
Loss of consortium
Impaired quality of life
Wrongful Death Damages
If you lost a family member in a truck accident in Waxahachie, you may be entitled to pursue damages to compensate you or your loved ones. A wrongful death lawsuit may include the following recoverable damages:
The decedent's medical bills
Funeral, burial, or cremation expenses
Emotional anguish/grief
Loss of the decedent's financial support
Loss of the decedent's guidance, care, and companionship
Our injury attorneys will review and account for every loss after the accident and determine how much you could recover in compensation for the party responsible for your injuries and losses.
Waxahachie 18-Wheeler Accident Lawyer Near Me (972) 938-1234
Your 18-Wheeler Trucking Accident Case in Waxahachie Has a Filing Deadline
Texas' statute of limitations deadline for personal injury and wrongful death cases is generally two years, per Texas Civil Practice and Remedies Code § 16.003. You have two years from the accident date to file a lawsuit for your truck accident. You have two years from your loved one's death date to file for a wrongful death action.
If you do not file a claim by this deadline, you risk losing your chance to recover compensation unless an exception applies to your case. With our Waxahachie 18-wheeler accident lawyer working on your case, we will submit all legal documentation on time, ensure your case stays on track, and meet all critical deadlines.
Click to contact our Waxahachie Truck Accident Lawyers today
How Our Attorneys Prove Negligence in Trucking Accidents in Texas
In negligence cases, you must prove how a liable party demonstrated negligence. Using the truck driver as an example, we must prove the following four elements:
The truck driver owed you a duty of care.

This means the truck driver was legally obligated to operate their vehicle safely and responsibly, ensuring others' safety.
The truck driver breached the duty of care.

If the driver acted negligently, they breached their duty. Negligent behaviors include speeding, driving under the influence, or failing to follow traffic laws.

The truck driver's breach of duty directly caused an accident.

This means you suffered injuries as a direct result of the accident when the driver breached their duty of care.

You suffered compensatory losses because of your injuries, such as medical expenses and pain and suffering.
Who Else Can Be Held Accountable in a Waxahachie 18-Wheeler Accident?
In addition to the truck driver, several other parties may be liable to compensate you. These include:
The trucking company
The truck's owner
The cargo loading company
The truck's maintenance team or a repair shop
Entities involved in the manufacturing or distribution of defective truck parts
A government entity responsible for road maintenance
A third-party road user, such as another motorist or a pedestrian
Complete a Free Case Evaluation form now
How State and Federal Trucking Regulations Apply in Texas Road Accidents
Trucking companies are subject to many rules and regulations set forth by state and federal agencies, including the Texas Department of Public Safety and the Federal Motor Carrier Safety Administration (FMCSA). Among these are the following:
Hours-of-service regulations

that limit the hours a driver can be on duty and require mandatory rest periods.

Weight and size restrictions

that limit the maximum weight and dimensions that a truck can legally carry.

Drug and alcohol testing requirements

that ensure drivers are not impaired while operating their vehicles.

Vehicle maintenance standards that require regular inspections and repairs to ensure trucks' safety.
The trucking industry's violations of these and other regulations can be considered negligence if an 18-wheeler causes an accident. Our Waxahachie 18-wheeler accident attorney can interpret and apply these laws if they affect your compensation case.
Call Us – We Can Lead Your 18-Wheeler Waxahachie, TX, Trucking Accident Case
At Clay Jenkins & Associates, we will fight to hold the responsible parties financially accountable in a Waxahachie 18-wheeler truck accident. We understand the complex laws that apply to these cases and will work diligently to gather evidence, negotiate with insurance providers, and pursue legal action in court if necessary.
Contact us today for a free consultation to discuss the accident and learn how our truck accident lawyer can help you pursue compensation.
Call or text (972) 938-1234 or complete a Free Case Evaluation form