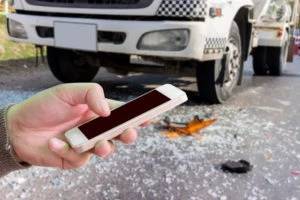 After you have suffered severe injuries in a truck accident, contacting emergency responders and 911 should be your top priority. However, while you wait for help to arrive at the scene of the accident, there are other steps you can take to start building your case against the liable party.
After your medical evaluation, your next steps are critical. The sooner you get a truck accident lawyer working on your case, the sooner they can begin protecting your rights and fighting for your compensation.
Contact Emergency Responders
The first call you should make after you have been involved in a truck accident is to 9-1-1 and emergency medical responders. When you contact the dispatcher, they will send law enforcement officials and emergency medical technicians (EMTs) to the scene of your truck accident.
Even if you initially believe your injuries may be minor, the accident itself was minor, or you intend to settle your truck accident privately, contacting police and emergency responders is almost always in your best interests.
How Emergency Responders at the Scene Will Help Your Case
When police and EMTs arrive at the scene of the accident, they can immediately start helping you build a case against the liable party just by doing their jobs.
Police will conduct an investigation at the scene to generate theories about the cause of the collision. They may gather evidence to support their conclusions of fault, which we can later access to support our own investigations.
EMTs will be responsible for beginning your medical treatment and care. It should be noted that many injuries are not immediately apparent after an accident due to adrenaline or the nature of the injury. Being seen by medical professionals will protect your health, but the records they produce will also connect your injuries to the accident and provide valuable evidence for your case.
For a free legal consultation, call (972) 938-1234
The Value of a Truck Accident Police Report
Your truck accident police report could be one of the most important pieces of evidence used to support your case. At the scene, law enforcement officials may take photos of your injuries and other damage, obtain witness statements, access video footage of the collision, and draw a diagram of the accident.
This evidence can later be brought up in court and used alongside reports by accident reconstructionists to prove negligence and liability in your truck accident case.
Other Evidence You Can Gather At the Truck Accident Scene
While you are waiting for healthcare responders and police to arrive, there are some things you can do to gather evidence yourself. You might start by using your smartphone to take photos of your injuries, the injuries of anyone else in the accident, and damage to the vehicles involved.
You might also write down the addresses of any homes, businesses, or traffic light cameras surrounding the accident that could have caught the collision on video. If there are bystanders nearby, now may be a good time to get their contact information and statements so you can get even the most minor details from the start.
If you are physically unable to gather evidence for yourself, don't worry. Contact your attorney soon after the collision, and they can help to gather evidence.
The Importance of a Medical Evaluation
It is not uncommon for truck accident victims to find that their injuries are far more severe than they initially believed. You might feel fine immediately after the accident, but once the trauma of what you've been through finally sets in, your body will register the trauma, too.
For this reason, it is essential to obtain a medical evaluation as soon as possible after the accident. You can be evaluated by EMTs at the scene, head to the emergency room in an ambulance, or head to your primary care doctor or urgent care provider if you do not want to go to the hospital.
Whichever path you choose, it is critical that you obtain a medical evaluation after your truck accident to rule out invisible injuries and get the treatment you need before your condition worsens.
Click to contact our personal injury lawyers today
When to Call a Truck Accident Lawyer for Help
Although filing a lawsuit may not be the first thing on your mind, the sooner you get an attorney on your case, the sooner they can take the burden of filing off of your shoulders.
Much of the evidence needed to prove fault could be available for only a short period of time, e.g. surveillance footage, black box data, and trucking company documents. You do not want to risk losing access to this evidence or filing your claim after the Texas statute of limitations has already run out.
Contact a truck accident lawyer for help investigating the cause of your accident, calculating the value of your claim, proving liability and negligence, and recovering compensation.
Complete a Free Case Evaluation form now
Contact a Texas Truck Accident Lawyer Today
If you have suffered severe injuries in a truck accident, and your life has been impacted by your losses, a Texas truck accident lawyer at Clay Jenkins & Associates can help you explore your options for financial recovery.
Our firm is proud to offer no-cost, risk-free consultations to truck accident victims across the state of Texas. Take advantage of this opportunity when you call our office or complete our convenient contact form.
Call or text (972) 938-1234 or complete a Free Case Evaluation form