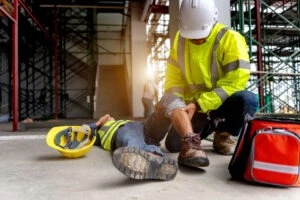 If you suffered injuries on a construction site in Mansfield, you could be entitled to recover compensation for your losses. After sustaining injuries on a construction site, it's difficult to determine whether you should file a workers' compensation or personal injury claim. With the help of an attorney, you can get the information you need to know how to move forward with the claims process.
The Mansfield construction accident lawyers from Clay Jenkins & Associates have fought for injured construction workers for decades. Our personal injury lawyers can handle your case while you rest.
How Our Construction Accident Lawyers in Mansfield, TX, Can Help With Your Case
When you entrust the Clay Jenkins & Associates legal team to take on your case, you can expect us to work hard to help you reach a successful outcome. Construction accidents can leave you with injuries that could cause physical pain and other issues for the rest of your life. You deserve to get compensated for having to deal with this.
We can develop a strong case to help you get the compensation you seek. To do that, our attorneys can take the following steps:
Thoroughly investigate the accident to determine how it happened.
Identify if your employer or another third-party contractor violated the safety procedures that caused the accident.
Speak to witnesses, review the accident report, and look at other evidence to better understand what happened during the construction accident.
Determine if you should file a workers' compensation or personal injury claim. If you can file a personal injury claim, we can begin negotiating with the liable party to reach a settlement agreement.
We recommend contacting us soon after the construction accident so we can get started on your case immediately. After a construction accident, Texas Civil Practice and Remedies Code § 16.003 states you only have two years to seek compensation. Our attorneys can work tirelessly to help prepare your case before the deadline ends.
Positive Reviews From Our Past Clients
For more information about how our past clients feel about our legal services, see what they had to say for yourself! Past client reviews include:
​"Stephen knows the law and saves time and money due to his knowledge. Jenkins & Jenkins- Are trustworthy and do what they can to help clients" – Alton Leblanc
"My experience with Jenkins & Jenkins was amazing. They took the time to explain everything to me so that I would get the concept of the settlement. They are really good at keeping you updated on the case. I would recommend Jenkins & Jenkins to everybody." – Alfred Campoz
"Most knowledgeable lawyer I have met. Knew the answers to my questions before I asked. Integrity and dedicated service to his clients was unbelievable." – Jason
You can have no doubt that our legal team will treat your case with the immense level of care we have had for many clients in the past.
For a free legal consultation with a construction accidents lawyer serving Mansfield, call (972) 938-1234
Do I File a Workers' Compensation Claim or a Personal Injury Claim After a Construction Accident in Mansfield?
When you get hurt on a construction site, knowing if you need to file a workers' compensation claim or a personal injury claim is confusing. The construction accident lawyers in Mansfield, TX, from Clay Jenkins & Associates understand the Texas workers' compensation laws and can inform you how to proceed.
If your employer carries workers' compensation insurance and you got hurt because of your own actions or because of the fault of your employer, your only option in most cases includes filing a workers' compensation claim against your employer. When employers purchase this insurance, it protects them from getting sued by their employees. Workers' compensation benefits include medical bills and some of your lost income.
If your employer doesn't carry workers' compensation insurance, we could help you file a personal injury claim against them. Another situation where you could file a personal injury claim is if a contractor or someone other than your employer caused your injuries. Then, you could file a personal injury claim against the liable party. Damages you could seek compensation for through a personal injury claim include medical expenses, lost income, and pain and suffering.
Mansfield Construction Accident Lawyer Near Me (972) 938-1234
Common Causes of Mansfield Construction Accidents
According to the Occupational Safety and Health Administration (OSHA), the top four construction hazards causing severe injuries or fatalities include:
Falls:

Construction workers risk falling from ladders because of scaffolding collapses and falling into trenches. Depending on the height level the construction worker was at when they fell can impact the severity of the injuries.

Struck-by accidents:

When a forcible object impacts someone at a high velocity.

Caught in-between accidents:

Injuries that occur when a construction worker gets caught, pinches, compressed, or crushed in-between two objects.

Electrocutions: When a current from an electric source passes through the body, causing an electric shock.
It's helpful to identify the cause of your construction accident to determine who the liable party is. If you plan to file a personal injury claim, this is especially true. You must prove the liable party's negligence caused your injuries.
Click to contact our Mansfield Personal Injury Lawyers today
Work With a Mansfield Construction Accident Lawyer Today
Construction accident injuries can lead to lifelong disability or pain. Regardless of the level of impact the injury had on your life, you deserve to get compensated. Our attorneys can work diligently to build a strong case to go up against the person or entity who caused your injuries.
Contact the construction accident lawyers serving Mansfield, TX, from Clay Jenkins & Associates for a free consultation. Our top priority includes helping construction accident victims get the benefits and compensation they need after suffering catastrophic injuries. You shouldn't have to suffer from financial consequences because of an injury that happened at work. Let us take on your case and fight for you.
Call or text (972) 938-1234 or complete a Free Case Evaluation form