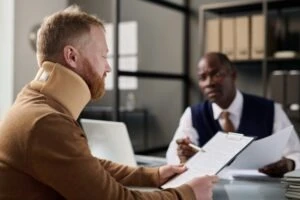 Any non-volunteer job qualifies as commercial work, but "commercial" can refer to large-scale businesses, including construction, trucking, and cleaning. If you suffered injuries in any work capacity, however, you deserve fair compensation for lost income, medical expenses, and other damages.
A Mansfield commercial work injury lawyer from Clay Jenkins & Associates can explain your options for seeking compensation after a work injury. Our Mansfield personal injury team will lead your workers' compensation claim or lawsuit, tirelessly fighting for the financial recovery you deserve.
Why Injured Workers in Mansfield, TX, Hire Clay Jenkins & Associates to Lead Their Cases
Clay Jenkins & Associates has a long, proud history in Texas, as our firm has represented clients since 1948. Very few firms have such a long track record of fighting for clients in Tarrant County, and our experience could prove valuable as we seek fair compensation for your work injury in Mansfield.
Clients hire our lawyers and paralegals to get the job done because:
We know work injuries: Our work injury lawyers in Mansfield, TX, handle various commercial work injury cases. Whether you work in construction, hold an office job, or engage in other commercial work, you deserve a law firm with relevant legal experience. That's Clay Jenkins & Associates.
We're located near Mansfield: Our attorneys travel to serve our clients, but we won't have to travel far to lead your case in Mansfield. Our office in Waxahachie is a short trip away, and your attorney can travel to meet with you, conduct case-related business, and fight for the financial recovery you are entitled to.
There is no substitute for experience: Few law firms serving Mansfield offer more than seven decades of experience. This means that, for more than 70 years, clients have turned to Clay Jenkins & Associates to get financial results. We understand what professional legal service entails and stick to our principles.
We provide financial support: You will not pay a single dollar upfront to hire our firm. We will cover every cost associated with your case, and our team will only receive a fee if we get a financial recovery for you. 
With Clay Jenkins & Associates leading your case, you'll know your case is our priority. Our work injury attorneys in Mansfield, TX, will communicate regularly and compassionately and provide regular case updates as you work toward recovery.
For a free legal consultation with a commercial work injury lawyer serving Mansfield, call (972) 938-1234
Our Lawyers Handle Workers' Compensation Claims and Third-Party Lawsuits for Work Commercial Injuries in Mansfield—Here's How
We are a full-service firm that will manage every detail of your claim or lawsuit. We will fight for your financial recovery by:
Developing a strategy for seeking compensation, which will likely include filing a workers' compensation claim or lawsuit

Determine who is responsible

for your work injury or illness

Securing all evidence documenting the reason for your injury or illness

Documenting your damages

Calculating how much compensation you could receive

Negotiating a settlement with financially liable parties (including insurance companies)

Taking your case to trial if necessary

Protecting your rights throughout your case
Our attorneys handle case-related communications and take care of all tasks for you. When we lead your case, you can use your time to focus on your recovery and prevent legal opponents from violating your rights. We'll provide case updates regularly so you know how your case in Mansfield is progressing.
We Assist Clients Whose Employers Lack Workers' Compensation Insurance
Texas employers can choose whether to purchase workers' compensation insurance, as the Texas Department of Insurance (TDI) explains. If you work (or worked) for a non-subscriber employer, we can help you. We could file a lawsuit against the employer who lacked adequate workers' compensation coverage for your injury or illness. You might be able to bring a lawsuit against a third party who caused your work injury.
Mansfield Commercial Work Injury Lawyer Near Me (972) 938-1234
Recoverable Damages in Mansfield Commercial Work Injury Cases
Remember that a commercial work injury is, for our purposes, any work injury. If you suffered injuries or became ill while working, you could receive compensation for:
Professional damages: Lost income is the primary professional damages injured workers feel. However, you may also experience diminished earning power when you return to work. You could also lose bonuses, promotions, and benefits because of your injury or illness.
Medical bills: Work injuries generally lead to medical bills. Our team will fight to ensure you don't face the cost of any of those bills. 
Pain and suffering: If your work injury causes physical pain, psychological or emotional distress, lost quality of life, or any other forms of pain and suffering, you may get compensation for these damages.
Disability-related damages: The

National Safety Council (NSC)

explains that disabling injuries are far more costly than non-disabling injuries (though any injury can be expensive).
Our work injury attorneys in Mansfield, TX can determine the cost of your damages. We will consider future damages you'll likely experience, ensuring our settlement target provides the financial recovery that benefits you.
Click to contact our Mansfield Personal Injury Lawyers today
Client Testimonials for the Legal Team at Clay Jenkins & Associates
As you consider hiring your Mansfield commercial work injury lawyer from Clay Jenkins & Associates, see what former clients say about our team:
"

I have found everyone at Jenkins & Jenkins to be nothing but professional. I never had a phone call or email that wasn't promptly answered. It has been a great experience dealing with this law firm in a very difficult experience. The outcome has exceeded expectations…" – Carol Ketchersid – former client
"My experience with Jenkins & Jenkins was amazing. They took the time to explain everything to me so that I would get the concept of the settlement. They are really good at keeping you updated on the case. I would recommend to everybody." – Alfred Campoz, former client
Our clients' financial recoveries are the mission.
Complete a Free Case Evaluation form now
Call Clay Jenkins & Associates Today for a Free Consultation About Your Commercial Work Injury in Mansfield, TX
We may face a deadline for filing your commercial work injury case, and we inch closer to that deadline with each passing day. We encourage you to retain our services as soon as possible. Our work injury lawyers in Mansfield, TX, won't delay drafting and filing your case.
Call Clay Jenkins & Associates today for your free consultation. There is no cost or obligation when you call, so there is no reason to wait.
Call or text (972) 938-1234 or complete a Free Case Evaluation form