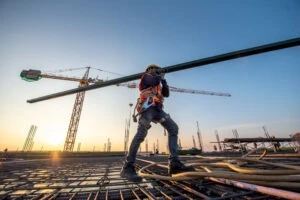 Workers' compensation should protect injured workers, but the reality often feels like the opposite. Some employers pressure you to return to work quickly, while others dismiss your injuries as non-work-related. If you face these or other challenges in accessing your rightful benefits, the Mansfield workers' compensation lawyers from Clay Jenkins & Associates can assist you. We not only defend your right to fair compensation, but we also investigate other paths to additional damages.
Our Mansfield Workers' Compensation Lawyers Do More Than Protect Your Benefits
Ensuring you receive appropriate benefits during the workers' compensation claims process is an important part of what we do. However, it's just one of many ways we can assist you following a job accident.
At Clay Jenkins & Associates, we:
Review your case for free to answer your questions and discuss your options
Stay in contact so you're never left wondering how your case is progressing
Help you file workers' compensation paperwork and stay on top of deadlines
Protect you from pressure to return to work before you're ready
Fight against unfair claim denials or early termination of your benefits
Represent your family if you lost someone in a workplace accident
Whatever comes up in your workers' compensation case, you can contact us 24/7 for support, answers, and strategizing.
We Seek to Maximize Your Compensation
Our Mansfield personal injury lawyers will work to identify other ways you can receive damages. Workers' compensation benefits only cover so much. For instance, according to the Texas Department of Insurance (TDI), temporary income benefits cover 70% to 75% of the difference between your average weekly wage and what you earn after your injury. Personal losses, like reduced quality of life, aren't covered.
In addition to receiving benefits, you can potentially file a personal injury lawsuit against a third party who contributed to the accident. This can help you recover additional damages.
This is just one way we work to maximize your compensation. We also:
Help ensure your workers' compensation paperwork is accurate
Gather evidence of your injury's severity
Protect you from having your benefits cut off too soon
Fight against attempts to deny or undervalue your claim
Compile documentation for all your losses for a lawsuit
Talk to experts about your condition and utilize their analysis and testimony
For a free legal consultation with a workers' compensation lawyer serving Mansfield, call (972) 938-1234
e Identify What You Deserve From Workers' Compensation and Other Sources
Under workers' compensation, you can typically receive:
Medical benefits
Lost income
Disability benefits
What you receive can depend on your injury and coverage. Texas has various income benefits depending on your condition. For example, you can receive impairment income benefits if you have an injury or illness that affects your entire body. You should receive whatever you need for medical care to return to working conditions or a new normal.
Our Mansfield workers' compensation lawyers will navigate these options to determine the compensation you can receive for a work injury claim.
When Can You Get Pain and Suffering Damages?
Under workers' compensation, pain and suffering, emotional distress, and impaired quality of life aren't included in your benefits. You can receive this compensation in a case based on negligence against another party.
In fact, in an insurance claim or injury lawsuit filed against a third party, you can recover damages for:
Medical treatment, including mental health support and long-term care
All lost income from any source, including gig work
Pain and suffering, including loss of hobbies and changes to relationships
Our Mansfield, TX, workers' compensation attorneys can help you catalog the losses eligible for damages.
Death Benefits and Wrongful Death
Our wrongful death attorneys can assist you and your family if you lost someone to an on-the-job accident. You can claim death and burial benefits through workers' compensation. This way, you can receive compensation, such as 75 percent of the deceased's average weekly wage.
You may also qualify for a wrongful death lawsuit to recover funds for:
Bills from your loved one's medical care
Lost income they would have provided
Loss of guidance and support if the deceased was a spouse or parent
Mansfield Workers' Compensation Lawyer Near Me (972) 938-1234
ho Can You Sue in Mansfield for a Workplace Injury?
A personal injury or wrongful death lawsuit is sometimes an option, even if you have workers' compensation coverage. We can investigate to determine if any of the following contributed to your injuries:
Vendors
Independent contractors
Product manufacturers
Visitors
For instance, our industrial accident lawyers can help if you were hurt by malfunctioning equipment at an industrial plant. Design flaws or manufacturing defects can make the designer or manufacturer of that equipment liable for your injuries. Similarly, if you work in construction and an independent contractor failed to take proper precautions or warn about hazards, you can sue the contractor.
You Can Also Sue If You Do Not Have Workers' Compensation Coverage
Texas does not require employers to carry workers' compensation, so you can sue for negligence if your employer was a non-subscriber. Likewise, workers who are not considered employees, like volunteers or freelancers, can hold a company liable.
Click to contact our Mansfield Personal Injury Lawyers today
What Is the Deadline for a Workers' Compensation or Work Injury Case in Texas?
You should report a workplace injury right away and start the process for a workers' compensation claim if you expect to miss work for more than seven days. In fact, delays in reporting or seeking care can compromise your chance of receiving benefits. Other deadlines might affect the statute of limitations for your work injury claim.
The statute of limitations for a lawsuit is typically two years, according to Texas Civil Practice and Remedies Code § 16.003. While this may seem like a long time, timing is everything—our work accident lawyers can work during those two years to negotiate a settlement for your case and prepare for court if necessary. Whether you pursue a claim or suit, don't delay in getting more information.
Complete a Free Case Evaluation form now
Clay Jenkins & Associates Can Review Your Mansfield, TX, Workers' Compensation Claim Now
We are available 24/7 to talk about your concerns and needs following a worksite accident. Our workers' compensation lawyers serve injured parties in Mansfield, TX, by actively protecting benefits, pursuing compensation, and maximizing what you receive. Contact us today.
Call or text (972) 938-1234 or complete a Free Case Evaluation form