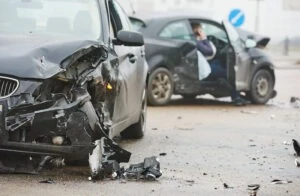 When life takes an unexpected turn, and you find yourself in a car accident, a personal injury lawyer in Mansfield, TX can advocate for financial recovery from the liable party or entity. Clay Jenkins & Associates understands the challenges and complexities of an auto accident that a negligent driver causes.
From the expensive medical bills to the time taken off work, your life can come to a screeching halt. Our car accident lawyers will stand with you and support you in seeking justice and rightful compensation. You can learn more today during a free consultation with our team.
Our Mansfield Car Accident Lawyer Will Seek Recovery for All Your Damages
Along with recovery, one of the most important aspects of a car accident case is obtaining the fair compensation you deserve.
Clay Jenkins & Associates' legal team works tirelessly to ensure you receive financial compensation for the various recoverable damages in a personal injury lawsuit in Texas like:
Medical expenses:

Compensation for treatment, surgeries, medication, and ongoing care.

Lost income:

Reimbursement for income lost due to injuries and recovery time.

Property damage:

Compensation for your vehicle's repair or replacement.

Pain and suffering:

Compensation for physical pain and emotional distress.

Emotional distress:

Compensation for psychological trauma or anxiety.

Loss of consortium:

Compensation for the impact on relationships due to injuries.

Wrongful death:

Compensation for a decedent's surviving family members in fatal accidents.

Loss of enjoyment of life:

Compensation for the inability to live life as before.
Our personal injury attorneys understand the financial strain of a car accident, and we are committed to pursuing every avenue to secure the economic damages and non-economic losses that are rightfully yours.
For a free legal consultation with a car accidents lawyer serving Mansfield, call (972) 938-1234
Why Hire a Car Accident Attorney After a Crash in Mansfield, TX?
Dealing with life changes after a car accident can be physically and emotionally overwhelming, but you don't have to manage them by yourself. The auto accident attorneys at Clay Jenkins & Associates will use their decades of experience to lead your case while you focus on getting your health back on track.
From minor collisions to more complex accidents involving severe injuries, we have navigated the legal landscape for numerous clients. Below are a few reasons why our clients choose our law firm to represent them:
We Tailor Legal Guidance on a Case-by-Case Basis
Every car accident case is unique, and as such, it deserves personalized attention and a tailored legal strategy. Our car accident lawyer serving Mansfield, TX, will take the time to thoroughly understand the intricacies of your case. Our legal experts delve into the details, gathering evidence, analyzing accident reports, and consulting with experts if necessary. This comprehensive approach ensures we build a strong foundation for your case.
We Navigate All Legal Proceedings
Legal proceedings can be overwhelming, especially for those unfamiliar with the legal system. Our mission is to ease this burden, allowing you to focus on your recovery. From negotiating with insurance providers to representing you in court if needed, our car accident attorney in Mansfield, TX, handles every aspect of your case diligently and professionally.
We Set Out to Prove Driver Negligence
In negligence cases, establishing a party's carelessness or recklessness is critical. Our injury attorneys will investigate the circumstances of the accident and gather evidence to establish negligence. Whether it's proving the other driver was distracted, drove recklessly, or violated traffic rules, we leave no stone unturned in building a compelling case. We aim to show how the other party was negligent and hold them accountable for their actions.
Our Law Office Offers a Client-Centric Approach
Our unwavering commitment to our clients sets us apart as a leading car accident lawyer in Mansfield, TX. We understand that you are facing a challenging time, and our client-centric approach reflects this understanding. You are not just a case number to us but a valued individual seeking justice and resolution. We keep you informed throughout the legal process, addressing your concerns and empowering you to make informed decisions.
We Have Helped Texans Resolve Their Legal Matters Since 1948
At Clay Jenkins & Associates, we are proud of our history and the many individuals and families we have assisted throughout the decades. While we refrain from mentioning specific dollar amounts or case results, our clients' satisfaction speaks volumes about our commitment to advocating for their recoveries. Your well-being is our priority, and we will pursue justice for you.
Mansfield Car Accident Lawyer Near Me (972) 938-1234
Texas Has a Statute of Limitations Filing Deadline for Car Accidents
Following the statute of limitations for auto accidents is crucial when filing a lawsuit for car accident losses. The law sets a specific time frame for injured parties to file their lawsuits. In Texas, this statute of limitations is two years, per Texas Civil Practice and Remedies Code § 16.003. Failing to file a claim within this period could bar you from seeking legal remedies.
When we lead your case, we will keep your case on track and file your lawsuit on time.
Click to contact our Mansfield Personal Injury Lawyers today
Our Car Accident Lawyers Can Help After a Wreck in Mansfield, TX – Call Today
If you or a loved one is recovering from a car accident in Mansfield, TX, you are not alone on your journey. Clay Jenkins & Associates can provide legal guidance and support to help you navigate the legal system. Our legal professionals are ready to protect your rights and interests as you seek recovery for your auto accident injuries.
Take the first step toward securing the compensation you deserve by contacting Clay Jenkins & Associates. Contact us today for a free, no-obligation consultation, and let us put our experience to work for you.
Call or text (972) 938-1234 or complete a Free Case Evaluation form