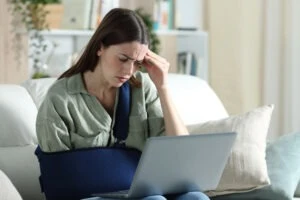 If insurance denies your car accident claim, hiring a personal injury lawyer may be the right decision. You will likely need to file an amended claim, and your attorney will ensure that the amended claim is as strong as possible.
A car accident claim denial could indicate that the insurance company intends to withhold the compensation you deserve. Having an attorney lead your claim could help balance negotiations between you and the insurer that owes you a fair settlement.
Why Do Car Insurance Providers Deny Car Accident Claims?
Many who receive a denial of a car accident claim are not expecting it, and therefore have questions about why the insurance company acted in such a way. There are several possible reasons for a car insurance provider to deny your claim, including:
Errors in the Original Insurance Claim
If any factual errors or information were lacking in the original claim, the insurance company may find it necessary to deny the claim. Generally, the insurer will contact you or your representative to clarify possible errors or ask for additional information. Still, a denial may sometimes result from an incomplete or inaccurate claim.
Fortunately, a car accident attorney from our firm may be able to fairly easily rectify such issues when filing an amended claim.
Insufficient Documentation of Losses
An insurance claim is, at its core, a request that the insurance company provide compensation for your losses. To deliver the compensation you seek, the insurer may require documentation for:
Your injuries:

Injuries generally lead to medical expenses and other damages. Therefore, documenting your accident-related injuries (perhaps with medical images, doctors' written diagnoses, and medical bills) is a key step in obtaining insurance benefits.

The cost of property damage liability:

Car accident victims generally seek compensation covering vehicle damage and perhaps other property expenses like temporary transportation. We can provide invoices for vehicle repairs, receipts for a ride share or rental vehicle, and other available documentation of your property costs for your auto insurance claim.

Any other losses you are seeking compensation for: The National Safety Council (NSC) explains that car accidents routinely cause damages ranging between tens of thousands of dollars and hundreds of thousands of dollars (and sometimes, even millions). The insurance company will want you to document each recoverable loss before compensating you.
Disagreement About Who Caused the Car Accident Can Stall a Claim
In many instances, the question of who is at fault for an accident directly affects:
Which insurance company pays for which losses

How much compensation an insurance company must provide
If there is any question about who caused the accident, or the insurer has yet to obtain definitive proof of fault, the insurer may issue a denial letter and refuse to cover some or all your accident-related losses.
A Bad-Faith Insurance Denial
Sometimes, an insurance company denies a claim because it wants to avoid paying injured parties. Personal injury attorneys like ours ensure that those deserving financial compensation do not fall victim to this tactic. If you do not fight for the compensation you deserve (with our help), an insurance company may be willing to avoid the cost of your claim.
Other tactics an insurance company may use to avoid financial liability include:
Refusing to cover specific losses, such as a surgery or doctor's appointment.

Misrepresenting a policy's details to confuse or deceive you to accept less money.

Delaying the processing of your claim, which could pressure on you to accept a lowball settlement offer.

Claiming that you are at fault for the accident (when, in fact, you may not be)

Drawing a hard line in negotiations and claiming it will not offer a better settlement.
Our attorneys know these tactics well. We will work with insurance companies to secure your deserved settlement or take your case to court.
For a free legal consultation, call (972) 938-1234
How Might a Personal Injury Lawyer Amend a Claim in Pursuit of a Fair Financial Recovery?
Our law firm's lawyer will first determine why the insurance company denied your car accident claim. We will address the denial letter head-on and may build a strong amended insurance claim by:
Obtaining strong evidence that you are not at fault for your car accident may include a police report, witness statements, expert testimony, and video footage.

Obtain loss documentation, including medical records and past income statements.

Providing a clear and detailed calculation of your damages, which will be difficult for an insurer to dispute.

Completing another essential step to address the insurance company's stated reason for denying your car accident claim.
While we never know what to expect from a case, our attorneys have the experience to address your unique circumstances.
Damages a Car Accident Attorney Can Seek Via an Insurance Claim or Personal Injury Lawsuit
Your losses will be our primary focus, as we must prove those losses warrant the financial recovery we are fighting for. We will consider economic and non-economic harm resulting from your accident, which may include:
Pain and suffering

Treatment for pain and suffering

Lost income

Diminished earning power

Property expenses (including vehicle repairs)

Medical expenses

Any other expenses necessary for you to rehabilitate to full strength
In the most heartbreaking cases, we encounter clients who have lost loved ones in car accidents. In such cases, our wrongful death attorneys will consider funeral and burial expenses, lost emotional and psychological support (known as loss of consortium), loss of the decedent's income, and every other harm resulting from the decedent's passing.
Click to contact our personal injury lawyers today
Call Clay Jenkins & Associates Today for a Free Consultation About Your Car Accident Claim
Clay Jenkins & Associates settles for nothing short of our clients' complete financial recovery. We will guide you through the challenging time that follows a car accident, and we don't require you to pay any upfront fees. We only receive a fee if we win your compensation case.
We can review your insurance coverage, including your policy's coverage limits, and determine if you need additional evidence to prove your claim. Don't wait to call our team for legal advice. The sooner you call, the sooner we can start the legal process. Texas Civil Practice and Remedies Code § 16.003 generally requires us to file car accident cases within two years of the collision. Call Clay Jenkins & Associates today for your free, no-obligation consultation.
Call or text (972) 938-1234 or complete a Free Case Evaluation form