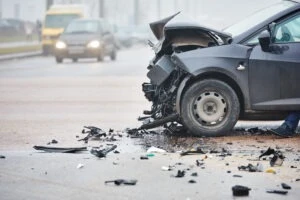 Although there are thousands of accidents each year on I-35, many of them are the result of one or more contributing causes:
Drivers operating vehicles at excessive speeds

Pedestrians' failure to yield the right-of-way of vehicles when crossing I-35

Distracted driving

Drivers failing to heed freeway construction warnings and adjust accordingly

Following too closely

Aggressive or reckless driving

Driving too fast for the road conditions
Car accident lawyers and law enforcement officers have different jobs, but they both deal with the aftermath of vehicle accidents. They can also attest to the fact that these contributing causes lead to accidents on I-35 almost every day.
Driving at Excessive Speed
Speeding is dangerous for several important reasons. First, the faster a car is driving, the more distance it takes to slow down. Second, driving at high speeds also decreases the time the speeding driver has to avoid unforeseen road conditions, such as stopped vehicles and wet or frozen road surfaces. This is why most law enforcement agencies enforce the posted speed limit so aggressively with speed traps and municipal fines.
For a free legal consultation, call (972) 938-1234
Pedestrians' Failure to Yield the Right-of-Way
Although vehicles generally have the right-of-way on I-35, many pedestrians do not yield to this right-of-way. They frequently attempt to cross the freeway against the posted traffic signals, which causes drivers to make major corrections (e.g., coming to hard stops or changing lanes without signaling) to avoid them. These types of major course corrections can be very dangerous when undertaken at high speed, and they often lead to accidents.
Distracted Driving
Paying attention to the surrounding environment is a bedrock principle of safe driving. Unfortunately, high-tech devices such as cellphones are one of many distractions that can negatively affect a driver's attention span. Specifically, texting while driving causes drivers to take their eyes off the road and their hands off the steering wheel, greatly increasing the risk of accidents. This is why many states, including Texas, have passed laws banning motorists from texting while driving.
Click to contact our personal injury lawyers today
Drivers Failing to Yield to Construction Warnings
Highway maintenance and construction along I-35 are inevitable. Although the state will endeavor to do this work at times when traffic volume is reduced, they cannot always schedule roadwork for evenings or weekends when there is less traffic. In many cases, this construction forces lane closures or the creation of detours. It is incredibly important for motorists to remain vigilant for road construction and follow the posted instructions with respect to maximum speed and detours.
Complete a Free Case Evaluation form now
Following Too Closely
At any given moment, things can change quickly on I-35. That's why drivers must follow at a safe distance that gives them enough time to slow down, change lanes, or stop if the vehicle in front of them encounters an unexpected obstacle (e.g., a pedestrian or disabled vehicle). Conversely, drivers who follow too closely, a practice known as tailgating, create a dangerous condition that elevates the accident risk for them and other motorists.
Aggressive or Reckless Driving
An aggressive driver is a dangerous driver. It is critically important for drivers to share the road with each other and take care to show courtesy to other motorists. A driver operating their vehicle aggressively or displaying dangerous behavior, such as cutting off other motorists, passing on the right, or changing lanes without sufficient space, is much more likely to cause an accident than a driver who signals their turns and shares the road.
Driving Too Fast for the Road Conditions
The posted speed limit on I-35 is the maximum safe speed based on ideal driving conditions. For example, if it's raining or there are low visibility conditions such as low light or fog, drivers may have to slow down and drive below the posted speed limit. Drivers who don't adjust their speed based on the road and general driving conditions pose a danger to themselves and to others.
Have You Been in an Accident on I-35?
The truth is many of the main causes of accidents on I-35 stem from negligence. When other motorists engage in risky behavior, such as driving aggressively or driving while distracted, they can easily cause an accident. It's an unfortunate reality that no matter how conscientiously you drive, there is always a chance that another driver's negligence will contribute to you being in an accident.
If this happens to you, your next steps after the accident are very important. You have the right to demand damages from negligent drivers and be compensated for your losses. If you believe negligence by another driver contributed to your accident on I-35, you can consult with a personal injury lawyer before accepting any settlement offers or speaking with the other driver's insurance company. Call Clay Jenkins & Associates today and explore your options during a free consultation.
Call or text (972) 938-1234 or complete a Free Case Evaluation form