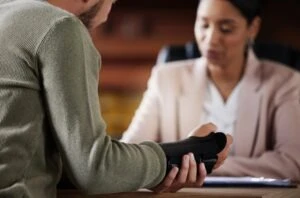 If your employer doesn't have workers' compensation insurance, you may sue them for the economic and non-economic costs of your injury. Depending on the circumstances of your injury, it may be appropriate to sue a third party in addition to or instead of your employer.
If your employer lacks workers' comp insurance, it is likely that you will need to sue in order to obtain compensation for injuries. You can hire a personal injury lawyer in Waxahachie to lead your lawsuit from start to finish.
Texas Law Does Not Require Employers to Purchase Workers' Compensation Insurance
Texas law does not require employers to purchase workers' compensation coverage with an insurance company. However, Texas' Workers' Compensation Act makes it clear: Uninsured employers should prepare to cover employees' injuries out of their own pockets.
The Texas Department of Insurance (TDI) explains that:
Employers who do not purchase workers' compensation insurance coverage forfeit the legal protection against lawsuits from injured employees

Employers may anticipate having to pay significant damages to an injured employee if the employer's negligence contributes to a workplace injury
Choosing not to buy workers' compensation is a financially risky decision for both the employer and employees. If an employer lacks insurance, injured workers cannot rely on workers' compensation benefits for medical care or lost income. Instead, the injured employee may have no option but to file a personal injury lawsuit against liable parties (possibly including the employer) for injury-related damages.
Why Would an Employer Choose Not to Purchase Workers' Compensation Insurance
Knowing that an employer may face a lawsuit if their employee suffers an injury, why would anyone make the choice to forego workers' compensation insurance? The decision typically revolves around saving money, as some employers decide that:
There is a relatively low likelihood that their employee(s) will suffer a workplace injury, perhaps because a job is not particularly strenuous or dangerous.

They take enough precautions to ensure that, even if an employee suffers an injury, the employer will not be at fault.

If an employee does suffer an on-the-job injury, the cost will be relatively minor.

The employer will save more money in the long run by not paying for workers' compensation insurance, even if they occasionally have to cover an employee's injury.
The truth is that workplace injuries can happen at virtually any time in virtually any circumstance. Slip and fall accidents, severe burns, and motor vehicle accidents are examples of accidents that occur in seemingly "low-risk" industries.
For a free legal consultation, call (972) 938-1234
How to Seek Fair Compensation When Your Employer Lacks Workers' Compensation Insurance
Whether you suffer an injury in a high-risk profession or become injured doing a relatively "safe" job, you are entitled to fair compensation. Critical steps to take after a job-related injury include:
Reporting the Injury as Soon as Possible
You must report your injury to your employer at the time of injury. Make a record of the fact that you reported the injury, perhaps even submitting your report in writing and making a copy. You may also keep documentation of your medical expenses and records from your health care providers.
If you wait any substantial period to report a work-related injury, you risk facing allegations that:
The injury did not happen when you said it did.

The injury did not happen at work.

You were not truly injured as seriously as you claim (otherwise, one might allege, you would have reported the injury immediately).

You are being generally deceptive about your work-related injury.
Do not continue working after suffering an injury. This may create the false perception that your injury is not serious and may jeopardize your case for a financial recovery.
Seeking Immediate Medical Treatment (and Asking Your Doctor the Right Questions)
Seek a comprehensive medical examination as soon as possible after suffering a work-related injury. Before and during the exam, it may be wise to:
Write down the circumstances in which the injury happened (and recite them to your doctor)

Write down all physical and mental symptoms (and also recite those to the doctor)

Ask for a clear diagnosis for all injuries and symptoms, and request a written copy of the diagnoses

Ask whether medical imaging is necessary to diagnose and document injuries (and insist on imaging if necessary, as this could be critical evidence of your injuries)

Keep all bills and other paperwork documenting your injuries and treatment
Your lawyer from our firm will gather all relevant medical records, but it does not hurt to have these records for yourself.
Hiring an Attorney from Our Team (If You Choose To)
You are not alone after a workplace injury. An attorney from our firm will be a staunch advocate for you, and we will fight for the entire financial recovery you deserve.
By hiring our team, you will:
Free yourself from worrying about any necessary lawsuit

Allow yourself more time for rest and recovery

Have our firm's total financial support (we cover the cost of your case, and we only receive a fee if we win)
Your health should be your priority. Let your lawsuit be our priority.
A Lawyer from Our Firm Will Demand Fair Compensation for Your Work-Related Injury
We are prepared to seek compensation for:
Medical bills

Pain and suffering

Lost income

Any other economic or non-economic damages from your work-related injury
We offer a wide range of services and will perform every duty necessary to build a strong case. These responsibilities may include:
Gathering evidence of negligence that led to your injury

Identifying all liable parties (which may include your employer, a third party, or both)

Calculating the cost of your damages and obtaining documentation of each damage

Negotiating a settlement on your behalf

Taking your case to trial, if we need to
We are a law firm that believes in tenacious, client-focused service. You can trust us to fight for the compensation you deserve.
Click to contact our personal injury lawyers today
Call Clay Jenkins & Associates Today for Your Free Consultation
We want to begin documenting your damages as soon as possible and may face a filing deadline for your case. It is important that you speak with our team as soon as possible.
Call Clay Jenkins & Associates today for your free, no-obligation consultation. We can explain more about how our personal injury law firm can help if you suffered an occupational injury.
Call or text (972) 938-1234 or complete a Free Case Evaluation form