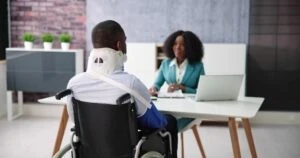 Knowing what to expect at a workers' compensation mediation can help you prepare for the meeting. During this informal process, you will negotiate with the workers' comp insurer with help from a trained, third-party mediator. Your attorney, if you have one, will be present. They will represent you and advise you throughout the process.
Settlements are a fairly common in workers' compensation law, but they are not always possible without a third party overseeing them. Many courts require mediation before taking the case before a workers' compensation judge.
What Happens During Workers' Compensation Mediation?
During a workers' comp mediation, you can expect to spend several hours in a meeting room or office, usually sitting at a table. These meetings often take place in a law firm or similar space. 
The mediation will likely put you and your attorney in one room and the other parties in another. The mediator will move between the two rooms as necessary to share facts, make offers, and discuss other important details about the case. Often, these mediators are experienced workers' compensation lawyers, retired judges, or others with extensive experience in these cases. They may offer their opinion based on their experience.
While you, your workers' compensation attorney, any loved ones you bring, and the mediator will be the only ones in your room, the other party could have an insurance adjuster, the insurance company's lawyer, and a representative from your employer. Sometimes, only the insurance adjuster or lawyer attends.
What Are the Possible Outcomes of Workers' Compensation Mediation?
The outcome of mediation is that you reach a settlement, or you do not. Often, parties reach common ground through mediation and can settle on a payout value. When this occurs, the case ends, and the only thing left to do is complete the settlement agreement documents.
If you do not reach an agreement, your case could continue before a workers' compensation judge. This judge will decide your case. Alternatively, a settlement could still occur between mediation and your court date if negotiations continue.
For a free legal consultation, call (972) 938-1234
What Is the Purpose of Workers' Comp Mediation?
Workers' compensation mediation provides another way to resolve a dispute to keep the case out of court. With a trained third-party mediator helping each side negotiate for a fair settlement, it is often easier to reach common ground. Mediation is usually faster and more cost effective than taking the case to trial.
When you agree to mediation and reach a settlement, you avoid the expense of going to court, providing witnesses, and bearing the stress of going before a judge. You might also have mediation if you pursue a case against your non-subscriber employer. Many courts require mediation as a method of alternative dispute resolution before taking a personal injury lawsuit to trial. This mediation works similarly to workers' compensation mediation, except the recoverable damages and involved parties differ. In these cases, you hold your employer liable for a work injury through a personal injury process.
What Do I Need to Do Before My Workers' Compensation Mediation?
You should review your case facts before mediation. Your attorney will likely go over the most important facts with you. They will also discuss what you should and should not say during mediation, depending on who is in the room at the time.
In general, you will likely want to review the details of your case, including:
Details of how your injuries occurred

Information about your diagnosis and medical treatment

Your medical bills

Your lost income

How much work you missed

Any letters or other communications from the insurance carrier

Your relevant medical records
Click to contact our personal injury lawyers today
What Does a Fair Workers' Comp Settlement Look Like?
Your lawyer will advise you on a fair settlement in your case. Each workers' compensation claim is unique because it depends greatly on the injuries, treatment, lost income, and other costs. You should seek a payout that includes:
Income loss benefits from the time you could not work

Medical bills and related expenses paid directly to the care provider

Ongoing income loss benefits if you have a lasting disability
There are two types of workers' comp settlements. Some pay as a one-time, lump sum payment, while others pay in installments. Your attorney can advise you on the pros and cons of each and discuss your preferences.
Complete a Free Case Evaluation form now
Do I Have to Hire a Workers' Compensation Attorney?
You do not have to hire a workers' comp attorney. You can represent your interests during workers' comp mediation. However, this is rarely a good idea. You should spend the weeks and months leading up to this event focused on your healing and rehabilitation while your attorney gathers evidence to build a compelling compensation case.
Several key parts of workers' comp mediation may be more challenging without an attorney representing you. This could jeopardize a fair settlement in your case. This includes:
Generally navigating the process and understanding how it works

Presenting a detailed account of what happened

Offering a compelling legal case

Assessing the value of unpaid benefits

Effectively negotiating with professionals
Your case could go before a workers' compensation judge if you do not reach a settlement. You will want a knowledgeable workplace injury lawyer with experience working for you during this court date.
Speak to an Attorney About Your Texas Workers' Comp Case for Free
Clay Jenkins & Associates represent Texas clients fighting for fair compensation after a workplace injury. This includes workers' compensation cases, non-subscriber employer lawsuits, third-party injury cases, and more. If you suffered an injury at work or because of work, let us review your case for free today. We are here to help you get the benefits you need and deserve, including medical care coverage, lost income, and more.
Contact us online or via telephone for your free initial case consultation with our team today.
Call or text (972) 938-1234 or complete a Free Case Evaluation form