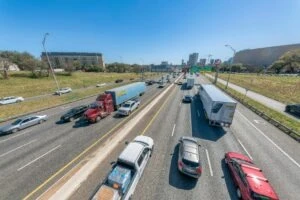 Interstate 35 (I-35) is considered extremely dangerous for all kinds of vehicles, in part, because it is an essential roadway that runs through many major cities. Several stretches of I-35 pose an outsized risk of danger, as these parts of the road are especially congested with drivers.
If you or a loved one are involved in an accident on I-35, you may deserve compensation for vehicle repairs, medical expenses, lost income, and other damages. A car accident lawyer from our team can fight for the money you deserve.
Why I-35 May Be More Dangerous Than Most Roadways
While an accident can happen on any road at any time, the I-35 roadway has characteristics that make it extremely dangerous for all kinds of vehicles. The roadway is so dangerous that the Texas Department of Transportation (TxDOT) developed a campaign to promote safety on I-35. Below are a few reasons why this interstate is considered dangerous:
I-35 Runs Through (or Just by) Some of Texas' Most Rapidly Growing Cities
TxDOT notes that almost half of Texas' population lives "near" I-35. Such population density near the I-35 roadway means:
A constant flow of traffic on I-35

Potential traffic backups that increase the risk of accidents

High-stress environments as motorists with little room to maneuver have a thin margin for error
Traffic congestion is a risk factor for motor vehicle accidents. More vehicles in tight quarters means more opportunities for an accident to happen. With this in mind, it is no surprise that I-35 in Texas is an extremely dangerous roadway.
I-35 Connects Many of the Major Population Centers in Texas
Texas is a vast state, but its population is concentrated in several major cities and metro areas. If you are a Texas resident or visitor traveling from one major city to the next, there is a substantial chance that you will travel on I-35 for at least part of your trip.
Cities that lie along or near I-35 include:
San Antonio

Austin

Waco

Dallas

Ft. Worth

Plano
I-35 doesn't just run by a few major cities, it connects many of the largest cities in the Lone Star State. Therefore, you can expect high traffic congestion not just around the major cities, but throughout the spans of I-35 that connect each of these cities.
I-35 Is a Critical Roadway for the Texas (and National) Economy
As the central traffic artery connecting Texas' major cities, I-35 is a critical roadway for freight haulers. This means that truck accidents are a specific risk for motorists traveling on I-35.
As the Insurance Institute for Highway Safety (IIHS) explains, large trucks generally weigh 20-30 times more than smaller passenger vehicles. Therefore, trucks pose an immense risk of serious injury and death when they strike other vehicles. The number of trucks on I-35 is a hazard worth noting.
Road Construction Is a Common Hazard on I-35
Considering the sheer size and length of I-35, there is almost certainly a road construction or renovation project occurring at any given time. Coupled with the constant heavy traffic that I-35 drivers experience, you may encounter several road crews and other signs of construction when traveling this major roadway.
Road construction may:
Further congest the already packed I-35 roadway

Cause confusion amongst drivers that leads to motor vehicle accidents

Cause motor vehicle drivers to strike road workers

Cause unusual changes in the road's condition which causes a motorist to lose control of their vehicle
A municipality may be liable if dangerous road conditions cause an accident on I-35 in Texas.
For a free legal consultation, call (972) 938-1234
What To Do If You Are in an Accident on I-35
You face two priorities after an accident on I-35:
Ensuring your safety and health

Getting fair compensation for accident-related damages
If you have not yet received a thorough medical exam, we encourage you to do so. We also encourage you to consider hiring our firm to seek the compensation you deserve.
How an Lawyer Can Help You After an Accident on I-35 in Texas
Our team has represented many victims of accidents on I-35 in Texas. We know the many hazards that this roadway poses, but we also know that liable parties must be held accountable for their negligent actions.
Our team will assist you by:
Determining liability for your accident

Gathering relevant evidence

Documenting your damages

Leading settlement negotiations

Taking your case to trial, if necessary
We are a compassionate, capable team of attorneys ready to fight for you.
Call Clay Jenkins & Associates Today for a Free Consultation About Your Accident on I-35 in Texas
Our team is on standby ready to hear from you. We'll discuss your case, explain how we can help, and start the process of seeking justice for you. There are no fees or obligations when you reach out to us.
Call Clay Jenkins & Associates today for your free consultation. Do not wait to call, as we may face a deadline for filing your case.
Call or text (972) 938-1234 or complete a Free Case Evaluation form