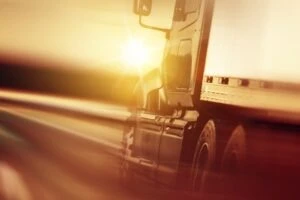 The facts of your collision will determine who can be held liable for a delivery truck accident. Generally, the individual or organization that owns the delivery truck may be financially liable for any damages its drivers cause. In some cases, the driver of the delivery truck may be personally liable, and sometimes the truck manufacturer or another party is liable.
Having a truck accident lawyer settle the question of liability can be helpful. Your personal injury attorney from our team will also fight for the compensation you deserve after the accident.
Potentially Liable Parties in a Delivery Truck Accident Case
Those involved in delivery truck accidents often have many questions, and our law firm answers them. One of the most common questions we hear is, "Who should pay for my damages after a truck accident?"
Our answer may include one or more responsible parties, including:
The Company That Owns the Delivery Truck
Employers are generally liable when their employee (or contractor) causes a car accident. Therefore, the company that owns the delivery truck involved in your accident may be financially responsible for your accident. Such companies may include:
Amazon
United Parcel Service (UPS)
FedEx
DHL
Another delivery company
Companies that facilitate deliveries usually have substantial insurance policies covering their drivers' actions. Your truck accident attorney will explore the possibility of filing a claim with a trucking company's insurer or suing the company.
The Delivery Truck Driver
In some cases, the driver who causes the truck accident is responsible for the resulting damages. When a delivery driver is impaired or engages in other negligent acts, they may expose themselves to personal liability.
The Federal Motor Carrier Safety Administration (FMCSA) explains many large truck accidents involve drivers under the influence of at least one drug. Other types of impairment may stem from alcohol use, fatigue, and emotional impairment.
While we generally try to seek compensation from the truck owner (who may have more comprehensive insurance policies and financial resources), there are cases where we may seek compensation from the driver responsible for the delivery truck accident.
A Vehicle Manufacturer
If a defect in the delivery truck or your vehicle caused the accident, the manufacturer of the defective vehicle or component may be liable for damages resulting from the collision.
The Municipality in Which Your Delivery Truck Accident Happened
Road conditions can cause delivery truck accidents. When hazards in or around the roadway cause collisions, the municipality responsible for the roads may bear financial liability for the accident. Such hazards include:
Defective traffic signals
Downed signage (such as a stop sign)
Potholes
Uneven driving surfaces
Debris in the road
Work crews located in dangerous positions
Any other hazard that could cause a motor vehicle accident
The delivery truck accident lawyers from our team have diagnosed liability in many delivery truck accident cases. We will urgently investigate your accident, gathering all relevant information and determining who owes you compensation for your damages.
For a free legal consultation, call (972) 938-1234
How We Determine Liability for Delivery Truck Accidents
Determining liability for a delivery truck accident requires asking a pivotal question: who caused the accident?
To answer this question, our team will:
Rely on witnesses:

Witnesses are critical in many truck accident cases. Eyewitnesses may explain how the accident happened. Expert witnesses may reconstruct the accident and provide testimony supporting your case.

Gather primary evidence of the accident:

We will seek video footage and any other evidence showing exactly how the delivery truck accident occurred.

Document the result of the collision:

We will photograph damage to vehicles and take any other steps that help prove how the accident happened. For example, damage to the side of your vehicle may help prove that the truck driver struck your vehicle in a T-bone crash, making them liable for resulting injuries and damages.

Tie all the evidence together:

Each piece of evidence serves as a piece of the puzzle. We will tie together all available evidence and witness testimony to establish liability for your collision.
Our auto accident attorneys will paint a clear, unbiased picture of how your accident happened. In doing so, we hope to take the first steps toward securing your financial recovery.
What Damages Should a Delivery Truck Accident Victim Seek Compensation For?
Your damages are unique to you, so our lawyers will thoroughly investigate the various ways your accident has affected your life. We may ultimately seek compensation covering:
All accident-related medical bills:

Some of our clients require compensation for a full range of medical care, from an ambulance ride through their final day of rehabilitation. We will seek complete financial coverage for all your accident-related medical expenses.

Pain and suffering:

The

Insurance Institute for Highway Safety (IIHS)

explains that truck accidents—more than most other auto accidents—cause life-changing injuries. Such serious injuries may come with post-traumatic stress disorder (PTSD), depression, anxiety, chronic pain, and a host of other severe problems. We call such non-economic damages "pain and suffering," and we intend to get fair compensation for such damages.

Professional harm:

If your delivery truck accident leads to lost income, diminished earning power, or any other professional damages, we will include those damages in your claim or lawsuit.

Property damage: Property-related expenses may include the cost of repairing or replacing your vehicle, the cost of temporary transportation, and any other expenses resulting from property-related harm.
We never assume which damages our client has, as every truck accident victim experiences different types of economic and non-economic harm. Our team will fight for the financial recovery you deserve, and we won't settle for anything less.
Click to contact our personal injury lawyers today
Call Clay Jenkins & Associates Today for a Free Consultation About Your Delivery Truck Accident
Do not wait to contact our team and take the next steps in your case. We may face one or more deadlines, including a strict time limit for filing a personal injury or wrongful death lawsuit. We will get to work as soon as possible, but you must take the first step.
Contact Clay Jenkins & Associates today for your free consultation.
Call or text (972) 938-1234 or complete a Free Case Evaluation form