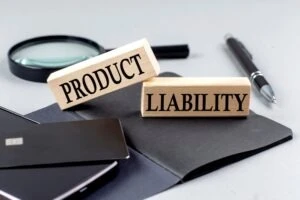 A Waxahachie Elmiron lawsuit lawyer could help you seek compensation from the manufacturer, Janssen Pharmaceuticals, if this bladder medication damaged your vision. You could seek to recover monetary damages for your medical bills, lost income, damage to your vision, and other losses.
Lawsuits against pharmaceutical corporations are an uphill battle against an opponent who has billions of dollars at their disposal. You do not have to fight the drug manufacturer on your own. Clay Jenkins & Associates' Waxahachie product liability attorney can represent you in an Elmiron lawsuit.
A Summary of the Elmiron Lawsuits
Thousands of Elmiron patients' lawsuits claim that the prescription drug harms vision by damaging the retina, Forbes reports. Jenssen Pharmaceuticals developed the medication to treat interstitial cystitis (IC), a chronic bladder condition. The U.S. Food and Drug Administration (FDA) approved the drug in 1996.
There are no other approved medications on the market for interstitial cystitis treatment. The Emory Eye Center published a report in 2018 that warned the drug could damage the retina and be toxic to the eye. In 2019, another report suggested the possibility of Elmiron causing an eye condition that threatens vision.
One out of four patients taking the drug experience eye damage, such as pigmentary maculopathy, macular degeneration, or retinal maculopathy. Patients started filing lawsuits in January 2020 against Janssen for vision impairment. The lawsuits also allege that Janssen withheld pertinent information from the public and the FDA about the risk of eye damage and reports of adverse events experienced by people with "significant exposure" to the drug.
For a free legal consultation with a elmiron lawsuit lawyer serving Waxahachie, call (972) 938-1234
Damages Available in Waxahachie Elmiron Lawsuits
The compensation a person can pursue for eye damage from the drug will depend on the facts of the individual's situation. One person might have much greater losses than another.
In product liability cases like these, which our Waxahachie personal injury lawyers can handle for you, here are common financial damages you could recover:
Medical bills.

Your recoverable medical expenses will be for your vision issues, not your underlying interstitial cystitis condition.

Lost income.

If you missed paychecks because of the vision damage you experienced, the defendant might be responsible for compensating you for that financial loss. In a situation involving permanent damage to vision, you could pursue damages for past and future lost income and other earnings.

Emotional distress.

Losing one's eyesight can cause great distress.

Pain and suffering.

This loss deals with the physical discomfort and emotional upset, such as anxiety and sadness, of dealing with vision impairment that Elmiron use caused.
In your circumstances, you might have additional types of losses for which we can pursue compensation.
Waxahachie Elmiron Lawsuit Lawyer Near Me (972) 938-1234
Establishing Liability in an Elmiron Injury Case
You can talk with our Waxahachie Elmiron lawsuit attorney about whether you qualify to file a lawsuit against Janssen for eye damage from Elmiron use. At their core, most of the lawsuits involve:
Patients who took the drug for two years or longer, and

Developed vision problems after January 1, 2010, including eye pain, vision loss, distorted or blurred vision, difficulty reading, or trouble adjusting to low light situations; and

Sought medical treatment for their eye problems, either while taking the medication or within one year after ending their use of the drug, and were diagnosed with macular degeneration, retinal maculopathy, or pigmentary maculopathy.
If you took Elmiron and you have any of these symptoms, you might want to consider getting a medical exam to determine if you have retinal maculopathy, pigmentary maculopathy, or macular degeneration:
Vision loss

Eye pain

Blind or dark spots in your field of vision

Sensitivity to light

Blurred or distorted vision

Difficulty reading or adjusting to low light

Straight lines that look curvy instead of straight

Changes in the color of your eyes
If you receive a diagnosis of one of those vision problems, you might be eligible to seek legal action against Janssen.
Click to contact our Waxahachie Product Liability Lawyers today
How Our Waxahachie Elmiron Lawsuit Lawyer Can Help Your Case
At Clay Jenkins & Associates, we like the challenge of taking on a multibillion-dollar mega-corporation like Janssen Pharmaceuticals. You do not have to navigate this process by yourself.
Once you become our client, we can do all the following and more for your Elmiron case:
Draft the necessary pleadings (paperwork) to start and progress through the lawsuit.

Deal directly with the defendant's insurers and defense attorneys on your behalf.

Represent you in litigation.

Manage and respond to all communications in the lawsuit.

Keep you informed every step of the way so that you always know what is happening in your case.

Take the time to listen to you, explain the law, and answer your questions.

Respond to requests for medical records, employment records, and other matters that come up in discovery.

Work with expert witnesses on the causation, injury, and medical issues inherent in the case.

Review settlement documents if your claim gets settled.

Prepare for and participate in the trial.
As you can see, participating in massive litigation like this will involve a great deal of work and time. It would be overwhelming to try to handle one of the thousands of Elmiron lawsuits on your own as a DIY project. Trying to do so would be more than a full-time job in itself.
Complete a Free Case Evaluation form now
Labeling of Elmiron
Now that thousands of lawsuits are pending, the drug manufacturer Janssen posts information about serious side effects that can happen to people who use Elmiron (pentosan polysulfate sodium). Janssen now warns that using the drug can damage the retina, and this damage can continue even after the patient stops taking the medication.
Plaintiffs in the lawsuits alleged that Jensen did not post adequate warnings in earlier years and that Janssen held back information about possible harm the drug could cause. The FDA and the public should have been informed about the medication's risks.
How to Get Started With Clay Jenkins & Associates on Your Waxahachie Elmiron Case
It is a simple matter to get legal help on your Elmiron case. All you need to do is reach out to us for a free initial consultation with no obligation.
We help people who suffer injuries or lose their loved ones because of others' negligence. We're ready to hear from you and help you figure out your next steps, so call us today.
Call or text (972) 938-1234 or complete a Free Case Evaluation form