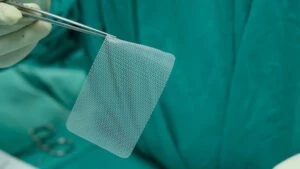 Mesh implants are one of the options available for treating patients with hernias. The implant is made from a synthetic material designed to strengthen damaged or weakened muscles and tissues and repair hernias. Unfortunately, a significant number of the implants failed, leading to severe injuries.
Thousands of patients who suffered health complications due to mesh failure are bringing legal claims against manufacturers and suing for compensation. If you or a loved one requires revision surgery or is suffering from health complications related to a hernia mesh, our Waxahachie defective hernia mesh lawyers are here to help with every aspect of your case.
Hernia Mesh Failure: Do I Have a Compensation Case?
The first thing to check is your symptoms. According to the U.S. Food and Drug Administration (FDA), the most commonly occurring health issues mesh implants cause include pain, infection, hernia recurrence, adhesion, bowel obstruction, and perforation, mesh migration, erectile dysfunction, nerve damage, internal bleeding, and mesh shrinkage.
If you (or a loved one) suffered any of these symptoms following hernia mesh surgery or have been advised that you require revision surgery, you may have grounds for a lawsuit. Meanwhile, here are some pointers to give you more information about why hernia mesh implants qualify for compensation.
Defective Product Design and Manufacturing
Design defects occur when a manufacturer does not foresee a product flaw that can injure people. For example, many hernia mesh lawsuits are based on polypropylene mesh, which can erode over time when exposed to oxygen in the body (a design flaw). When it fails, it causes serious health problems that could require revision surgery to remove the mesh and further medical treatment to manage the harm caused.
As of November 2022, almost 18,000 Bard hernia mesh lawsuits are pending in federal courts. The lawsuits allege that Bard did not perform sufficient testing on its products and released them with a design flaw that made them unsafe for thousands of patients.
Manufacturer's Failure to Warn
Grounds for other types of hernia mesh lawsuits claim that several manufacturers were aware of the design flaw in the mesh products but failed to warn medical providers of the risk to patients' health stemming from device failures.
Medical Malpractice
If you suffered health complications as a result of medical negligence, you might be able to make a hernia mesh claim if:
Your healthcare provider failed to give you enough information about the risks associated with hernia mesh implants.
You believe your surgery was below current acceptable standards.
Your doctor did not implant the right type or size of hernia mesh.
Your doctor did not inform you about alternative treatments before the surgery.
Your healthcare provider did not address your health concerns following surgery.
Perhaps the easiest way to find out whether you can file a hernia mesh lawsuit for compensation is to speak to our team. We can answer your questions, review your situation, and help you weigh your legal options.
For a free legal consultation with a defective hernia mesh lawyer serving Waxahachie, call (972) 938-1234
Do I Need a Lawyer for a Waxahachie Hernia Mesh Lawsuit?
Hernia mesh lawsuits are complex legally. They are also vigorously defended by powerful companies with the budget to hire teams of lawyers to protect their financial interests. These claims also require in-depth medical and legal knowledge, which can be challenging to contend with alone – especially if you are still suffering health-wise.
Our Waxahachie product liability attorneys will stand up and fight for your case, holding negligent companies accountable for their actions and the impact this had on your health. We know how to obtain and organize the evidence required to build a strong claim and how to avoid obstacles that could harm your case.
What Compensation Is Available in Waxahachie Hernia Mesh Lawsuits?
The compensation you could recover will depend on your unique situation and the following factors:
The severity and extent of your injuries
How your injuries affected the quality of your life
The economic impact of medical expenses and treatment costs
Whether your ability to work is or will be affected
The amount of your current and future lost income
The pain, suffering, and mental anguish hernia mesh complications have caused
Again, our team can help. We will review your medical records and assess your other damages, such as lost income and pain and suffering caused to provide you with an accurate estimate of what you can expect to recover financially in damages.
Waxahachie Defective Hernia Mesh Lawyer Near Me (972) 938-1234
Who Is Liable in Hernia Mesh Lawsuits, and How Long Is the Legal Process?
Ethicon, C.R. Bard, Covidien, and Atrium Medical Corp. are the four leading medical device companies facing litigation. Many hernia mesh cases settle before going to trial, which can speed up the legal process for financial recovery. However, some are funneled through a legal process called multidistrict litigation. This means many similar claims are combined and directed through federal court to make the legal process more efficient and cost-effective.
Whichever route suits your situation, keep in mind there is a time limit for filing your case. In line with Texas Civil Practice and Remedies Code § 16.003, the statute of limitations for hernia mesh lawsuits is generally two years from the day you were harmed.
Click to contact our Waxahachie Product Liability Lawyers today
Call for a Free Case Review to Learn How Our Waxahachie Hernia Mesh Lawyers Can Help
Since 1948, the personal injury lawyers at Clay Jenkins & Associates have fought for patients who were negligently harmed by medical devices, such as hernia mesh implants. With multiple offices serving Texas and Dallas County, we are here to fight for you in Waxahachie, too.
We provide a free and confidential initial consultation.
We are always on hand to answer your questions and keep you updated about your case.
We handle all the paperwork and communications.
You will not be charged unless we recover a settlement or verdict on your behalf.
We can provide services in Spanish when needed.
We can help you to find appropriate medical care.
We ensure your rights are protected and that you are fairly represented during the legal process.
We have a strong track record of success and pride ourselves on delivering high levels of client care and satisfaction.
To learn more about filing a hernia mesh lawsuit, call for a free consultation with our team.
Call or text (972) 938-1234 or complete a Free Case Evaluation form