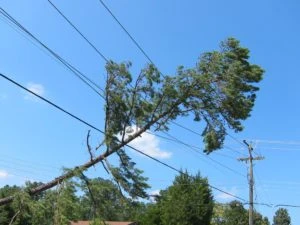 Having handled these cases and having advised other attorneys on handling these cases, it is imperative you find an attorney with the experience and background to pursue any case dealing with any injuries resulting from direct or indirect exposure to power lines.
In Texas, it is a known danger by the electric utilities that trees can conduct electricity and can cause significant injuries and damages. The Public Utility Commission of Texas has even stated in documents that trees contacting power lines can become energized injuring someone touching the tree. Further, not only can you become injured from touching a tree contacting a power line, trees that contact power lines also can start fires and cause outages. It also wastes electricity. Accordingly, utility companies in Texas should manage trees that contact power lines.
Further, an electric utility is required by statute in Texas to construct, operate, and maintain power lines in accordance with the national electrical safety code (NESC). Texas Utility Code §181.045. Pursuant to NESC Rule 218, trees that may interfere with ungrounded supply conductors should be trimmed or removed. Tree growth and the movement of trees and conductors under adverse weather conditions are among the factors to be considered in determining the extent of trimming required by the utility company.
Although electric utilities are required to maintain vegetation near power lines, there are many instances where trees and other vegetation can directly contact power lines due to neglect or other issues. Depending on the distance from a power line, a small wind can push the trees into the power line resulting in electrical conductivity. Situations where a child is climbing a tree or someone makes contact with a tree while there is electrical conductivity can result in death or severe injuries. If the person survives the electrical contact, he or she can potentially sustain severe burns along with neuropsychological problems that will require lifetime treatment.
In any case involving personal injuries for electrocution or potential electrocution from exposure to tree branches that contact power lines, there are issues pertaining to metallurgy, electrical engineering, vegetation management, arboriculture, surveying and many others. It is important that you contact a Texas injury lawyer that has handled these type of cases.
Call or text (972) 938-1234 or complete a Free Case Evaluation form