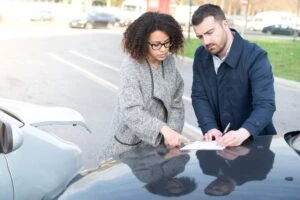 If you do not report a car accident in Texas, you may:
Face legal consequences (if the accident is one you're legally required to report)
Lose valuable evidence in a future legal case
Allow an at-fault party to claim that you were responsible for the accident
Even if an accident is minor, it's generally smart to report it.
Which Car Accidents in Texas Do You Have to Report?
Per Texas Transportation Code §550.062, the police must file a report for any car accident in Texas that:
Causes injury
Causes death
Causes property damage valued at $1,000 or more
If your accident meets one or more of these criteria, you are legally required to report your accident. If you fail to report your accident to the proper authorities, you may face significant fines and even jail time.
If your accident does not meet these criteria, reporting your accident may be optional. Still, we advise that you report any accident.
Reasons to Report a Car Accident in Texas
Even if reporting your car accident is optional, you may file a report because:
You want a clear, official record of how your accident happened so that you're not falsely accused of causing the collision
You want to establish that the accident did, in fact, happen so that you may pursue financial compensation
You want to protect yourself legally in case your accident meets the serious accident threshold
You want a record of your accident for record-keeping purposes
We generally advise filing a police report. If you want to pursue compensation through an insurance claim or lawsuit, having a police report could be beneficial.
For a free legal consultation, call (972) 938-1234
Can an Lawyer Help Me File My Accident Report?
Yes. A personal injury attorney from our team will help you file a police report for your accident, if you are still eligible to do so. The Texas Department of Transportation (TxDOT) maintains a portal for purchasing accident reports. Our team can help you obtain any existing report of your accident. 
Filing or obtaining an accident report is just the first step for car accident victims. Especially if your accident produces injuries, you may want to let an attorney seek compensation for you.
How Else Can an Lawyer Help Me After a Car Accident in Texas?
An attorney can advise you on how to proceed after your car accident. Some questions they will consider are:
Have you suffered injuries from your car accident?
Which other damages have your injuries caused?
How extensive is the property damage from your accident?
Have you suffered emotional or psychological consequences from your accident?
If your damages are substantial, your attorney may pursue an insurance claim or lawsuit for you. According to Texas Civil Practice and Remedies Code § 33.001, you may pursue compensation even if you're partially responsible for your accident, as long as your portion of fault does not exceed 50 percent.
If you choose to pursue a financial recovery, our team will:
Investigate your car accident: Your assigned attorney will gather evidence from your car accident—video footage, witness testimony, photographs, the police report, and other useful evidence. They will preserve the evidence until it is time to negotiate a settlement or take your case to trial.
Hire experts who will help your case: Our firm pays the cost of hiring experts for car accident cases. These experts may reconstruct your collision, testify about liability, or help in other ways.
Calculate the cost of your damages: We will determine the monetary value of each of your damages. The total value of your damages will tell us what a fair settlement figure is.
Negotiate a settlement: We will represent you in settlement negotiations. These negotiations can be complex and may require a lengthy back-and-forth conversation between us and the liable parties. You will not have to attend these negotiations. 
Handle any necessary trial: If your case requires us to go to trial, we will make your case in court.
Our team will handle your case from start to finish. This means filing your claim or lawsuit, completing all case-related paperwork, overseeing communications, and seeking the financial recovery you deserve.
Recoverable Damages for a Car Accident in Texas
We will pursue coverage for any damages resulting from your car accident, which may include:
Medical expenses
Lost earning power
Lost income
Lost bonuses
Vehicle damage
Damage to other personal property
Pain and suffering
Treatment for pain and suffering
If your loved one passed away from a car accident in Texas, we'll seek coverage for your losses. Funeral expenses, loss of companionship, lost financial support, medical expenses, and grief counseling may be among your covered losses in a wrongful death case.
Click to contact our personal injury lawyers today
Call Clay Jenkins & Associates Today for a Free Consultation After a Car Accident in Texas
While you recover from injuries or face the loss of a loved one, Clay Jenkins & Associates will pursue the compensation you deserve. An attorney from our team will start your case as soon as possible. We receive no fee unless we win your case.
Call Clay Jenkins & Associates today to complete your free consultation.
Call or text (972) 938-1234 or complete a Free Case Evaluation form