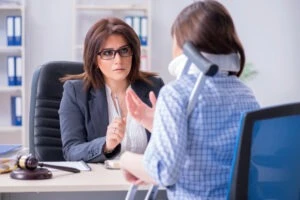 Some Texas industries, such as construction and transportation, are more prone to injury and illness than others. However, any workplace can prove dangerous if it doesn't enact proper safety precautions that employees follow.
If you suffered a workplace injury in Texas, learn more about the risks, deadlines that could apply, steps to take, and your rights. A workers' compensation lawyer can review your case and advise you on how to proceed.
Most Common Workplace Injuries and Their Causes
According to the National Safety Council (NSC), the most common causes of workplace injuries are the following:
Exposure to harmful substances or surroundings

Overexertion

Falls, slips, and trips

Contact with objects or equipment

Transportation injuries
Exposure Injuries
These include exposure to:
Illnesses like COVID-19

Pesticides and herbicides

Radioactive substances

Asbestos

Carbon monoxide
In some cases, you may not feel the effects until years or even decades later. Fortunately, Texas law allows you to pursue damages when you become aware of your injury or illness, even if significant time has passed. A defective product lawyer can help you determine if you have a case for toxic exposure.
Overexertion
Overexertion and repetitive stress injuries can affect anyone, whether you're sitting at a desk or working in a warehouse. These injuries include:
Strains and sprains

Stress fractures

Heat exhaustion

Back injuries

Carpal tunnel
Causes can include not giving workers breaks or failing to provide proper equipment.
Falls, Slips, and Trips
The Centers for Disease Control and Prevention (CDC) cites falls as the leading cause of traumatic brain injuries (TBIs). But they can also cause internal injuries, broken bones, facial and dental injuries, and spinal cord injuries. Unsecured cords, loose flooring, or leaks and spills can cause these injuries.
Contact With Objects
This injury category includes getting hit with falling debris or caught in equipment. Workers can fall victim to these when workplaces lack proper warnings or safety equipment, such as helmets.
Transportation Injuries
You may not think of motor vehicle accident injuries as a kind of workplace injury. Still, many fields require workers to drive, operate, or encounter vehicles like forklifts, bulldozers, passenger vehicles, or trucks. Failing to maintain vehicles, defective parts, and negligence while behind the wheel can cause these injuries.
For a free legal consultation, call (972) 938-1234
Facts About Dangerous Workplaces in Texas
According to the U.S. Bureau of Labor Statistics (BLS), the following industries have the most fatal occupational injuries in Texas:
Transportation

Material moving

Construction

Extraction

Warehousing
In fact, transportation tops the list in Texas and the nation. These fields are also prone to industrial accidents like fires, equipment failures, or explosions.
Other Industries Carry Risks, Too
Reporting from the Texas Department of Insurance (TDI) highlights the prevalence of nonfatal injuries and illnesses in the agricultural, retail, arts and recreation, and healthcare fields. For example, agriculture and healthcare can expose workers to toxic substances, and any of these fields could lead to falls or overwork.
What to Do After a Workplace Injury
One of the unique facts about Texas workplace injuries is that, unlike other states, Texas employers don't have to carry workers' compensation. Employers who do not are called non-subscribers.
Because of this, your first step after getting hurt at work in Texas is to determine what kind of coverage your company offers. From there, you can determine your options.
Subscribers: You can file a workers' compensation claim to obtain medical and income benefits regardless of who was at fault.
Non-subscribers: You can potentially file a personal injury lawsuit against your employer based on negligence.
You could access different forms of compensation depending on the type of claim. With workers' compensation, you typically receive benefits to cover medical bills and a portion of your lost income. With a lawsuit, you can recover any accident-related losses, including pain and suffering.
In some cases, even if your employer was a workers' compensation subscriber, you can file a lawsuit. Some examples include suing a third party, such as if you were hurt by an independent contractor or hit by another driver while driving the company car. Cases can also go to court if an employer refuses to provide you benefits you are due.
Deadlines and Statutes of Limitations
The statute of limitations for work injuries in Texas also varies based on whether your employer was a subscriber. For workers' compensation claims, you must notify your employer within 30 days of the accident or when you discover you were hurt or ill. For a personal injury lawsuit, you generally have two years to file, but circumstances can change, so check with a lawyer.
Click to contact our personal injury lawyers today
Your Rights in Texas After Getting Hurt at Work
After a workplace injury in Texas, you have the right to talk to a lawyer at any time. It doesn't matter if your employer subscribed to workers' compensation or not. Lawyers from our team can inform you of additional rights that apply to your case.
If you file a claim with workers' compensation, you have the right to:
Receive benefits regardless of fault if you were hurt on the job

Access medical care until you fully recover from your injury

Have your claim properly investigated to understand your injuries

Dispute unfair or early termination of your benefits

Only return to work when you are cleared to do so and feel ready

Perform light duty or modified work if your doctor approves
If you seek compensation outside of workers' compensation, you have the right to:
Investigate your case to determine if negligence occurred.

Seek appropriate compensation to cover all your losses.

Negotiate for a fair settlement.

Take time to consider before agreeing to a settlement offer.

Take your case to court if necessary.
If you lost a loved one to a fatal work injury in Texas, you might be able to pursue wrongful death benefits through a lawsuit.
Complete a Free Case Evaluation form now
Our Firm Can Provide More Info About Texas Workplace Injuries
Even when you have facts about Texas workplace injuries, you might not know how state laws affect the handling of your on-the-job injury. You can receive more information from the workplace injury attorneys at Clay Jenkins & Associates. Contact our firm today to receive a free, personalized consultation.
Call or text (972) 938-1234 or complete a Free Case Evaluation form