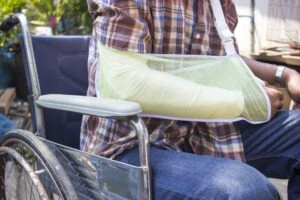 Various types of work injuries are eligible for a claim, such as:
Traumatic brain injuries (TBIs)
Spinal cord injuries (SCIs), including neck injuries and herniated discs
Broken limbs and other fractures
Organ damage and internal bleeding
Paralysis and other nerve damage
Chemical burns
Fire-related burns and injuries caused by smoke inhalation
Crush-related injuries
Loss of appendage(s)
Blindness
Illnesses caused by work conditions
If you or a loved one suffered another type of injury not listed above, you may still qualify to file a personal injury claim or lawsuit and demand compensation from a liable party. A personal injury attorney from our law firm can lead an investigation into your case to collect evidence that supports your claims, then build a case against the party or parties who caused your injuries.
Personal Injury Claims Let You Pursue Accident-Related Damages
If another party, or multiple parties, share liability for your work injury, you may qualify to file a claim or lawsuit, which would allow you to pursue compensation for your damages.
With a personal injury case, you may qualify to receive financial awards for the following types of damages:
Current and future costs for medical treatment
Current and future lost wages, including benefits and pensions
Emotional distress, which can include depression, insomnia, and anxiety
Pain and suffering and inconvenience
Property damage costs, such as costs to repair or replace your vehicle if you used it for work purposes
Reduced earning potential
Permanent disability
Diminished quality of life
Loss of consortium
You may claim other damages not listed above, as each personal injury case is unique to the individual filing it. Additionally, if you lost a loved one in a work-related accident, you may qualify to file a wrongful death action on their behalf and pursue other damages, such as costs to arrange your loved one's funeral and mental anguish.
Our legal team will be thorough in how we estimate the value of your damages, as this will serve as our goal when fighting for compensation for you.
For a free legal consultation, call (972) 938-1234
Our Legal Team Can Build Your Work Injury Case on Your Behalf
You should not have to manage your case while you recover from your work-related injury. When you work with a personal injury attorney from our law firm, we offer the following types of services:
Investigating the nature of your work-related accident, which may involve reviewing the official incident report
Gathering evidence that can support your claims, which may include retrieving video footage of the accident, witness testimony, and documents relevant to your case
Relaying messages from the court, such as hearing dates and notices about any required documentation for your case
Submitting your personal injury lawsuit within the state's statute of limitations, which is two years, per Texas Civil Practice and Remedies Code § 16.003
Responding to communication attempts you receive, such as phone calls from insurance adjusters or defense attorneys
Negotiating a potential settlement deal with the opposing party if possible
Presenting your case in court to advocate for your right to compensation
Our team will also provide legal counsel if you ever have questions about your case. If you would like to learn more about our services, one of our team members can go into more detail in your free consultation.
Who Can You Sue for a Work Injury?
You can file a lawsuit against the party we find liable for causing your accident and the resulting injuries. If more than one liable party exists in your case, you may choose to file more than one lawsuit to pursue compensation.
Potentially liable parties in work injury cases can include:
Manufacturers of faulty equipment or vehicles
Parts manufacturers if the accident occurred because of a faulty piece inside of equipment
Maintenance companies that did not notice faulty equipment or vehicles
A driver
Subcontractors and contractors
A municipality
Our legal team will confirm who may be held liable for your case after investigating your accident.
Click to contact our personal injury lawyers today
Reach Out To Us To Discuss Your Work Injury Claim
If you or a loved one suffered a work-related injury and now would like to file a personal injury claim or lawsuit, our legal team wants to listen to your case. Various kinds of work injuries are eligible for a claim and could entitle you to receive compensation.
If you would like to learn more about what options you have to demand compensation from a liable party, call our firm to speak with a team member at Clay Jenkins & Associates. Your initial consultation is always free and comes with no obligation. Call today.
Call or text (972) 938-1234 or complete a Free Case Evaluation form