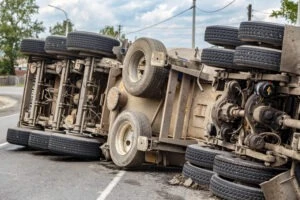 Route 287 is a major U.S. highway that connects many cities in Texas. Throughout the year, you can expect to see reports about truck accidents on Route 287. Some statistics that demonstrate how dangerous truck accidents can be include:
If you or a loved one suffered injuries in a truck accident on Route 287, you may qualify to demand compensation for your injuries and damages in a personal injury claim or lawsuit. Our truck accident lawyer can help you build a case for compensation.
What Kind of Damages Can You Claim in a Route 287 Truck Accident Case?
If you were in a truck accident on Route 287, you may be able to claim the following types of damages:
Medical expenses:

This can include costs for surgeries, emergency room care, ambulance rides, doctor's appointments, physical therapy, prescription medications, and imaging exams (e.g., MRIs or X-rays). Our team will consider your current expenses as well as costs for any future medical treatment you might receive for your injuries.

Property damage:

If your vehicle was involved in a truck accident on Route 287 and suffered property damage, you may qualify to recover the costs to repair your vehicle by submitting copies of your invoices from the mechanics. If your vehicle was totaled in the accident, you may be able to recover the actual cash value of your vehicle.

Pain and suffering:

This type of damage serves as an umbrella term for various physical, emotional, and mental damages. Damages that fall within this category can include

emotional distress

, psychological trauma, chronic physical pain from permanent disabilities, physical disfigurement, and diminished quality of life.

Lost income:

If your injuries prevented you from working or affected your ability to return to the job position you had before the accident, you may qualify to recover your lost income.
For a free legal consultation, call (972) 938-1234
How Can Our Personal Injury Lawyer Help You File a Truck Accident Case?
Our personal injury lawyer can help you file a truck accident case by:
Organizing an independent investigation into your case to confirm who may be held liable for your damages. The truck driver, the trucking company, the truck's maintenance company, or a parts manufacturer could be found liable in your case.

Collecting evidence on your behalf, which may involve interviewing witnesses, requesting copies of video footage, and reviewing the official crash report on your accident.

Filling out legal paperwork necessary for your case so that your insurance claim or lawsuit is ready for filing.

Handling communication attempts from insurance adjusters and defense attorneys in an effort to protect your case while it is ongoing.
Our legal team will prepare your case for trial in case we need to represent you in court. However, should an opportunity arise that allows your attorney to negotiate a settlement deal outside of court, we can alert you about this update and advise you on how you may proceed based on your legal interests.
Is There a Deadline To File Truck Accident Cases in Texas?
Texas Civil Practice and Remedies Code § 16.003 serves as the general statute of limitations for most personal injury cases. Per this statute, you typically must have your personal injury lawsuit filed within two years. Failure to comply with this timeframe could result in the reviewing judge dismissing your case, which would mean you could lose your right to pursue compensation through a civil action.
If you are filing a wrongful death action, you also typically have two years to file. Don't wait until it is too late to file your case—take action today.
Click to contact our personal injury lawyers today
Reach Out to Clay Jenkins & Associates After a Route 287 Truck Accident
When you or a loved one sustain injuries in a truck accident on Route 287 in Texas, you may have legal grounds to file a personal injury claim or lawsuit. Our law firm can investigate your truck accident to confirm which party may be held liable for your damages, such as the at-fault truck driver or their employer.
Contact us today to get a free case review from our team. One of our representatives can listen to your case and explain what legal options are available to you for pursuing compensation. Don't hesitate to reach out today for your free consultation.
Call or text (972) 938-1234 or complete a Free Case Evaluation form