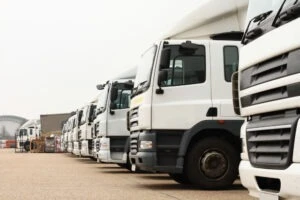 Personal injury lawyers know how to sue a trucking company and can sue a liable trucking company for you. The attorney will likely need to file a lawsuit, prove the negligence of the trucking company (or its employees), and negotiate a settlement or take your case to trial.
A truck accident attorney can take care of suing a commercial trucking company while you or a loved one recovers. They can handle the step-by-step process of suing a negligent trucking company and others that could be liable for your injuries.
Who Might Sue a Trucking Company?
One of the first questions we must address is whether you have reason to sue a trucking company. There are two primary categories of people who may sue a trucking company:
Those injured in truck accidents:

If you have personally suffered injuries in a truck accident, the employer of the truck driver who struck you may be liable for your accident-related damages. If you have a loved one who suffered debilitating injuries, you can also hire a truck accident attorney on their behalf.

Those who lose loved ones because of truck accidents: If your loved one suffered fatal injuries in a tractor-trailer truck accident, please accept our sympathies. Our wrongful death lawyer can work to obtain a measure of justice through a wrongful death lawsuit.
Injuries and wrongful deaths produce a long-ranging ripple effect of damages, including immediate financial stress, long-term monetary concerns, and psychological and emotional problems. A trucking company may be liable for providing financial relief for all these damages.
For a free legal consultation, call (972) 938-1234
How Trucking Companies Contribute to Accidents, Exposing Themselves to Lawsuits
Our civil justice system generally holds trucking companies responsible for their employees' negligence. That said, a trucking company's liability is even clearer when the trucking company's leadership contributes to an accident.
You may have a clear-cut case to sue a trucking company if the company:
Hired Drivers With a History of Recklessness
Large trucks can weigh up to 30 times more than the typical passenger vehicle, as the Insurance Institute for Highway Safety (IIHS) notes. This immense weight makes a commercial big rig a wrecking ball on wheels. These trucks often carry hazardous cargo that makes them even more dangerous. It is imperative that trucking companies hire drivers who:
Pass all necessary driving tests
Maintain a valid commercial driver's license (CDL)
Have a clean driving record
Have exhibited a professional-level ability to perform the duties the trucking company requires of them
Have no recent history of drug or alcohol abuse that could make them a liability behind the wheel of a commercial vehicle
If a trucking company overlooks any potential red flag during the hiring process, it risks the lives of anyone who shares the road with the dangerous individual truck driver.
Failed to Service or Replace Dangerous Vehicles
While some truck drivers own their vehicles, many rely on the trucking company's fleet. In either case, the trucking company bears ultimate responsibility for ensuring all its trucks are in good working condition, contain the latest safety technology, and do not pose a risk of malfunctioning.
Failed to Monitor Its Drivers for Impairment or Dangerous Driving
Commercial truck drivers with a spotless personal and professional history can become a sudden hazard—say, if they develop a medical condition, begin drinking on the job, or experience personality changes that make them unpredictable.
Trucking companies must closely monitor their drivers by:
Conducting regular drug and alcohol tests
Requiring regular medical evaluations
Installing cameras on the inside and outside of trucks
Following up on tips about a truck driver's dangerous behaviors
Just as important, trucking companies must take appropriate actions when they discover factors that make a driver a danger to themselves and others. Termination, suspension, referral for medical treatment, and alteration of a driver's role are some of the many actions a trucking company can take in the name of safety.
Fostered a Culture of Carelessness
Some trucking companies fail to enforce rules and standards so routinely that a culture of carelessness develops. When truck drivers feel the rules are not important to their employer, they may begin to disregard the rules, too. This is dangerous to a degree that is difficult to measure.
Each truck accident has a story to it. Our firm will gather all relevant evidence and determine whether suing the trucking company is the right action for you.
Why Do So Many Truck Accident Victims Let a Lawyer Handle Their Lawsuit?
Many truck accident victims cannot lead their insurance claims or lawsuit because:
Their physical, psychological, or emotional injuries prevent them from managing the stress that a claim or lawsuit imposes.
They do not have a deep knowledge of how to complete an insurance claim or lawsuit.
They have personal demands that prevent them from dedicating the necessary time to an insurance claim or personal injury lawsuit.
They do not have the financial means to cover the cost of completing a lawsuit against a negligent party.
Hiring a trucking accident lawyer addresses all these concerns. Our team will:
Complete every step in your truck accident case
Protect you from any potential stress that you might otherwise face because of your lawsuit or claim
Provide total financial support for your case
Our contingency fee structure means you will face no direct financial risk related to your case. We will hire experts, cover filing fees, and pay the entire cost of completing the claims or legal process. Our firm will receive a portion of your financial recovery, which means we won't take any compensation directly from you.
Click to contact our personal injury lawyers today
Call Clay Jenkins & Associates Today for a Free Consultation About Suing a Trucking Company
The Clay Jenkins & Associates team will seek financial compensation for medical expenses, pain and suffering, lost income, wrongful death-related damages, and any other harm you've suffered from a truck accident.
Texas Civil Practice and Remedies Code § 16.003 generally requires that we take legal action and file your truck accident lawsuit case within two years of the collision. Call Clay Jenkins & Associates today for a free consultation.
Call or text (972) 938-1234 or complete a Free Case Evaluation form